Robredo visits CamSur towns, aid areas hit by Rolly
MANILA, Philippines — Vice President Leni Robredo continued her visits to Bicol Region provinces hit by Super Typhoon Rolly, this time going to Minalabac town in Camarines Sur.
According to the Office of the Vice President (OVP), Robredo's first stop on Wednesday was Barangay Salingogon in Minalabac, a coastal community that sustained extensive damage during Rolly's onslaught.
Most of the houses in the coastal communities were destroyed.  Robredo, together with local officials and the OVP's private sector partners, gave relief aid to families that were affected by the super typhoon.
"Vice President Leni Robredo continues her visits to communities terribly hit by Super Typhoon Rolly. On Wednesday, Nov. 4, 2020, VP Leni's first stop was Brgy. Salingogon in Minalabac, Camarines Sur, another coastal community where households were damaged due to the onslaught of the typhoon," OVP said in a statement.
"To get to the area, VP Leni traveled more than an hour from the town proper, passing along uneven roads and slopes. She was accompanied by Mayor Chris Lizardo and other local officials," it added.
Minalabac is Robredo's latest stop after moving along areas ravaged by Rolly in Albay and Catanduanes on Tuesday.  In the Catanduanes capital of Virac and in the nearby town of Bato, relief items were also distributed to residents.
OVP noted that the visit was in response to calls for help as Catanduanes still had no mobile phone signal during that time.
LOOK: Robredo visits Rolly-battered Catanduanes, Albay; gives aid
The Vice President also visited other towns in her home province of Camarines Sur on Monday after Rolly exited the country's landmass.  In Calabanga, Robredo noted that some of the schools used as evacuation centers were also damaged during Rolly's onslaught, with the collapse of some classroom ceilings, while another room's roof was blown away.
LOOK: Robredo checks, brings relief to Rolly-hit Camarines Sur
The Philippine National Police has reported that 25 persons were killed by Rolly, with at least 21 coming from the Bicol Region.  Another 43 persons meanwhile were reported as hurt.
READ: PNP: 25 dead, 43 injured in Rolly's wake
READ: Over 87,000 families evacuated in Bicol provinces due to Typhoon Rolly
/MUF
Subscribe to our daily newsletter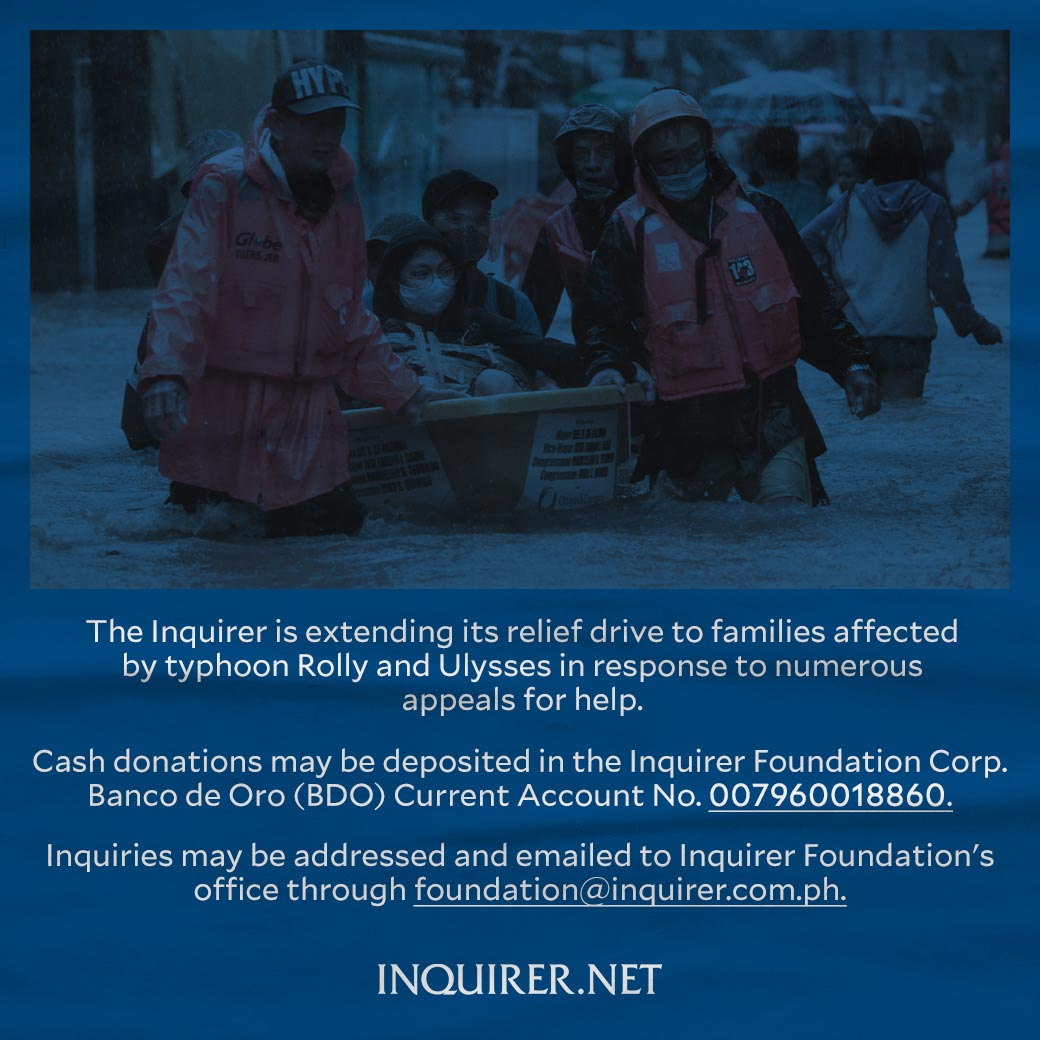 Subscribe to INQUIRER PLUS to get access to The Philippine Daily Inquirer & other 70+ titles, share up to 5 gadgets, listen to the news, download as early as 4am & share articles on social media. Call 896 6000.