UN: PH resilience on the line without more aid for Odette survivors
MANILA, Philippines—Romanticizing Filipino resilience might not work in the massive devastation left by Super Typhoon Odette (Rai) without real and sufficient assistance that the United Nations (UN) said was urgent in regions and provinces already reeling from the highest poverty rates in the country and the ravages of COVID-19.
Exactly a month since Odette pummeled the Visayas and Mindanao, Gustavo Gonzales, UN resident coordinator, said there's a need to escalate efforts to help people recover quickly because "if we do not, their resilience will be compromised."
He said UN assessments over the past month had shown the "sheer extent" of Odette's devastation. With 2.7 million displaced individuals and 1.36 million destroyed and damaged houses, the destruction was "comparable in scale" to that left by Super Typhoon Yolanda (Haiyan), the strongest typhoon to make landfall in modern history.
The United Nations Children's Fund (Unicef) said 16 million people live in 514 towns that were severely hit by Odette––2.4 million individuals need assistance while 41,719 people are still staying in evacuation centers.
Gonzales said people should immediately have access to enough food, clean drinking water and shelter. Protection issues must be addressed because people "need all the help they can get to get their lives back on track."
Unicef said Odette—which made nine landfalls in the provinces of Dinagat Islands, Surigao del Norte, Southern Leyte, Bohol, Cebu, Palawan, and Negros Occidental on Dec. 16 and 17, 2021—has derailed the delivery of essential services.
To understand why the UN said resilience could be compromised when efforts to help survivors are not scaled up, INQUIRER.net breaks down the problems which threaten communities long after Odette left the Philippine Area of Responsibility on Dec. 18, 2021.
Unicef explained that survivors were likely to experience outbreaks of diseases and starvation.
Outbreaks of diseases
With 8.09 million individuals hit by Odette, which killed 403 people, Unicef said it was seriously concerned over the possible rise of COVID-19 cases and diseases related to Water, Sanitation and Hygiene (WASH), saying that there's a "dire situation".
Presently, there are 2.3 million people who need WASH assistance as Unicef explained that the lack of WASH could quickly lead to the spread of diarrhea, as well as the rise in COVID-19 cases, especially through Omicron, a more highly transmissible variant of SARS Cov2, the virus that causes COVID-19.
The Department of Health (DOH) told AFP that nine people in Siargao, Surigao del Norte and Dinagat Islands have died from dehydration because of diarrhea. There were 895 cases of diarrhea since Dec. 16, 2021.
The International Federation of the Red Cross (IFRC) said the rise in diarrhea cases was likely because of contamination of water sources. This was the reason the Philippine government and non-government organizations are building emergency water treatment facilities.
Unicef explained that the rise in COVID-19 cases was expected because of complications related to hygiene management and infection prevention and control while Gonzales said the crisis could hinder the delivery of services.
Based on DOH data on Jan. 17, there are 22,340 active COVID-19 cases in the regions severely hit by the typhoon: Mimaropa (1,647), Western Visayas (7,289), Central Visayas (6,004), Eastern Visayas (3,412), Northern Mindanao (2,411), and Caraga Region (1,577).
IFRC said while the Philippines sees an immense rise in COVID-19 cases, "the situation in the affected area(s) is not well monitored because of the collapsed health system."
Odette, which had nearly 300 kph winds, left 141 health facilities damaged. IFRC said the lack of health care is expected to increase deaths in the typhoon-hit regions. "In the evacuation centers, sometimes, it is difficult to maintain physical distancing," said IFRC.
Unicef said populations hit by the typhoon were likely to experience outbreaks of diseases.
There are 22 active COVID cases in Dinagat Islands; 137 active cases in Surigao del Norte; 152 active cases in Southern Leyte; 555 active cases in Bohol; 1,409 cases in Cebu; 89 active cases in Palawan; and 1,290 active cases in Negros Occidental.
IFRC, however, said that considering the rise in COVID-19 infections in the Philippines, its operations have been following the "COVID-19 Safe Programming Guidelines," explaining that IFRC provides enough PPE materials and "test before deployment."
Food, education services
Unicef said because of Odette, "health and nutrition services in the affected areas have also been disrupted" and the people are likely to experience starvation, explaining that the nutrition of 2.6 million people is affected.
It said children bear the brunt of the climate crisis since child protection services are affected, explaining that prolonged disruption of livelihoods may "seed factors for online and offline sexual abuse and exploitation, child labor, and child and human trafficking," Gonzales said.
Based on Unicef data, there are 2,057 schools damaged and the repairs will take several months and will significantly delay the return of children to learning spaces.
"Distance learning is also impacted as households focus on recovery, shelters are affected, and the home learning environment is disrupted," it said. There are 217 million children in typhoon-hit regions who need emergency education services.
Raising finances
Unicef's response to individuals hit by Odette was backed by the UN Central Emergency Response Fund to provide life-saving supplies and support WASH, child protection, and education services in 12 towns in Surigao del Norte, Dinagat Islands, and Southern Leyte.
"Present in 10 regions, 57 aid organizations and 107 partners are distributing food, shelter and other essential items, supporting logistics, health care and education, protecting vulnerable people and assisting with voluntary returns," said Gonzales.
With the Philippine government's acceptance of the offer of assistance, Unicef said the Humanitarian Needs and Priorities document was already finalized. The document is appealing for P8.69 billion to serve affected communities.
Unicef appealed for P586.8 million to reach 200,000 most affected children with essential life-saving interventions. However, it said that as of Jan. 12, the appeal had a critical financing gap of 62 percent or P361.9 million––P225.2 million was already raised.
It said education, health, and WASH sectors are the least financed, with funding gaps of 75 and 58 percent:
Requirement: P82.0 million
Available: P20.5 million
Gap: P61.5 million (75 percent)
Requirement: P75.5 million
Available: P31.9 million
Gap: P43.6 million (58 percent)
Requirement: P30.0 million
Available: P27.6 million
Gap: P2.4 million (8 percent)
Requirement: P65.5 million
Available: P16.3 million
Gap: P49.1 million (75 percent)
Requirement: P293.5 million
Available: P123.4 million
Gap: P170.2 million (58 percent)
Requirement: P40.5 million
Available: P5.5 million
Gap: P35.0 million (87 percent)
Unicef said the education sector targets 520,000 most affected children. Likewise, 98,700 children will benefit from services dedicated for child protection in emergencies.
For WASH services, Unicef targets 520,000 individuals. The health services will also target 345,000 people, including 275,000 children below 5 years old in the provinces hit by the typhoon–the strongest to hit the Philippines in 2021.
Reaching out
Unicef, building on its solid preparedness plans, said the office and its partners were one of the first responders to the impact of the typhoon.
It provided the DOH with emergency WASH supplies that reached more than 45,000 individuals.
Unicef also provided 3,000 water containers, 1,058 family hygiene and dignity kits, 13,630 water purification tablets, 11 water tanks of up to 10,000 liters, chlorine bleaching powder, latrine add-ons, pan and P traps, squatting plates, plastic tarpaulin fire retardant sheets, 12,000 face masks, and 4,000 hand sanitizers to Action Against Hunger for the Caraga Region response which will reach an estimated 6,000 individuals.
It has also prepositioned supplies that can be mobilized for infection prevention and control of COVID-19. It deployed 200 modular tents to support physical distancing measures of up to 600 individuals.
Seven 72 square meter tents and eighteen 42 sqm tents were used as temporary district hospitals and rural health units for Siargao Island, Dinagat Islands, and Surigao City, which can benefit up to 2,100 individuals.
Unicef also initiated the procurement of inter-agency emergency health kits to reach 85,000 persons in need of essential health services, and acute watery diarrhea kits to treat 2,200 cases of acute gastroenteritis in Southern Leyte and Caraga Region.
TSB
Subscribe to our daily newsletter
For more news about the novel coronavirus click here.
What you need to know about Coronavirus.
For more information on COVID-19, call the DOH Hotline: (02) 86517800 local 1149/1150.
The Inquirer Foundation supports our healthcare frontliners and is still accepting cash donations to be deposited at Banco de Oro (BDO) current account #007960018860 or donate through PayMaya using this link .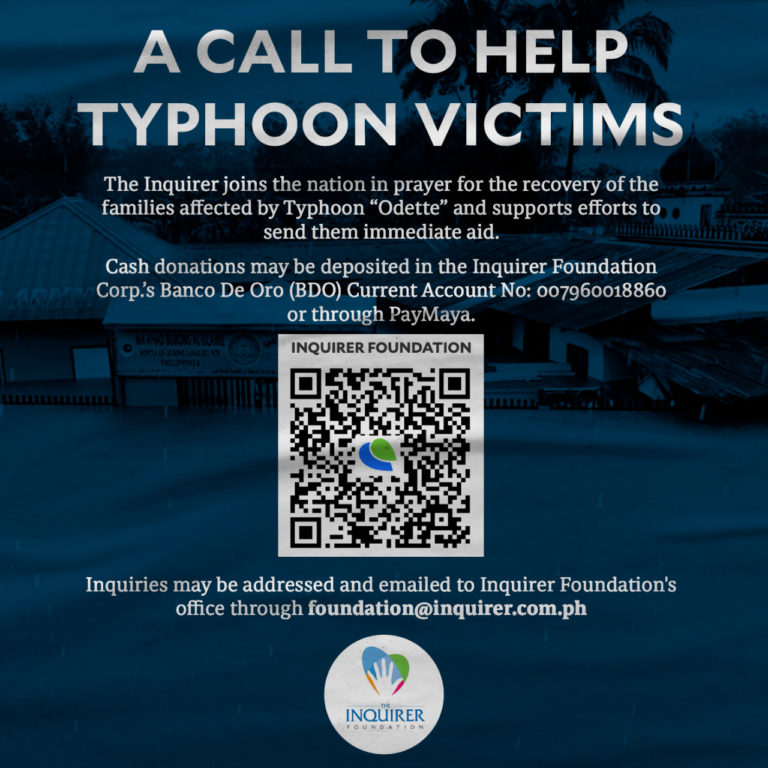 Subscribe to INQUIRER PLUS to get access to The Philippine Daily Inquirer & other 70+ titles, share up to 5 gadgets, listen to the news, download as early as 4am & share articles on social media. Call 896 6000.