Super Typhoon Odette (Rai): Quick facts
MANILA, Philippines—Two days ago, on Dec. 14, the Philippine Atmospheric, Geophysical and Astronomical Services Administration (Pagasa) announced that a  severe tropical storm, Rai, had entered Philippine area of responsibility (PAR) and was named Odette.
On Dec. 15, Odette had gained strength and became a typhoon. On Dec. 16, international weather monitors upgraded it to Category 5, the highest level. It made landfall also on Dec. 16.
Pagasa forecast heavy to torrential rains in areas on Odette's path and moderate to heavy rains elsewhere near the typhoon's band.
Tropical cyclone wind signal (TCWS) number 3 has been raised in some areas within Visayas and Mindanao, while TCWS numbers 1 and 2 were issued in locations across the country.
Here are some fast facts about Typhoon Odette (Rai) and its projected impact on the possible affected areas:
Typhoon intensity
Based on Pagasa's 8 a.m. bulletin, Odette has maximum sustained winds of 165 kph near the center, gusts of up to 205 kph, and a central pressure of 90 hPa. Later reports by international weather stations said Odette, or Rai, carried winds of up to 230 kph.
According to Pagasa, the term gust refers to "a sudden, brief increase in the force of the wind."
"It is of a more transient character than a squall and is followed by a lull or slackening in the wind speed. Most winds near the earth's surface display alternate gusts and lulls," the state weather bureau said.
The term "sustained wind," according to the Hong Kong Observatory, refers to the average wind speed over a specific period. It stands as the basis for TCWS issued by weather bureaus.
Movement
Pagasa, on the same tropical cyclone bulletin, said Oddete was last observed moving West Northwest at a speed of 25 kph.
People at risk
The National Disaster Risk Reduction and Management Council (NDRRMC) on Dec. 14 said over 10,000 villages are within the projected path of Odette. Mark Timbal, NDRRMC spokesperson, said these villages are mainly in the Visayas and Mindanao and some parts of Southern Luzon.
Timbal, in a televised briefing, said warnings had been issued to local governments in Northern Luzon, too, as their areas were also expected to experience heavy rains as a result of Odette (Rai).
According to an estimate made by Reliefweb.net, a website under the UN Office for Coordination of Humanitarian Affairs (UN-OCHA), Odette's path was running along areas with high poverty incidence.
These included a 16 million population in six regions at most risk from Odette and at least 3.8 million population living below the poverty line in six regions on Odette's path.
Aside from typhoons' impact on populations, the Department of Finance (DOF) said the Philippines has been suffering billions of pesos in financial loss and other damage as a result of climate change-related events.
Areas at risk
On Dec. 15, the NDRRMC issued and raised red alert status on its operation centers for monitoring and immediate disaster response.
Joe-Mar Perez, chief of the Office of Civil Defense (OCD) operations center, said seven regions were classified as "high risk" areas, including:
MIMAROPA (Occidental and Oriental Mindoro, Marinduque, Romblon, and Palawan) Western Visayas
Central Visayas
Eastern Visayas
Northern Mindanao
SOCCSKARGEN (South Cotabato, Cotabato, Sultan Kudarat, Sarangani and General Santos City)
Caraga
The OCD has placed these high-risk regions under Charlie Protocol, the highest emergency preparedness and response (EPR) level.
Seven regions were also identified as "medium risk" areas. These were:
Ilocos Region
Cagayan Valley
CALABARZON (Cavite, Laguna, Batangas, Rizal and Quezon)
Bicol Region
Zamboanga Peninsula
Davao Region
BARMM (Bangsamoro Autonomous Region in Muslim Mindanao)
These regions were placed under Bravo Protocol.
The National Captial Region (NCR), Cordillera Administrative Region (CAR), and Central Luzon were classified as "low risk" areas, and are under the Alpha Protocol.
Perez said Charlie Protocol was activated because of several regions falling under high-risk status.
Activated response clusters
According to Perez, the NDRRMC has activated the following response clusters to offer assistance in the affected regions:
Camp coordination and camp management, protection, food and non-food items led by the Department of Social Welfare and Development (DSWD)
Logistics led by the OCD
Search, rescue, and retrieval operations led by the Armed Forces of the Philippines (AFP)
Health services led by the Department of Health (DOH)
Emergency telecommunications led by the Department of Information and Communications Technology (DICT)
Education assistance led by the Department of Education (DepEd)
Resources and assets
The Central Visayas office of the Department of Social Welfare and Development has already prepared food packs and other items in anticipation of displacements to be caused by Odette (Rai).
The OCD, in cooperation with the response cluster members and the NDRRMC, has also identified the total resources and assets allocated to areas that would be hard hit by Odette (Rai).
Among the response cluster assets listed by Perez during the briefing were:
Standby resources for food and non-food items: P331,898,067.49 for MIMAROPA, Central Visayas, Eastern Visayas, Western Visayas and Caraga
Available deployable assets or resources for search, rescue and retrieval (SRR): 3,175 SRR teams, 558 land assets, 281 sea assets, 8 air assets
Available deployable assets for emergency telecommunications: 33 sets of telecommunications equipment
Available deployable assets or resources for logistics: 66 land assets, 245 sea assets, 39 air assets
The OCD, according to Perez, also has available prepositioned non-food items that were distributed to regions nationwide, including the seven "critical regions" under monitoring.
These include:
157,640 boxes of hygiene kits worth P76 million
10,302 pieces of malong, or protective covering, worth P2 million
16,629 family packs worth P183 million
29,437 pieces of blankets worth P7 million
22,460 boxes of surgical masks worth P1 million
"For now, we still have ample supply of assistance of non-food items in our regional offices," said Perez.
The OCD, in its office in Quezon City, has reserved non-food item stocks worth P75 million which it can augment in case needed by the typhoon-hit regions. These include:
12,360 boxes of hygiene kits worth P6 million
6,698 pieces of malong, or protective covering, worth P1 million
5,172 family packs worth P56 million
4,563 pieces of blankets worth P1 million
19,240 boxes of surgical masks worth P1 million
4,520 pieces of tarpaulin worth P9 million
The DSWD has also prepared 23,569 food packs in Central Visayas, 14,911 for Cebu, 6,658 for Bohol, and 2,073 for Negros Oriental.
Click here for more weather related news.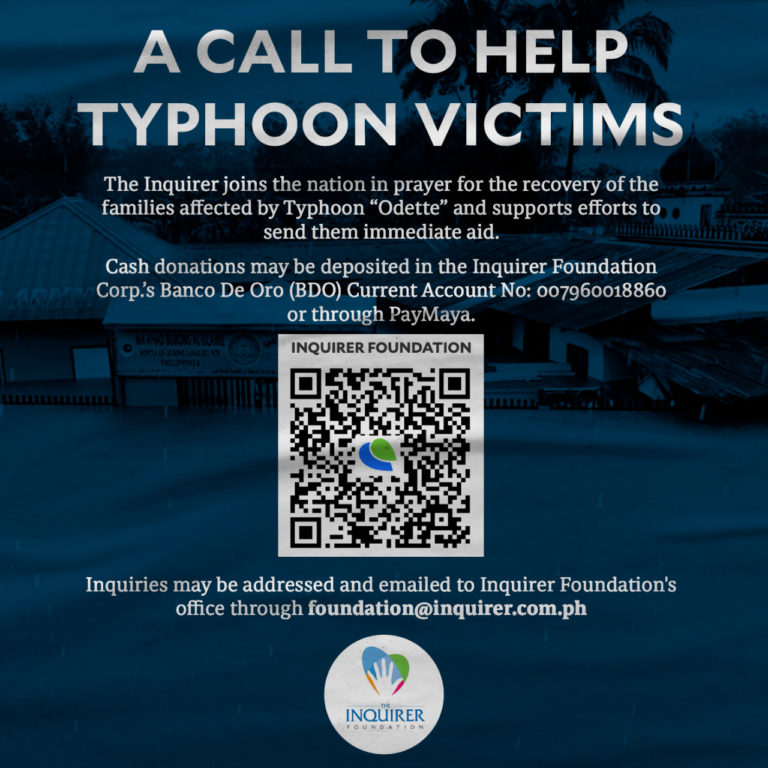 Subscribe to INQUIRER PLUS to get access to The Philippine Daily Inquirer & other 70+ titles, share up to 5 gadgets, listen to the news, download as early as 4am & share articles on social media. Call 896 6000.