UN agency sees 'dire picture' in scale of aid needed by Odette survivors
MANILA, Philippines—The United Nations agency handling humanitarian efforts on the ground for survivors of Super Typhoon Odette (Rai) is seeing what it said was a dire picture in the "trajectory of needs and the required scale of the response" to rebuild, provide relief and help millions of people get back on their feet.
"Needs are tremendous," said Gustavo González, resident coordinator of the UN Office for Coordination of Humanitarian Affairs (UN-OCHA), which is directing international relief efforts for Philippine regions and provinces worst hit by Odette.
"Together, we are still grasping to understand the full impact on the lives of communities and the economy," said González in a foreword to a report on the impact of Odette published online by ReliefWeb, the communications arm of UN-OCHA.
"As we look forward to 2022, the trajectory of needs and the required scale of the response paint a dire picture," González said.
González said Philippine Foreign Affairs Secretary Teodoro Locsin Jr. had already asked for his help in coordinating response of humanitarian community partners in support of government relief efforts.
"Only days before many Filipinos expected to reunite with family and friends, they now depend on our solidarity," González said.
Torrential rains, massive floods, Category 5 winds and storm surges left destruction in their wake in the Visayas and Mindanao when Odette made its first landfall on Dec. 16 and eight more afterward.
While the Philippine government has exerted massive effort, through its emergency response, UN OCHA said at least P5.4 billion more was needed in additional funding for humanitarian partners under the Humanitarian Country Team (HCT) to scale up assistance for typhoon-hit areas and residents.
In this report, INQUIRER.net would detail the immense impact of Odette and next steps needed to help millions of people, many of them already living below poverty line before the storm struck, get back on their feet in the middle of another still ongoing disaster—the COVID-19 pandemic.
Devastating impact
"Overnight, the typhoon left thousands of families homeless, placing at risk some of the impressive social and economic gains made since recovering from the fallout of the COVID-19 pandemic of the past two years," said González.
A few hours before making its first landfall on Dec. 16, Odette intensified into a Category 5 typhoon. Based on records of UN-OCHA, the super typhoon made nine landfalls in total and hit key areas in seven provinces, including:
Siargao, Surigao del Norte
Cagdianao, Dinagat Islands
Liloan and Padre Burgos, Southern Leyte
President Carlos P. Garcia and Bien Unido, Bohol
Carcar, Cebu
La Libertad, Negros Oriental
Roxas, Palawan
The super typhoon, which left the Philippine Area of Responsibility (PAR) on Dec. 18, has become the "strongest storm to hit Mindanao in ten years and the third ever strongest recorded storm in the Northern Hemisphere," according to UN-OCHA.
Among the regions, which were identified as the worst hit by Odette, were Caraga, Western Visayas, Central Visayas, Eastern Visayas, and Mimaropa (Occidental Mindoro, Oriental Mindoro, Marinduque, Romblon, and Palawan).
Communities in the provinces of Agusan del Norte, Dinagat Islands, Surigao del Norte, Surigao del Sur, Leyte and Southern Leyte have borne the brunt of the super typhoon.
"Across the six provinces, where up to 46 percent of people live below the poverty line, at least 1.2 million people are affected and at least 101,000 houses destroyed/damaged," said UN-OCHA in its report.
"More so, extensive damage and humanitarian needs are reported in Bohol and Cebu," it added.
The UN agency has estimated that Odette has affected 16 million people in severely-hit areas and has left 2.4 million people in need of assistance—of which 530,000 were people in the worst affected areas who were targeted for assistance.
The UN-OCHA report, released last Dec. 24, also listed the following impacts of the super typhoon:
People displaced
372,000 people inside evacuation centers
259,000 people outside evacuation centers
Citing data from the Department of Social Welfare and Development (DSWD), OCHA reported that more than 631,000 people had been displaced due to Odette.
"This includes 372,000 people in evacuation centers as well as another 259,000 people displaced with families and friends or in makeshift shelters," the UN-OCHA report said.
"Unable to repair their damaged or destroyed houses, all require immediate emergency shelter assistance and further shelter recovery support."
Damage to infrastructure
130,000 damaged houses
71,000 houses destroyed
87 flooded areas
269 cities and municipalities with power outages
"While houses made from light materials were hit the hardest, the typhoon was so strong at landfall that it also destroyed and damaged houses built with concrete," said UN-OCHA.
It said some families who evacuated as a preemptive measure have already started repairing damaged houses.
Damages to agriculture
61,000 hectares of land affected
87,600 metric tons (MT) of crop affected
P2.6 billion estimated value lost
Essential services
217,000 learners in need
650,000 women of reproductive age affected
The UN agency also noted that the typhoon has caused significant damage to health facilities, schools and essential services.
"Over 650,000 women of reproductive age are estimated to require urgent sexual and reproductive health care services," said UN-OCHA.
"Educational activities in 11 regions have been interrupted or suspended. With many schools damaged and others used as evacuation centers, it is of priority to ensure the return to school after the year-end holidays," it added.
The latest data from the National Disaster Risk Reduction and Management Council (NDRRMC) painted a more grim picture of the aftermath of Odette.
As of Dec. 27, the number of individuals who died due to the impact of Odette has gone up to 389—most of whom were between ages 20 and 60 years old.
The NDRRMC also recorded 1,146 people injured by the catastrophic event, while 64 remained missing.
The government agency has also reported the following updates on the impact of Odette:
Evacuation
700,321 persons from eight regions (Mimaropa, Western Visayas, Central Visayas, Eastern Visayas, Zamboanga Peninsula, Northern Mindanao, Caraga, BARMM) were preemptively evacuated
570,906 displaced persons
256,230 sought shelter outside evacuation centers
314,676 stayed in evacuation centers
1,179 total evacuation centers
"I congratulate the government of the Philippines for their preparedness activities. The effectiveness of preemptive evacuation and early warning messaging saved many lives," said González.
"The government of the Philippines made significant efforts to protect people and infrastructure, leveraging the investment made since Typhoon Haiyan in improved early warning and reinforcing the important leadership role played by local officials," he added, referring to the international name of Super Typhoon Yolanda.
Affected population
1,074,169 affected families
4,2014,601 affected persons
11 regions, 38 provinces, 429 cities/municipalities, 6,057 barangays affected
Reported incidents
99 areas in Mimaropa, Bicol Region, Western Visayas, Soccskargen (South Cotabato, Cotabato, Sultan Kudarat, Sarangani and General Santos), Caraga, BARMM experienced flash flood or flooding
85 other related incidents including drowning, maritime incident, rain-induced landslide, structural fire, collapsed structure, disease outbreak
Lifelines
225 road sections and 25 bridge sections affected
7 airports were affected with 25 flights canceled
128 seaports affected with 1,353 passengers, 697 rolling cargoes, four vessels stranded
285 cities/municipalities experienced power outage or interruption
154 cities/municipalities had their power restored as of Dec. 27
18 cities/municipalities experienced water supply outage or interruption
1 city/municipality already had its water supply restored as of Dec. 27
371 cities/municipalities experienced interruption in telecommunications
115 cities/municipalities already have their telecommunications fully restored
Damage to infrastructure
506,404 damaged houses
P28,163,718 estimated cost of damaged houses
276 damaged infrastructure (government facilities, flood control, bridges, health facilities, roads, schools, utility services facilities, and others)
P16,711,209,182 estimated cost of damaged infrastructure
Damage to agriculture
79,282 hectares of crops damaged
1,174,296 livestock and poultry affected
2,949.46 agricultural infrastructure/equipment damaged
P5,315,842,606.17 estimated cost of damage to agriculture
"The impact of Typhoon Rai is spread across several islands with diverse geographic characteristics and limited resilience," the UN- OCHA report said.
"While storms typically make landfall in the southern parts of Luzon or the eastern part of the Visayas, Rai struck regions further south, which do not typically experience the brunt of typhoons," it added.
More help needed
"Displaced people require safe, temporary shelter and repair kits to rebuild their homes. Many of them require food, potable water and medicines. People need access to sanitation and hygiene facilities," Gonzáles said.
"Planned pilots for school reopening have come to a halt, worsening the negative psychosocial and mental impacts caused by the COVID-19 pandemic on the lives of children," he added.
To address these issues, including the need to urgently scale up the country's humanitarian support, the UN-OCHA report said at least P5.4 billion more was needed to respond to the most urgent humanitarian needs for the next six months.
According to UN-OCHA, the level of priority was based on the initial findings of the government, HCT and results of the Joint Analysis for Disaster Exposure (JADE) developed by the Pacific Disaster Centre (PDC), WFP and OCHA on Dec. 15—which helped model the potential disaster impact on communities and the economy ahead of Odette's landfall.
The HCT consists of the UN, nongovernmental organizations (NGOs), the Red Cross and Red Crescent Movement and the private sector.
"The document prioritizes life-saving and protection programmes, focusing on most vulnerable groups, including displaced persons, host communities, indigenous groups and other affected people," the UN agency explained.
"Combining poverty indicators and severe wind strength exposure, the document targets at least 530,000 people in the worst affected areas in Caraga and Region VIII, as well as in other hard-hit regions," it added.
UN-OCHA said the Humanitarian Needs and Priorities plan will be revised in four to six weeks to reflect the needs based on additional assessments.
What each sector need
Here is the breakdown of the funding sought under the Humanitarian Needs and Priorities document:
Camp Coordination and Camp Management (CCM) – P351.7M
Target areas: Southern Leyte, Leyte, and Caraga
Target population: 106,000
Education – P65.3M
Target areas: Surigao del Norte, Surigao del Sur, Dinagat Islands, and Southern Leyte
Target population: 87,000
Emergency shelter – P753.6M
Target areas: Eastern Visayas and CARAGA
Target population: 90,000
Emergency Telecommunications – P50M
Target areas: Surigao, Siargao Island, Dinagat Island, Southern Leyte, Bohol Island, Cebu
Target population: humanitarian workers
Food security and agriculture – P1B
Target areas: CARAGA, Eastern Visayas and other hardest-hit communities
Target population: 530,000 of 2.4 million people in need
Health – P572.7M
Target areas: Caraga and Eastern Visayas
Target population: 519,300
Nutrition – P155.7M
Target areas: Caraga, Cebu, Bohol, Negros Occidental and Oriental, Agusan del Norte, Palawan, and Cagayan de Oro
Target population: 2.6M
Logistics – P200M
Target areas: CARAGA, Eastern Visayas
Target population: Government and humanitarian workers
Protection (including child protection and Gender-Based Violence) – P437M
Target areas: Surigao del Norte, Surigao del Sur, Dinagat Islands, Agusan del Norte, Southern Leyte, Leyte
Target population: 523,500 displaced individuals, 100,000 individuals at risk of GBV, 98,700 children
Water, Sanitation and Hygiene (WASH) – P783.7M
Target areas: Areas in CARAGA and Central Visayas
Target population: 520,000 out of 2.3 million people in need
Early recovery – P251M
Target areas: Surigao del Norte, Surigao del Sur, Dinagat Islands
Target population: 10,000 women-entrepreneurs, 1,000 municipal fishers, 15 LGUs and tourism industry
Coordination – P60.3M
Target areas: CARAGA and Eastern Visayas
Target population: HCT partners including national NGOs, CSOs, INGOs, private sector and government counterparts at the national and local levels.
TSB
Subscribe to our daily newsletter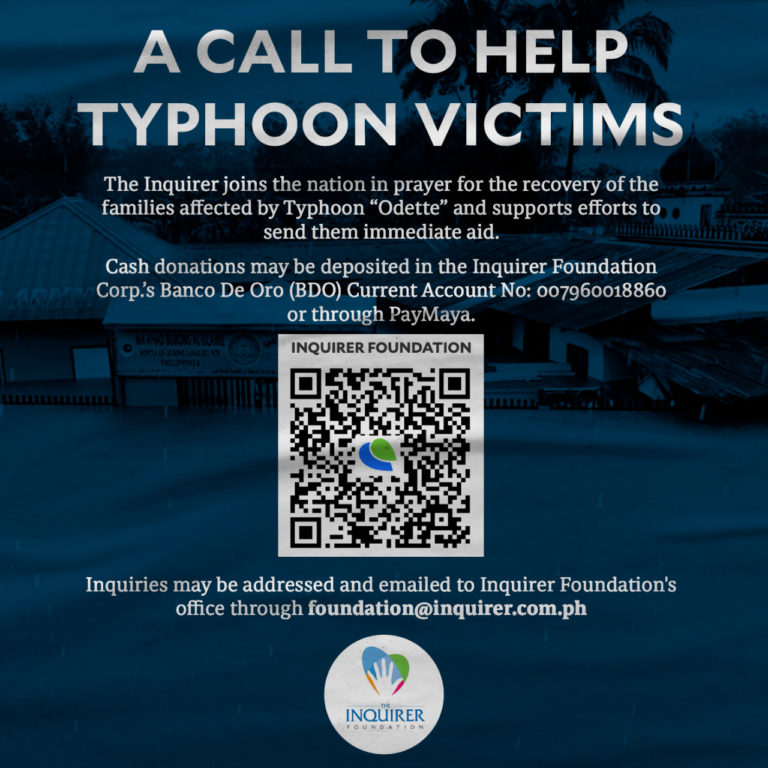 Subscribe to INQUIRER PLUS to get access to The Philippine Daily Inquirer & other 70+ titles, share up to 5 gadgets, listen to the news, download as early as 4am & share articles on social media. Call 896 6000.