UP profs told not to fail, drop students in 1st semester amid pandemic, disasters
MANILA, Philippines — University of the Philippines (UP) professors have been directed to neither fail nor drop students for the first semester of the academic year 2020-2021 in consideration of the impact of the COVID-19 pandemic and recent typhoons on education.
On Thursday, a memorandum from UP's Office of the Vice President for Academic Affairs said no grades of 4 or 5 will be given during this period to extend compassion to students.
"Cognizant of high anxiety levels — due to the pandemic and the impact of typhoons on students and the faculty — as well as the reality that the First Semester AY 2020-2021 is still a transition semester towards the learning delivery mode of the next normal […] the following conditions shall prevail: A grade of '4' or '5' shall not be given this semester," the memo said.
"Nor are faculty members allowed to give a forced drop 'DRP' to students on the basis of non-attendance of synchronous classes or non-communication within the semester.  Instead, they will be given an INC," it added.
This memo comes after students complained of being pressured to study under harsh conditions following the successive typhoons in the midst of prevailing restrictions due to the pandemic.
A youth organization even called for either an academic strike or an academic freeze, citing the government's supposed incompetency to address the issues of students.
READ: Student group wants academic freeze until floods clear, internet fixed
READ: Duterte unfazed by call for students' strike vs gov't response to typhoon
While the country still confronts the effects of a public health crisis, consecutive cyclones struck the country and caused destruction in many parts of Luzon. From October 12 to November 11, eight storms have hit the country – only one of which did not make landfall.
Among those eight are Typhoon Quinta, Super Typhoon Rolly, and Typhoon Ulysses that brought about widespread calamity including massive floods in Marikina City, Central Luzon, and Cagayan Valley.
READ: Ulysses may cause flashfloods, landslides, lahar – Pagasa
READ: No back-to-back storms seen after Ulysses but Pacific Ocean still restless
UP also extended the deadline for instructors to upload students' grades to January 22, 2021.  This also means that students can comply with requirements until this deadline, before getting the INC mark.
UP said INCs or incomplete marks can be applicable to students who had passing grades for the whole semester for a particular subject but failed to comply with certain requirements due to valid reasons. INC marks provide students a chance to comply with the requirements within a year after the mark was issued, it added.
"The faculty will help affected students comply with the adjusted requirements in time for the 22 January 2021 deadline for the submission of grades. However, students with missing or incomplete requirements by 22 January 2021 shall be given an INC," UP explained.
KGA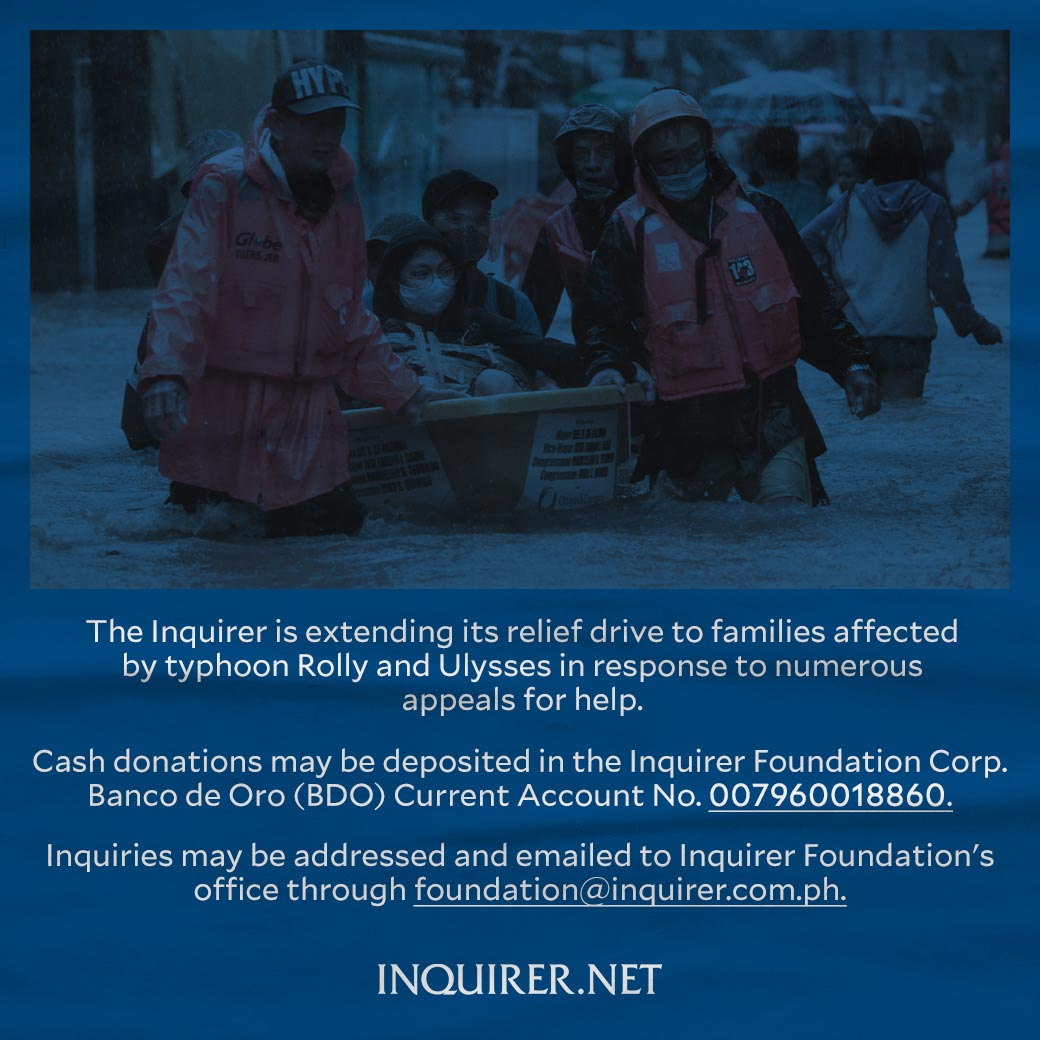 Subscribe to INQUIRER PLUS to get access to The Philippine Daily Inquirer & other 70+ titles, share up to 5 gadgets, listen to the news, download as early as 4am & share articles on social media. Call 896 6000.