Some areas in Albay may be uninhabitable after lahar flow, says Robredo
MANILA, Philippines — There are areas in Albay province — especially in Guinobatan town — that may no longer be habitable after the onslaught of Super Typhoon Rolly, Vice President Leni Robredo said on Sunday.
According to Robredo, the lahar flow that affected Guinobatan was so immense, that people could have been killed had they refused to evacuate.
Over 200 homes were buried in the lahar flow that came from Mayon Volcano and was washed away by Rolly's rain and wind when it hit the Bicol Region last November 1.
"Iyong lahar flow sa Guinobatan, grabe. As in sobrang lawak noong lugar na natamaan. Almost 300 na mga bahay, parang 200-plus na mga bahay, iyong natabunan," Robredo said in her weekly radio program at DZXL.
(The lahar flow in Guinobatan is severe.  The range of areas affected is so wide, with almost 300 houses, around 200-plus houses were buried.)
"Kapag nakita mo, talagang ano siya, parang no man's land — ang lalaki ng mga bato. Mukhang hindi na puwedeng tirhan ulit.  Mayroon doon isang creek na natabunan.  Mayroong bagong creek na lumabas," she added.
(If only you can see it, it's like a no man's land, the rocks driven are huge.  It may no longer be habitable.  There is a creek that was also affected, while a new creek sprung out.)
Robredo, who visited hard-hit areas in Bicol last week to provide aid and to assess the damage, said residents did not expect the the lahar flow as the mud from the volcano took a different route.
She added that this recent lahar flow that affected Guinobatan was on a route that was last observed in the 1960s — which took some residents by surprise as they initially thought they would not be hit.
"Iba iyong dinaanan ng lahar; hindi iyong dating dinadaanan. Ang kuwento doon, dito sa bagong dinaanan, iyong huling pagdaan ng lahar doon, parang 1960s pa. Hindi nila inaasahan na doon dadaan, pero buti na lang kasi iyong local government unit, nag-enforce pa din ng forced evacuation," Robredo explained.
(The lahar flow took a different route, not the one it usually moves through.  People said that the last time lahar flowed in this route was back in the 1960s.  They didn't expect it to move there, but it's a good thing the local government unit enforced a forced evacuation.)
"Kasi kung hindi, marami talagang mamamatay. Iyong balita natin, iyong sabi noong mga officials doon, iyong mga namatay actually, iyon iyong nagpaiwan, nagpaiwan doon sa mga bahay nila. Iyong mga umalis, iyon iyong mga nasalba," she noted.
(Because if not, a lot of people will die.  The news that reached us is that officials said people who died are the ones who insisted on staying in their homes.  Those who sought shelter in safer areas were saved.)
Rolly packed maximum sustained winds over 200 kilometers per hour as it slammed into the provinces of Albay and Catanduanes.
Data from the Philippine National Police places the death toll at 25, with 21 coming from Bicol alone.
READ: PNP: 25 dead, 43 injured in Rolly's wake
Meanwhile, the National Disaster Risk Reduction and Management Council pegged Rolly's damage to infrastructure and agriculture at P11 billion.
READ: Damage to infrastructure, agriculture due to typhoon Rolly rises to P11B
Earlier, Robredo also proposed having evacuation centers that can also accommodate pets and livestock.
READ: VP asks LGUs to set up animal evacuation centers amid Taal unrest
/MUF
Subscribe to our daily newsletter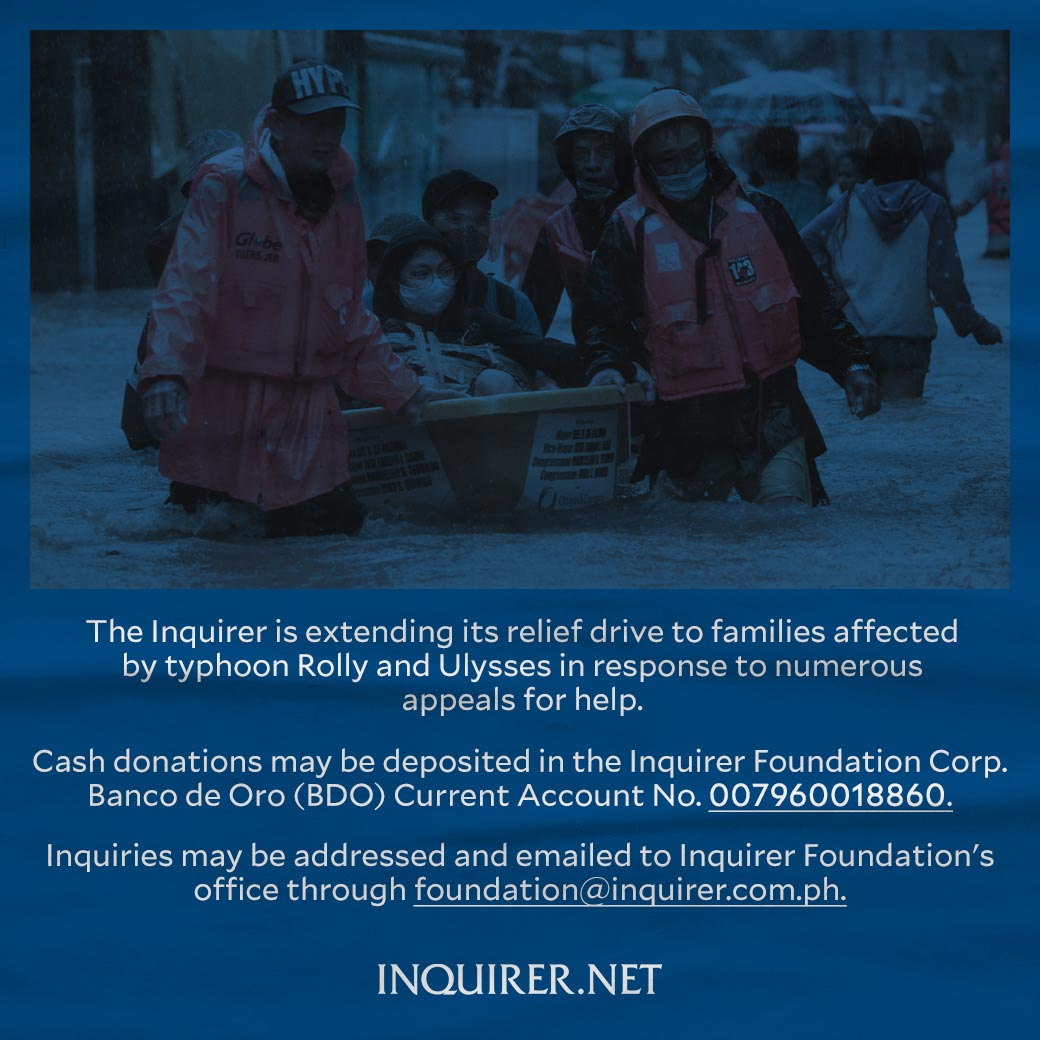 Subscribe to INQUIRER PLUS to get access to The Philippine Daily Inquirer & other 70+ titles, share up to 5 gadgets, listen to the news, download as early as 4am & share articles on social media. Call 896 6000.