Robredo wants evacuation centers to accommodate pets and livestock
MANILA, Philippines — Vice President Leni Robredo has proposed the construction of stronger evacuation centers that not only will withstand natural calamities but will also accommodate pets and livestock.
Robredo said in her Sunday radio program that while moving around the Bicol Region for the whole week, she had observed that despite the pre-emptive evacuation done ahead of Typhoon Rolly's landfall, some farmers refused evacuation to take care of their livestock and pets at home.
This observation prompted Robredo to suggest the inclusion of livestock and pet animals in evacuation facilities.
"Marami nito sa amin — ayaw umalis kasi iyong mga hayop nila maiiwan. Alam mo, halimbawa iyong mga magsasaka kasi, mayroon silang mga alagang kalabaw […] mga alagang aso. Ayaw nilang iwanan," Robredo told DZXL.
(There were many who did not want to go to the evacuation centers because their animals will be left behind.  Our farmers for example, they have animals to tend to, and they don't want to leave them.)
"Kaya nga sinasabi ko sa mga nakausap ko na mga barangay officials, sabi ko sa susunod nga—at matagal ko na sa kanila itong sinasabi—parang maglagay na din ng provision para sa evacuation ng mga hayop," she added.
(That's why I have told the barangay officials, and have proposed this many times, that they include a provision for the evacuation of animals.)
The Vice President noted that this is not the first time that some people had refused evacuation, saying that it is a part of a lot of people's culture to have the head of the household stay at home and guard the livestock as the relatives evacuate.
Robredo hails from Bicol, specifically from Camarines Sur's capital Naga City.
This is also not the first time that she proposed such measures.  Back during the eruption of Taal Volcano in January 2020, Robredo stressed the need to have  animal evacuation sites after some people were left with no choice but to abandon their animals.
READ: VP asks LGUs to set up animal evacuation centers amid Taal unrest
READ: Next target for gov't evacuation: Animals left behind in danger zone
"Sa amin, very common iyong kapag may evacuation, iyong mga matatanda, iyong mga bata, saka mga babae, iyon iyong papapuntahin sa evacuation centers, pero iyong mga head of the family, iyon iyong naiiwan," she said.
(In our area, it is very common that when there is an evacuation, the elderly, the children, and women  are asked to evacuate while the head of the family remains at home.)
"Nakita din natin ito noong Taal, noong Taal eruption, ganoon din. 'Di ba iyong nasa isla noon, ayaw nilang iwan kasi marami silang mga kabayo na alaga. Dapat talaga kabahagi ng evacuation plans iyong mga hayop, para walang inaalala iyong mga residents," she urged.
(We also saw this during the Taal eruption, the same things happened.  Isn't it that in some did not want to leave the island because their horses will be left behind.  I think evacuation plans should always consider the animals, so that residents will not worry much.)
While there are evacuation centers for animals in the country, many like the animal shelters in Valenzuela which were activated amid Rolly's threat, only caters to dogs and other small pets.
But in the rural areas, only a few, if any, of the evacuation sites can accommodate farm animals like poultry, hogs, carabaos, and other livestock.
READ: 'Animal shelters, preemptive evacuation' Metro LGUs get ready for Typhoon Rolly
Rolly, the world's strongest cyclone for 2020, packed maximum sustained winds over 200 kilometers per hour when it hit Catanduanes and other Bicol provinces last November 1.  Latest data from the Philippine National Police places the death toll at 25, with 21 coming from the Bicol Region.
READ: PNP: 25 dead, 43 injured in Rolly's wake
Meanwhile, the the National Disaster Risk Reduction and Management Council pegged Rolly's damage to infrastructure and agriculture at P11 billion, while the Department of Public Works and Highways said damage to public infrastructure is at P5.76 billion.
READ: Damage to infrastructure, agriculture due to typhoon Rolly rises to P11B
READ: Rolly's damage to public infra now at P5.76B
/MUF
Subscribe to our daily newsletter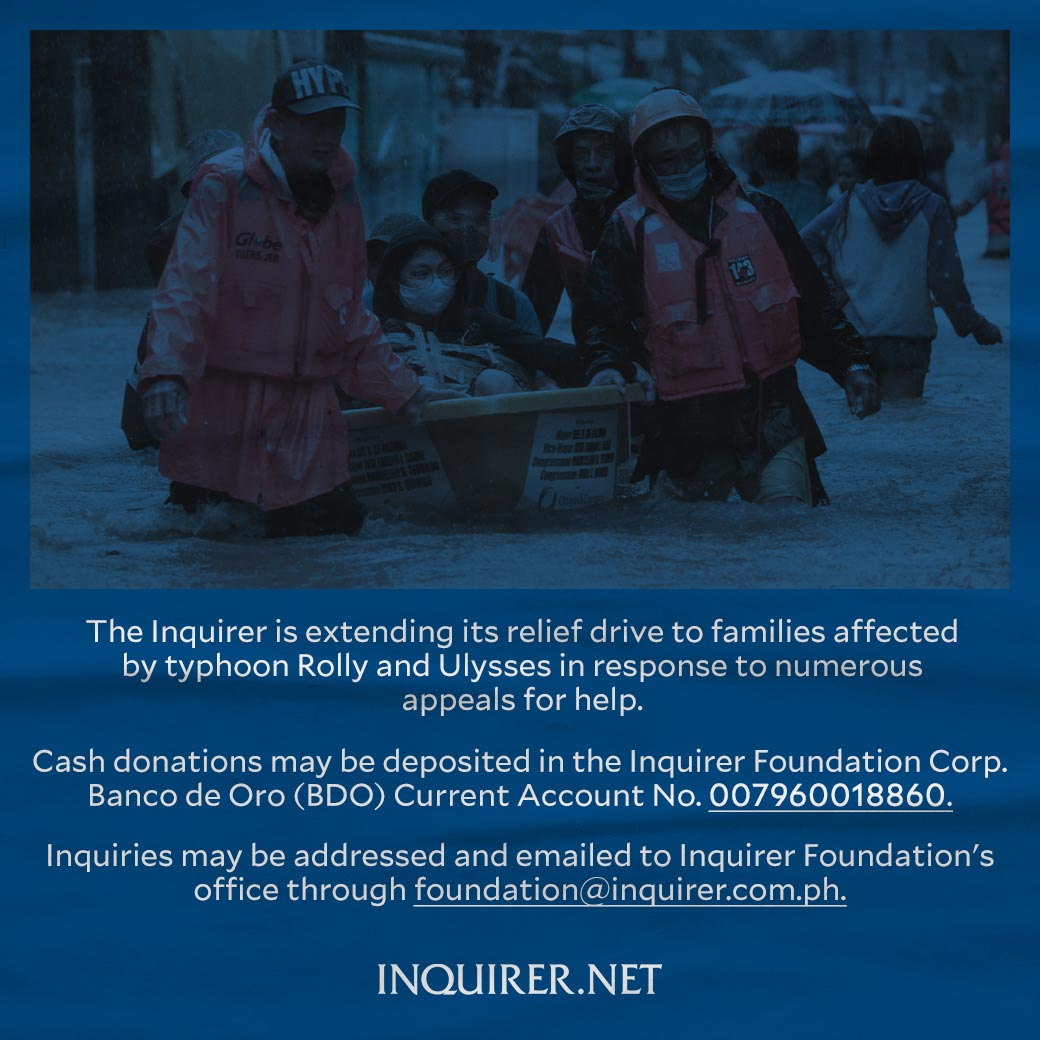 Subscribe to INQUIRER PLUS to get access to The Philippine Daily Inquirer & other 70+ titles, share up to 5 gadgets, listen to the news, download as early as 4am & share articles on social media. Call 896 6000.