LGUs deserve credit for low number of casualties amid Super Typhoon Rolly — Robredo
MANILA, Philippines — The work that local government units (LGUs) in Bicol Region have done in preparation for Super Typhoon Rolly deserves praise, as Vice President Leni Robredo believes they are a major reason why the casualty count was kept low.
Speaking in her weekly radio program on Sunday, Robredo — who is back in Manila after a week of checking the situation in Rolly-devastated Bicol — said that local officials from the barangay level up to the provincial level adhered to the preparation required for a strong typhoon.
Last November 1, Rolly barreled into the Bicol Region, hitting mainly Camarines Sur, Catanduanes, and Albay as it deviated from its initial path of hitting Aurora province.  Latest data from the Philippine National Police places the death toll at 25, with 21 coming from Bicol.
READ: PNP: 25 dead, 43 injured in Rolly's wake
"Kaya kaunti iyong casualties dahil sa local officials. At kapag sinabi natin na local officials, ito iyong mga barangay, iyong mga munisipyo, pati probinsya […] Iyong mga lokal talaga, sila talaga iyong ike-credit natin kung bakit, sa tindi ng hagupit ng bagyo, kaunti iyong casualties," Robredo said in her program at DZXL.
(Local officials are the reason why we have a low number of casualties.  And when I say local officials, these includes the barangay, municipal, and even provincial officials.  They should be credited as to why despite the immense effects of the typhoon, casualties are few.)
"Kasi talagang pinaghandaan. Halimbawa sa Albay, gaya ng sabi ko, iyong mga kahoy na delikado, pinutol na bago pa—kasi nag-Quinta pa, 'di ba. Pinutol na. Iyong mga puwedeng daanan, talagang nilinis na nila. Parang dahil sanay na, alam na iyong gagawin," she added.
(They really prepared for it.  Like in Albay, the trees that may cause damage were cut down even before Typhoon Quinta struck.  Pathways were cleared because they have gained experience, they know what to do.)
But despite the LGUs' efforts, Robredo noted that some issues like lessening infrastructure damage which can be addressed by proper engineering — which eventually lessens fatalities — cannot be attended to by local governments with their limited resources.
As such, she called on the national government to help small towns place sturdy structures especially evacuation centers, especially since Robredo and her team stumbled upon a heavily-damaged school which was used as an evacuation center in a coastal barangay of Camarines Sur.
"Pero karamihan kasi sa LGUs, hindi naman nila kaya iyong mga infrastructure na malalaki.  Kailangan nila ng tulong from the national government. So siguro iyong pinakakailangan ngayon, iyong coordination ng national sa local kung ano iyong mga klase ng infrastructure na kailangan,"she explained.
(But most of the LGUs, they cannot afford to do big infrastructure projects.  They need help from the national government.  So maybe the most pressing need after this is the coordination between national and local regarding what infrastructure project is needed.)
"Saka iyong pag-invest sana sa mga evacuation centers na sturdy. Kasi ngayon ang daming evacuation centers na nasira," she added.
(I hope we can invest in sturdy evacuation centers, because a lot of them were damaged.)
Robredo was referring to the Sabang National High School in Calabanga — an area they visited — which sustained damages during Rolly's onslaught like blown away roofings and collapsed ceilings.
READ: LOOK: Robredo checks, brings relief to Rolly-hit Camarines Sur
As of Thursday, the National Disaster Risk Reduction and Management Council said that Rolly's damage to infrastructure and agriculture is pegged at P11 billion.  The Department of Public Works and Highways said that P5.76 billion of this is public infrastructure.
The Vice President also noted that one of the reasons why deaths still occurred in the region is that some livestock farmers and those concerned with the destruction of their homes refused to heed local officials.
Robredo said that some of the reasons were understandable, which is why she suggests that evacuation centers for animals be put up too, so that hog raisers or poultry farmers can bring their livestock as they evacuate.
"Halimbawa iyong mga magsasaka kasi, mayroon silang mga alagang kalabaw, mayroong mga alagang… halimbawa, mga alagang aso. Ayaw nilang iwanan. Kaya nga sinasabi ko sa mga nakausap ko na mga barangay officials, sabi ko sa susunod nga—at matagal ko na sa kanila itong sinasabi—parang maglagay na din ng provision para sa evacuation ng mga hayop," she noted.
(Our farmers for example, they have animals to tend to, and they don't want to leave them.  That's why I have told the barangay officials, and have proposed this many times, that they place a provision for the evacuation centers of animals.)
JE
Subscribe to our daily newsletter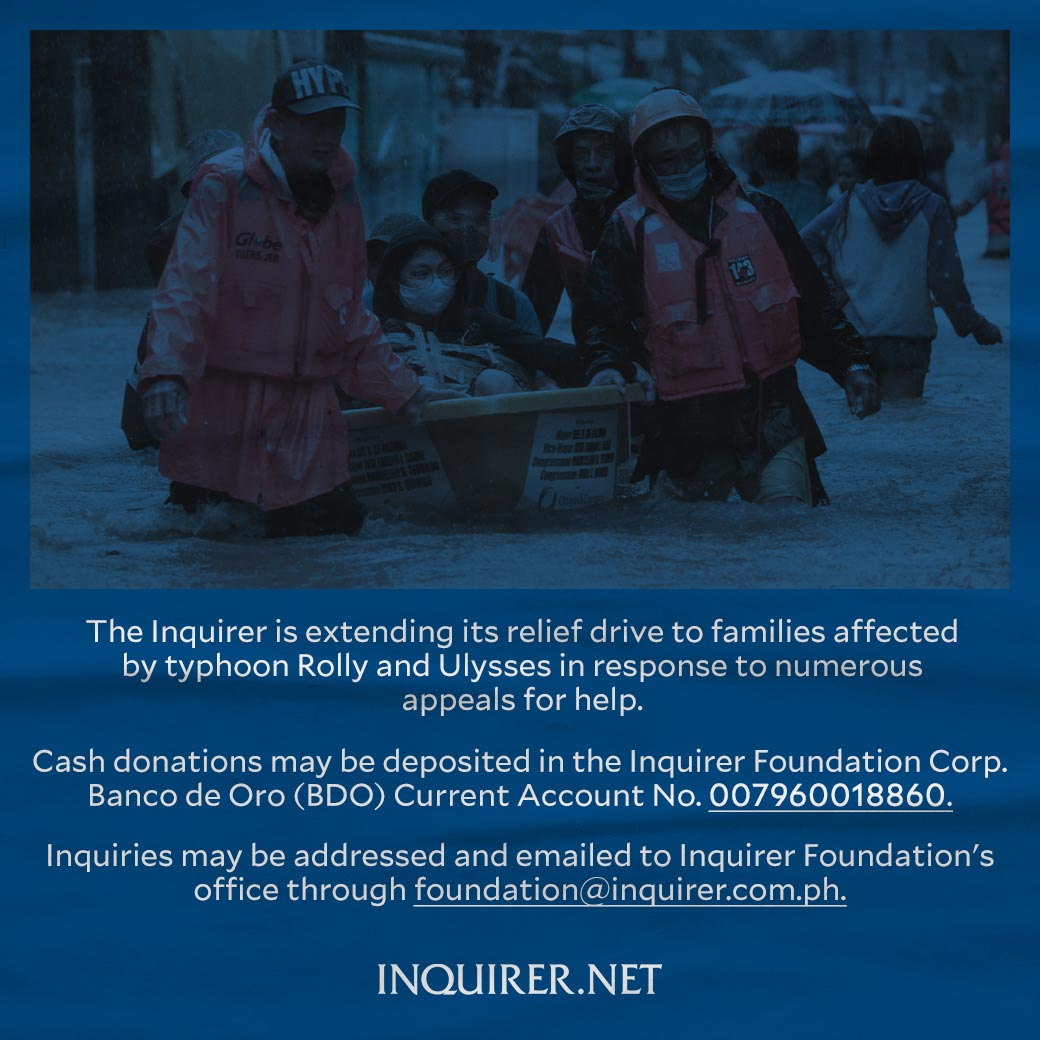 Subscribe to INQUIRER PLUS to get access to The Philippine Daily Inquirer & other 70+ titles, share up to 5 gadgets, listen to the news, download as early as 4am & share articles on social media. Call 896 6000.