Robredo visits island barangays in CamSur as OVP continues relief ops
MANILA, Philippines — Remote island communities in Camarines Sur were the latest areas visited by Vice President Leni Robredo as her office continues its relief operations for those affected by Super Typhoon Rolly in the Bicol Region, her office said Friday.
Robredo specifically went to Barangays San Nicolas, San Juan, and Palo in Canaman town, and Barangay Barobaybay in Magarao on Thursday afternoon to check on residents and distribute aid to them.
The Office of the Vice President said Magarao Mayor Yip Yip Señar and other barangay officials accompanied Robredo during the visit.
Robredo and her team started their relief drive on Monday, November 2, a day after Rolly lashed out the Bicol Region and other provinces in Southern Luzon, leaving at least a dozen people dead and properties ruined.
Robredo earlier visited several coastal villages in Camarines Sur, as well as other heavily-battered areas in Catanduanes and Albay provinces. OVP said its relief operations were prompted by calls for help from various towns in the Bicol Region.
LOOK: Robredo visits Rolly-battered Catanduanes, Albay; gives aid
In Calabanga, Robredo said schools that were used as evacuation centers during Rolly's onslaught were also badly damaged as some classroom ceilings collapsed while roofs were blown away.
LOOK: Robredo checks, brings relief to Rolly-hit Camarines Sur
Rolly, dubbed as the world's strongest cyclone so far this 2020, made several landfalls in the Bicol Region. According to the National Disaster Risk Reduction and Management Council (NDRRMC), Rolly destroyed around P11 billion-worth of infrastructure, crops, etc.
Meanwhile, the Philippine National Police said the death toll due to Rolly is now at 25, with at least 21 of them from the Bicol Region alone, as 43 others were injured.
KGA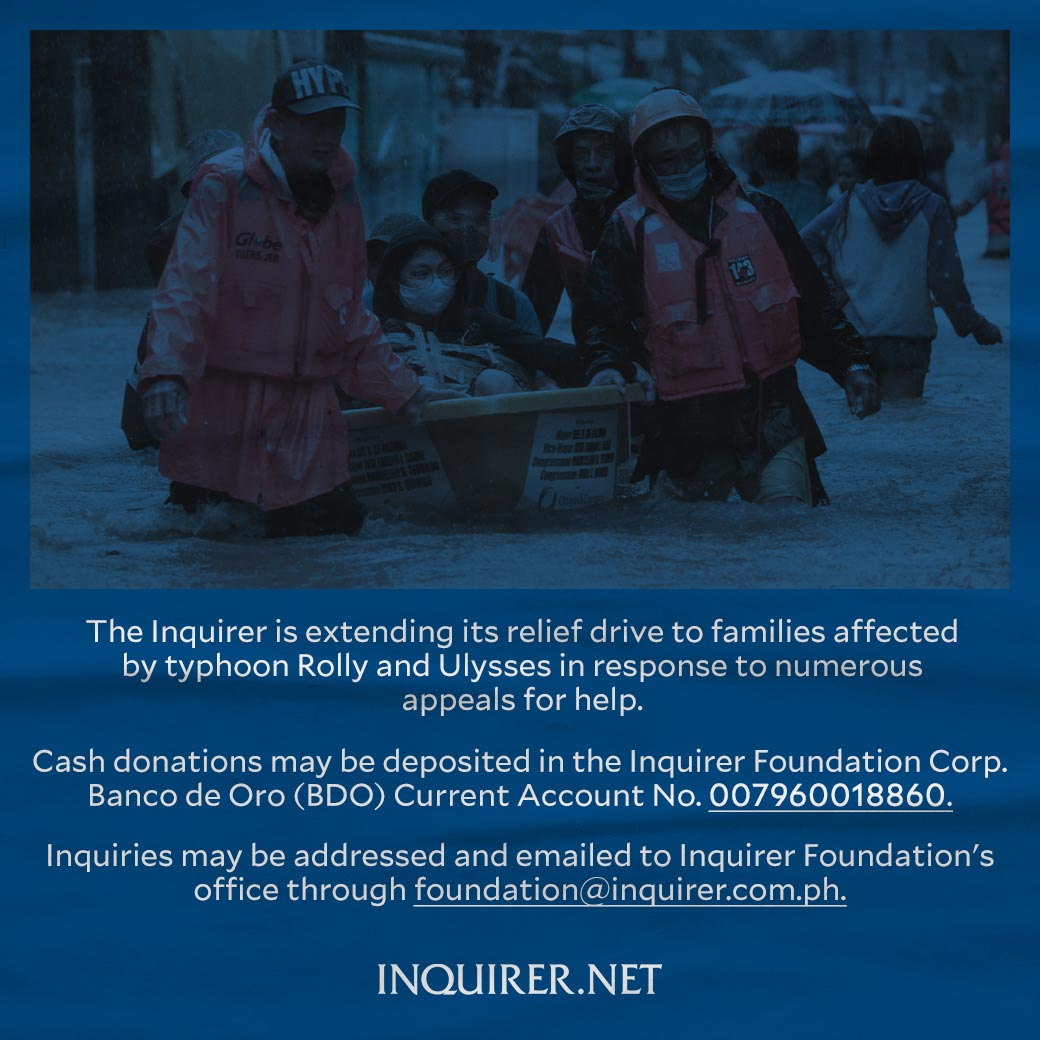 Subscribe to INQUIRER PLUS to get access to The Philippine Daily Inquirer & other 70+ titles, share up to 5 gadgets, listen to the news, download as early as 4am & share articles on social media. Call 896 6000.