Pagasa assures Filipinos: Our weather forecasts accurate, JTWC uses another system
MANILA, Philippines — The Philippine Atmospheric, Geophysical and Astronomical Services  Administration has assured Filipinos that its weather forecasts for Typhoon Rolly are accurate amid a United States (US) weather report saying that the typhoon may peak at 270 kilometers per hour (kph).
According to Pagasa Public Information Office chief Venus Valdemoro, there are differences between their monitoring system and the US Navy's Joint Typhoon Warning Center (JTWC) as the latter is not a member of the World Meteorological Organization.
READ PREVIOUS STORY: US-JTWC raises Rolly's intensity predictions: Up to 270 kph in 12 hours
INQUIRER.net asked Valdemoro for clarification on Friday, amid different intensity predictions from Pagasa and JTWC. Pagasa said Rolly's peak would be at 195 kph.
"Ganito 'yon: ang JWTC ay iba ang kanilang pagsukat compared sa Pagasa.  Ang Pagasa, ang sinusunod 'yong sa WMO.  Lahat ng member-countries ng WMO, composed of 190 member-countries, ay may iisang sinusundan," she clarified in a phone interview.
(This is how it works: JWTC has a different standard in measuring storms compared to Pagasa.  Pagasa follows the standards of WMO, like other WMO member-countries, composed of 190 states, we follow one standard.)
She also noted that JWTC may get higher predictions because it monitors on a one-minute interval. In contrast, Pagasa and other WMO members monitor on 10-minute intervals to get a clearer picture.
JWTC, Valdemoro said, is not a WMO member because of its military nature, as WMO is composed of civilian agencies.
The discrepancies between JTWC and Pagasa predictions started on Thursday when the former said Rolly will pack maximum sustained winds of 240 kph – far from Pagasa's initial 165 kph prediction.  Even as Pagasa acknowledged the possibility or Rolly becoming a super typhoon, JWTC's latest version was way too high.
Valdemoro also cited Super Typhoon Yolanda's case, which has maximum recorded wind speeds of 315 kph, saying that JWTC made a higher prediction.
"Kumpleto tayo ng data in terms of forecasting, lahat naman meron na tayo.  Meron tayong climate data na pwedeng basehan, compared doon sa kanila.  Meron naman silang sariling models pero tayo mas kumpleto," she stressed.
(We have more complete data in terms of forecasting, we have those.  We also have climate data that we can use as a basis, compared to their forecast.  They do have their own models but we have more complete data.)
"Bakit?  Kasi nga may mga sinusundan tayong mga meteorological data, surface data na actual 'yang kinukuha sa mga 58 stations nationwide," she added.
(Why?  Because we follow various meteorological data, surface data which are actually obtained from 58 stations nationwide.)
Pagasa's latest severe weather bulletin showed that Rolly has packs maximum sustained winds of 185 kph and gustiness of up to 230 kph.  It was last seen 980 kilometers east of Casiguran, Aurora, and is still moving west at 20 kph.
Rolly is still seen to turn southwest between Friday night and Saturday morning, continuing to move near the Bicol Region.  It may make as a slight west-northwest nudge between Saturday and Sunday, which means that it may make landfall over Aurora or northern Quezon province by Monday.
Tropical Cyclone Wind Signal No. 1 is already raised over Catanduanes, as it may start feeling wind speeds of 30 kph to 60 kph in the next 36 hours. [ac]
RELATED STORIES
Click here for more weather related news.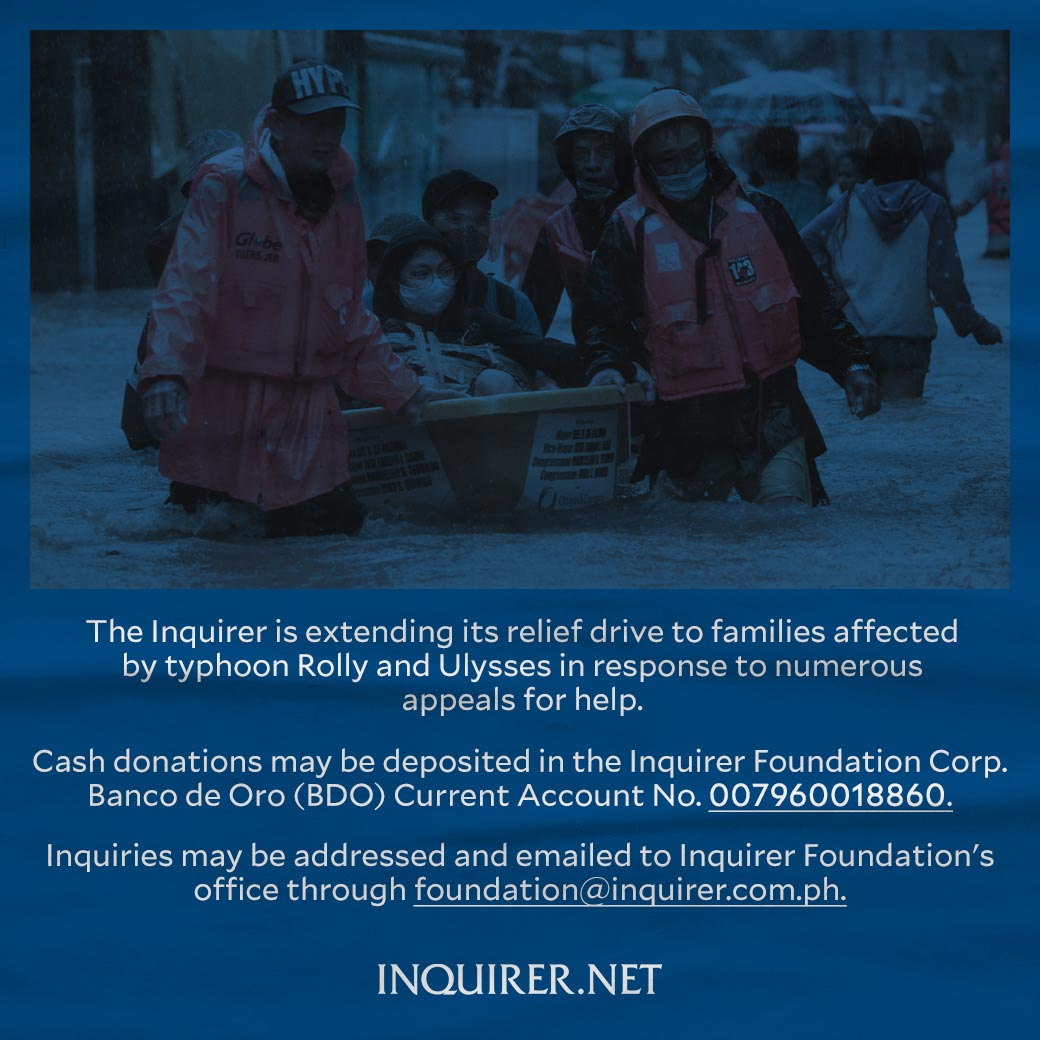 Subscribe to INQUIRER PLUS to get access to The Philippine Daily Inquirer & other 70+ titles, share up to 5 gadgets, listen to the news, download as early as 4am & share articles on social media. Call 896 6000.