2020: A year OVP kept itself busy despite lack of funds, brickbats from Malacañang
MANILA, Philippines—When the Office of the Vice President (OVP) entered 2020, some of the burden placed on its shoulders was gone, though not in the manner it wanted, as Vice President Leni Robredo was stripped of her shortlived role in President Rodrigo Duterte's war on drugs.
Just 19 days after her appointment as co-chair of the Inter-Agency Committee Against Illegal Drugs (ICAD), Robredo was fired by Duterte because the Vice President had talked about the drug campaign with institutions that Duterte considered to be critical of his administration.
Losing the ICAD role, however, meant more time for the Vice President to focus on other things, like her antipoverty program Angat Buhay and other programs that Robredo had been pushing and had to take a backseat when the ICAD posting came.
It could have been a blessing in disguise that Robredo lost her ICAD position because her hands would be full again responding to a series of calamities that would strike the country.
How much was spent
According to a document released by the OVP, it has put together a total of P505.3 million in assistance for COVID-19 response and another P35.06 million for disaster relief operations, including those for the eruption of Taal Volcano last January and the series of typhoons from October to November.
For the pandemic response, P306.3 million came from the OVP's own funds, while P199 million came from donations of private sector partners.
Most of the funds allocated for the pandemic response went to medical assistance—P206.7 million. Next came funds for personal protective equipment (PPEs) from both local and imported manufacturers worth P64.07 million and coronavirus testing kits worth P56.84 million.
The OVP had procured at least 45,000 testing kits which had been distributed to different areas, but mostly to the Research Institute for Tropical Medicine (RITM) in Metro Manila which got 12,750 kits costing at least P5.325 million. It was followed by Philippine General Hospital which received 5,755 testing kits from the OVP worth at least P8.543 million.
Among the OVP's other projects were:
Dormitories to house workers at the frontline of the pandemic fight in Metro Manila and Cebu at the height of lockdowns (P43.98 million)
Community assistance (P25.61 million)
Gadgets for students attending online classes (P20.43 million)
Locally funded projects (P17.28 million)
Hot meals for health workers and others at the frontline of the battle against COVID-19 (P14.10 million)
Livelihood and training programs (P9.025 million)
The OVP's expense details also showed that most of its COVID-19 relief assistance went to Metro Manila with 28,905 packs. Bulacan got 14,436 packs; Rizal province, 4,561; and Cavite, 2,491.
Majority of the relief pack's recipients was poor families from rural areas (14,812), public transportation drivers (14,612), and urban poor communities (8,020).
More of the OVP's year-end report on COVID-19 response can be gleaned in the document it provided.
Natural disasters
For the Taal Volcano eruption last January 12 and victims of Typhoon Quinta, Super Typhoon Rolly, and Typhoon Ulysses, the OVP has shelled out P23.86 million from its funds. Donations made through the OVP for the Taal eruption reached P8.841 million and P2.360 million for typhoons.
OVP data show that it had provided different forms of assistance to at least 11 towns in Batangas and one in Cavite after the volcanic eruption reaching at least 22.047 families in the two provinces. Relief efforts focused on the areas of Calatagan, Nasugbu, Ibaan, and Lian.
For the typhoons, 87 municipalities across 11 provinces were given aid that reached at least 56,148 families. A huge chunk of the relief items went to provinces in Cagayan Valley, National Capital Region, Calabarzon, and Bicol which were hardest hit by the storms.
Most of the donated materials was nipa shingles for temporary shelter, with 131,780 pieces distributed. At least 61,735 bottles of water had been distributed, too. The OVP also distributed 29,951 pieces of cloth face masks and 22,880 kilos of rice.
Donations of goods poured in quicker than these could be distributed, prompting the OVP to convert its office space into storage and repacking area.
Barry Guttierez, OVP spokesperson, said since the start of the year, the Vice President's tasks included relief efforts.
"While the ICAD co-chair report is being prepared, for example, we already gave aid to communities affected by the quakes in some parts of Mindanao, by the storm Ursula in the Visayas," Guttierez said in Filipino in the OVP radio program aired by dzXL.
"This went on until January," he said.
"This was followed by the unrest of Taal Volcano," Guttierez said. "It's not only natural disasters that we faced at the start of the year. it was a tough challenge when COVID-19 arrived in the country and the rest of the world which changed the way we live and deal with each other," he said.

Controversies
Because the Vice President had been the figurehead of the opposition, controversies and quarrels became unavoidable—from the Taal eruption to COVID-19 response and recently during typhoons.
After the Taal eruption, Mocha Uson, a pro-Duterte blogger and deputy administrator of the Overseas Workers Welfare Administration (OWWA), spread the false information that Robredo visited survivors of the eruption bringing nothing but pan de sal.
Robredo quickly disputed Uson's claims by showing photos of her relief drive, while questioning why Uson, a former sexy dancer, remained in office despite being a fake news purveyor.
READ: Robredo hits Mocha over false post: Why let gov't pay a fake news purveyor?
READ: Robredo: Trading barbs with Mocha won't help Taal victims
Then as the threat of the pandemic loomed over the country, Robredo suggested as early as January 29 that the country should ban inbound flights from coronavirus-infected countries, especially China, where the virus originated in Wuhan City.
The Vice President's recommendation, however, was all but ignored as the Philippines registered its first coronavirus infection—that of a Chinese national from Wuhan.
READ: Robredo: Suspension of flights in affected countries may be needed to contain nCoV
Until now, Robredo maintains that the Philippines could have averted huge economic losses and deaths from the COVID-19 pandemic if her suggestions, which included early contingency measures and scaled up testing, had been heeded.
READ: Robredo hits gov't's 'lack of sense of urgency' in responding to pandemic
READ: Robredo insists COVID-19 mishaps could have been prevented
Competing with the government?
All year long, the OVP has been accused of competing with the government as it launched a separate response to natural disasters and the pandemic with Manuelito Luna, Presidential Anti-Corruption Commission official, saying that Robredo must be investigated for her pandemic response.
According to Luna, Robredo, and the OVP's efforts—from providing free dormitories, free shuttle services for workers at the frontlines, and other forms of assistance—was a way of competing with the government.
READ: PACC to NBI: Probe Robredo for 'competing with national govt' in fight vs COVID-19
Luna drew flak for his remarks and was eventually fired by Duterte himself in a rare occasion of defending the Vice President from criticisms.
Duterte said there was nothing wrong with what Robredo did, which was to seek help from the private sector and then distribute this to people who needed PPEs or services.
READ: Duterte fires PACC's Luna for urging NBI to probe Robredo
READ: 'Stupidity': PACC official draws fire over call to probe VP Robredo
But months after that, Duterte himself would hurl the same accusation at Robredo, after she turned her social media accounts into a repository for all rescue pleas at the height of Typhoon Ulysses, which caused massive flooding in Cagayan Valley and Metro Manila.
According to Malacanang, Robredo acted as if she was in control of the government but the Vice President said she was only coordinating efforts with people on the ground.
READ: 'Do not compete with me': Duterte slams Robredo over typhoon response issues
READ: Helping during a calamity is not a contest, Robredo tells Duterte
What next?
One major criticism that was thrown Robredo's way was that she was allegedly using the calamities to prepare for the 2022 presidential elections, as the Liberal Party standard-bearer.
But Robredo has repeatedly said that running for president was not top-of-mind in her list of objectives because although she had gone to some of the country's remotest communities, these were not areas considered to be vote-rich and a target for electioneering
The speculation that Robredo would be pitted against Duterte's daughter, Davao City Mayor Sara Duterte, in the 2022 presidential race had been fuelled by their support for their own senatorial slates in the 2019 midterm elections.
In the middle of all the controversies, the OVP gave an assurance that it would continue working, especially as people believe that 2021 would give an opportunity to rise again for economies battered by the pandemic.
"Again, on behalf of VP Leni and the whole OVP staff, we want to thank our countrymen who were one with us this year," said Guttierez in Filipino. "Despite the problems and lack of resources, we moved as one to give support and care to our front liners and people who needed help," he said.
"In the middle of our darkest and toughest moments, we saw light brought by bayanihan," he said. "All that we have achieved this past year was possible because of your trust, inspiration, and help. Thank you very, very much," he added.
TSB
Click here for more weather related news.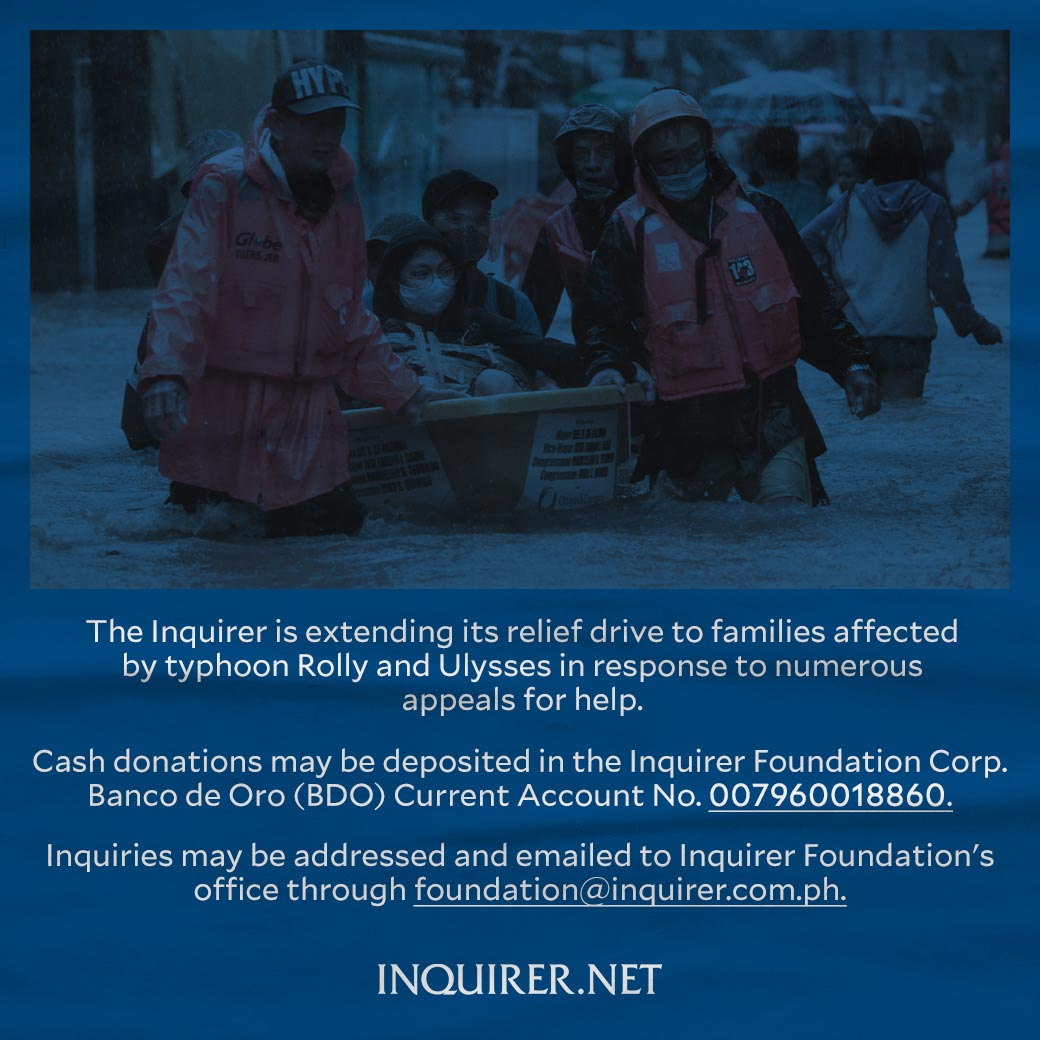 Subscribe to INQUIRER PLUS to get access to The Philippine Daily Inquirer & other 70+ titles, share up to 5 gadgets, listen to the news, download as early as 4am & share articles on social media. Call 896 6000.