Governor denies imposing quarantine for media entering Cagayan
MANILA, Philippines — Cagayan Governor Manuel Mamba denied Monday claims that media personnel who wished to enter the province to cover the aftermath of Typhoon Ulysses onslaught were barred from entering the provincial border allegedly due to coronavirus quarantine restrictions.
"Nagtrending pa nga po kami na ayaw daw namin silang pumasok. That's not true po. Meron naman po kaming mga testing na nangyayari dito. At iyong sinabi nilang quarantine, that's not true. They are all welcome dito sa amin," Mamba said over Laging Handa Public Briefing.
"Ang dami pong media dito since the very start. National, international at local media are always welcome dito," he added.
In a tweet on Friday, veteran photojournalist Ezra Acayan said field media workers could not enter Cagayan because of the strict quarantine measures being imposed by the provincial government.
For everyone tweeting #CagayanNeedsHelp and asking media to go cover I'm really sorry to be the bearer of bad news but your local govt has mandated all visitors to undergo 14 day quarantine, media and aid workers are not exempted (even if we provide a negative swab test result)

— Ezra Acayan (@eacayan) November 13, 2020
After his tweet went viral, Acayan said Cagayan, as well as the province of Isabela, decided the following day to waive the quarantine for members of the press.
Interior Secretary Eduardo Año has already ordered the local government of Cagayan to ease its restrictions being enforced to contain the coronavirus disease 2019 (COVID-19) for rescue teams and journalists responding to the aftermath of Typhoon Ulysses.
Mamba assured that entry points of the province by land are now passable.
Typhoon Ulysses, the 21st cyclone to hit the country this year, triggered massive flooding in Metro Manila and other parts of Luzon. It, likewise, caused flooding in the Cagayan Valley, particularly in the provinces of Cagayan and Isabela.
#CagayanNeedsHelp trended on social media after netizens cried for help as floodwaters displaced numerous residents of the region.
The nationwide death toll due to the typhoon has so far reached 67, majority or 22 were recorded in the Cagayan Valley region.
EDV
Click here for more weather related news.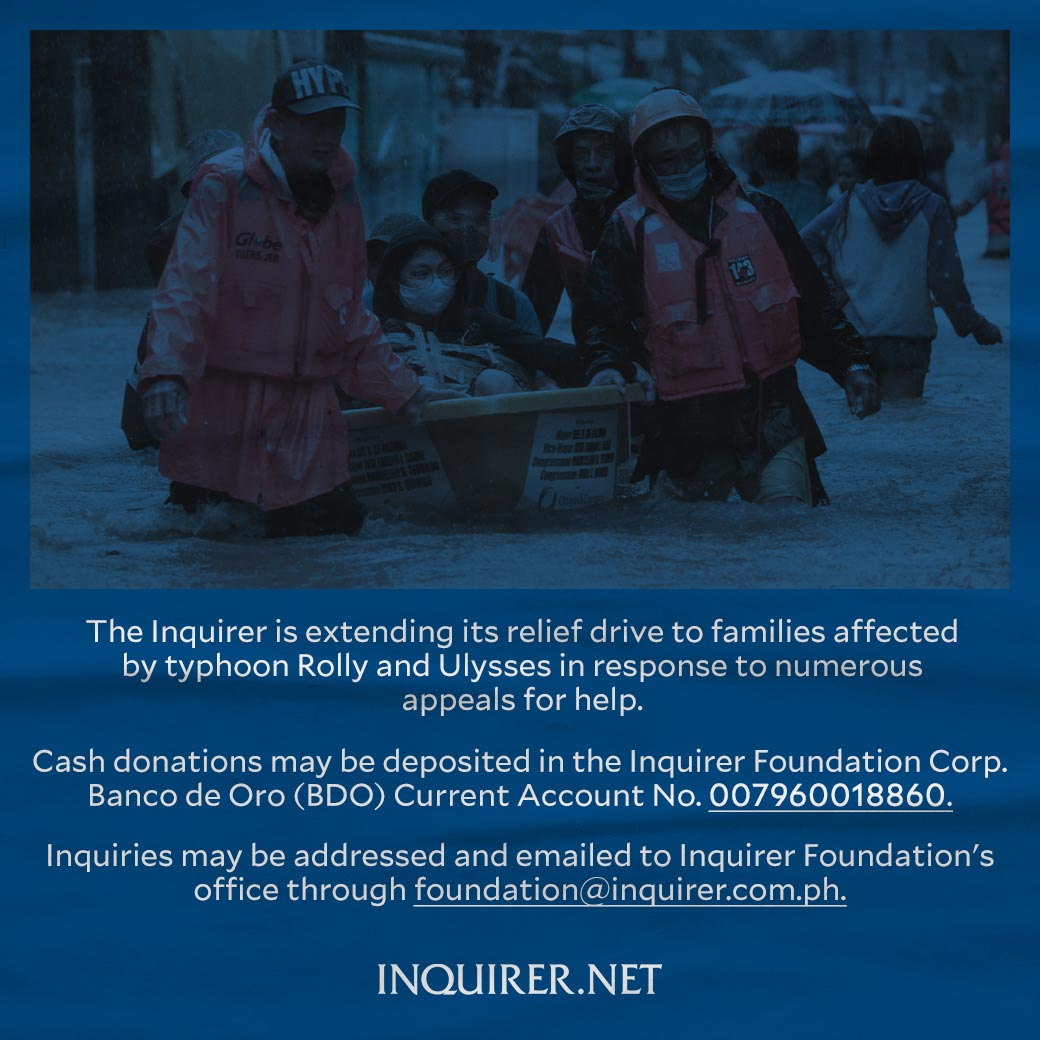 Subscribe to INQUIRER PLUS to get access to The Philippine Daily Inquirer & other 70+ titles, share up to 5 gadgets, listen to the news, download as early as 4am & share articles on social media. Call 896 6000.