Duterte tells stranded typhoon victims: Just wait, gov't help is on the way
MANILA, Philippines — President Rodrigo Duterte on Saturday assured that the government sent responders to rescue stranded victims of Typhoon Ulysses, which already left at least 39 people dead.
In a televised speech on Saturday, the President said government aircrafts are on their way to Region 2 to save individuals, especially those staying at the roof of their houses to keep safe from the flood.
"Iyon lang ang kailangan sabihin sa inyo at marinig. Maraming storya [at] salita, kung hindi may mga tao nangailangan nang tulong. Iyong iba namamatay. Kaya ang gobyerno papasok sa madaling panahon gamit lahat iyong mga assets, mga ari-arian ng gobyerno at gagamitin doon," Duterte said in a speech that lasted for less than 10 minutes.
(These are the only things I need to say and need to be heard. There are a lot of stories and words, but our people need help. Many died already. That is why the government will immediately use its assets and all of its property for response.)
"At I will see to it na talagang dadating iyan. Maghintay kayo nang kaunting panahon. Minuto minuto naman iyan. Iyong mga hindi pa nakuha sa bahay nila maybe it is still early, [mga] 1 o'clock, makarating iyong mga air assets natin," he added.
(And I will see to it that the response will arrive. Just wait for a few moments. Probably minutes. Those who are still stranded in their homes, maybe it is still early. Air assets will arrive at 1 p.m.)
Duterte noted that North Luzon Command lent two of their helicopters for relief operations of Ulysses-hit villages in Cagayan Valley.
He said the Philippine Coast Guard and Armed Forces of the Philippines have been deployed for assistance in Region 2.
Cagayan Valley is now under state of calamity due to massive flooding caused by Typhoon Ulysses which left Philippine area of responsibility on Friday.
CFC
RELATED STORY
 Death toll in Ulysses floods, landslides rises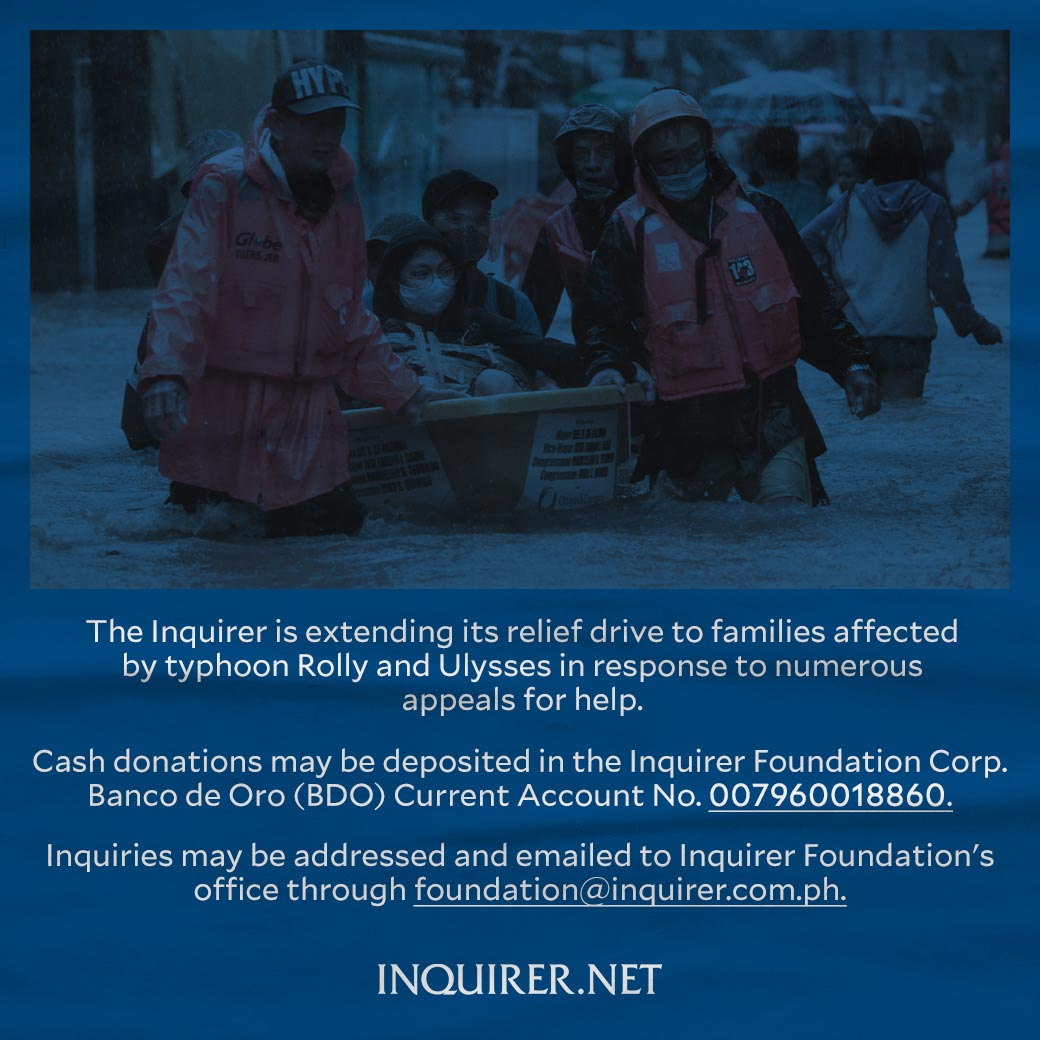 Subscribe to INQUIRER PLUS to get access to The Philippine Daily Inquirer & other 70+ titles, share up to 5 gadgets, listen to the news, download as early as 4am & share articles on social media. Call 896 6000.