CONFLICTING FIGURES FROM MILITARY, INTERIOR DEPARTMENT, NDRRMC
Death toll in Ulysses floods, landslides rises
The military reported on Friday that Typhoon Ulysses (international name: Vamco) left at least 39 people dead and 20 missing, and authorities tried to reconcile the conflicting numbers of casualties and account for the millions of pesos lost as the latest storm to batter the Philippines blew away from the country.
Interior Secretary Eduardo Año said only 14 were verified as having died due to the typhoon, whose torrential rains inundated a large area of Luzon and brought back images of the widespread flooding in the capital caused by Tropical Storm Ondoy (Ketsana) 11 years earlier.
However, the National Disaster Risk Reduction and Management Council (NDRRMC) has only verified 12 deaths related to Ulysses, according to its spokesperson Mark Timbal.
Gen. Gilbert Gapay, the Armed Forces of the Philippines chief of staff, said the military's count was based on the eight bodies retrieved by soldiers, 26 by the Philippine National Police and five by the Bureau of Fire Protection.
Año said authorities "still have to validate the recovered cadavers because some of them may not be typhoon-related."
"It might be that these included people who were killed but were counted as typhoon victims," Año said at a press briefing.
Civil defense officials in northern Luzon on Friday reported that 20 people were killed and 11 others were missing when landslides hit the provinces of Nueva Vizcaya, Benguet and Ifugao on Thursday.
It was unclear whether the 20 who died were among those cited in the military report.
Disaster officers said mud and boulders swept a two-story house down a 100-meter ravine close to midnight on Thursday at Barangay Viewdeck in Ifugao's Banaue town.
Boy among victims
The five who died included a 3-year-old boy and engineers and road maintenance workers who had taken shelter in the house after inspecting damaged roads in Sitio Nabito. At least seven other people were believed buried in the debris.
In Benguet, Malner Damilo, 30, of Barangay Sebang in Buguias town, was killed under mounds of soil and rocks that cascaded down a nearby slope as he was fixing his car.
Several landslides that hit a mining area in Quezon town, Nueva Vizcaya province, on Thursday, killed 10 people. Four more were reported missing in the landslides that buried houses in Barangay Runruno.
One of the victims was pulled out alive from the rubble but died while being treated at a hospital, said Robert Cruz, chief of Nueva Vizcaya provincial disaster management office.
In nearby Cagayan province, a landslide buried a house at Barangay Bitag Grande in Baggao town, killing four members of a family.
Presidential spokesperson Harry Roque said the government was aiming for zero casualties. At least the number of deaths was not as high as in previous storms because of government preparations for Ulysses, he said.
Road damage
Roque presented slides showing 464 were killed during Ondoy in 2009.
"So in some way, we are still hailing our people, our local government units, our police, our soldiers because with our 'bayanihan,' we were able to bring down the casualties," he said.
The Department of Public Works and Highways (DPWH) reported that road damage was initially estimated at P4.25 billion.
Public Works Secretary Mark Villar said 52 road sections were closed to traffic due to landslides, mudflow, fallen trees and other debris, and floods.
He said these were in the Cordillera region, Ilocos, Cagayan Valley, Central Luzon, Southern Luzon, Bicol and Eastern Visayas.
There was also limited access to another 19 national roads, he said.
The DPWH expects to clear these roads by today, Villar said.
Education Secretary Leonor Briones reported the damage to schools caused by Ulysses and Typhoon "Rolly" (international name: Goni) totaled more than P5 billion.
Rolly, which made landfall in Catanduanes on Nov. 1, was responsible for the biggest damage—P4.895 billion—while Ulysses accounted for P800 million, she said.
Leonor said there was a need to review the designs and materials used to build the schools and classrooms.
Still without power
Energy Secretary Alfonso Cusi said more than 501,000 Meralco customers still had no electricity as of Friday morning.
The power distributor expects to restore supply to its franchise areas in Metro Manila, Batangas, Bulacan, Cavite, Laguna by Nov. 15, Cusi said.
The Philippine Atmospheric, Geophysical and Astronomical Services Administration (Pagasa) said Ulysses was spotted 500 kilometers west of Iba, Zambales, at 9:30 a.m. on Friday.
It had typhoon winds of 120 km per hour and gusts of up to 150 kph and was moving west toward central Vietnam.
The weather service said the typhoon and the surge of the northeast monsoon, or "amihan," would continue to bring sudden bursts of wind in parts of northern Luzon.
The tail-end of Ulysses and the amihan will bring strong winds to Batanes, Babuyan Islands, the Cordillera region, Ilocos, and Zambales and Bataan provinces.
Pagasa warned that the seas would be rough to very rough, making sea travel risky to all types of vessels in Batanes, Babuyan Islands, Ilocos Norte, Ilocos Sur, La Union, Pangasinan and Zambales, and the western seaboards of Bataan, Batangas, Occidental Mindoro and Palawan. —WITH REPORTS FROM NIKKA G. VALENZUELA, KIMBERLIE QUITASOL AND VILLAMOR VISAYA JR.
Click here for more weather related news.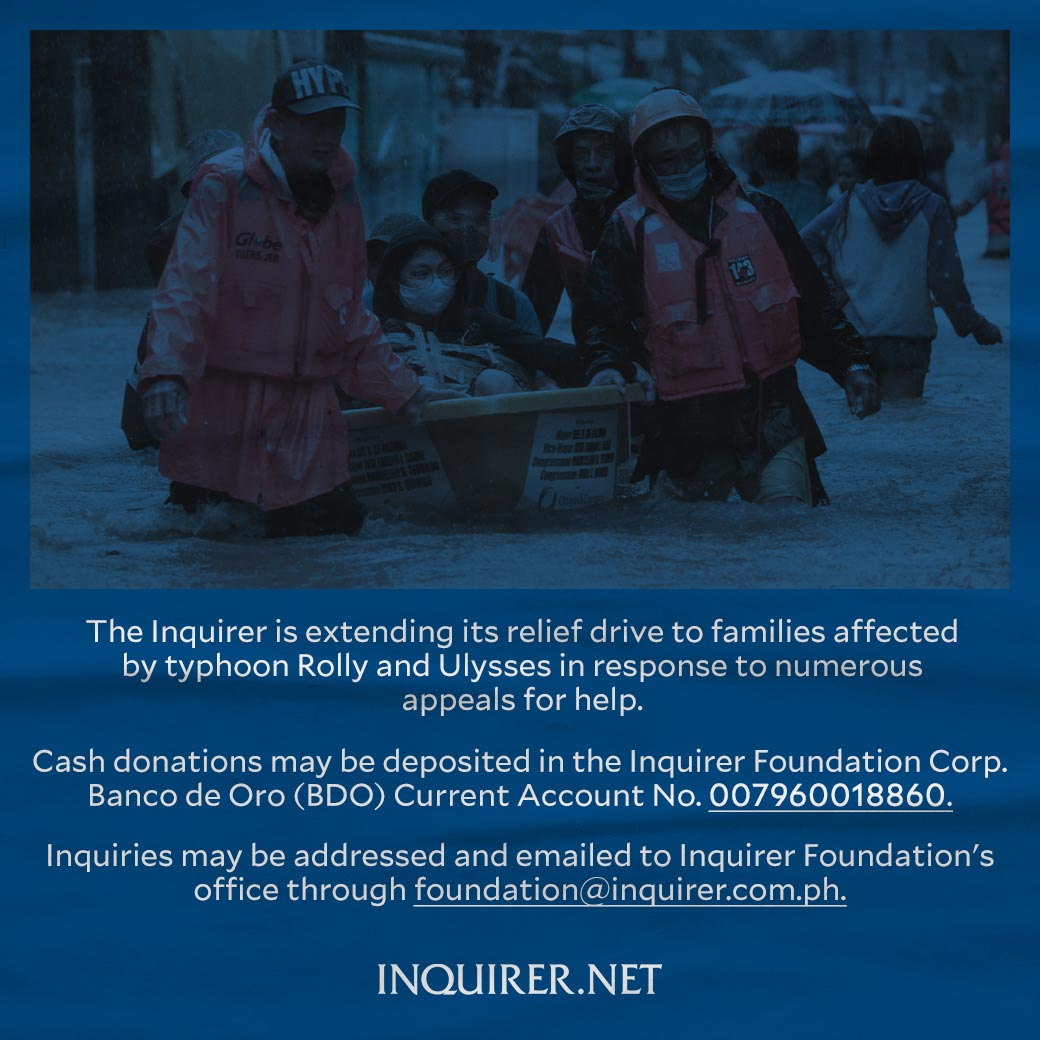 Subscribe to INQUIRER PLUS to get access to The Philippine Daily Inquirer & other 70+ titles, share up to 5 gadgets, listen to the news, download as early as 4am & share articles on social media. Call 896 6000.