Senators want halt to 'e-sabong,' hear tearful kin of missing 31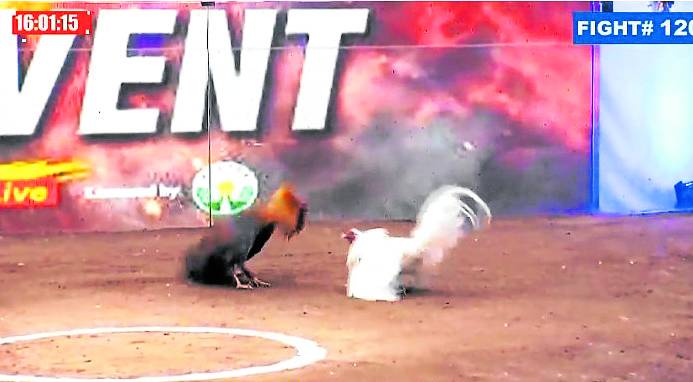 Senators on Thursday called on regulators to stop all existing online "sabong" (cockfight) operations in the country amid the unresolved cases of alleged abduction of 31 persons working in the industry.
In a resolution, the Senate committee on public order and security urged the state-run Philippine Amusement and Gaming Corp. (Pagcor) to suspend all seven "e-sabong" licenses it had issued until the cases of disappearance have been solved.
Senate President Vicente Sotto III moved for the passage of a "strongly worded" resolution following testimonies by an initial set of family members of the abducted individuals.
The Senate panel launched on Thursday its inquiry into eight cases of abduction of 31 people—which happened from April 2021 to January this year—reportedly related to their involvement in cockfighting and e-sabong operations.
The Senate wants Pagcor to suspend the e-sabong licenses issued to Belvedere Vista Corp., Lucky 8 Star Quest Inc., Visayas Cockers Club Inc., Jade Entertainment and Gaming Technologies Inc., Newin Cockers Alliance Gaming Corp., Philippine Cockfighting International Inc. and Golden Buzzer Inc.
Based on witnesses' testimonies and results of police investigation on the cases, senators saw a "striking pattern" in the abductions, which supposedly zeroed in on a single franchise holder, Lucky 8 Star Quest Inc., the only accredited off-cockpit betting station for e-sabong.
Six of the cases of abduction all involved game fowl handlers, aides, helpers and vehicle drivers who were suspected of being "manyonyope," or game fixers, who sabotage the performance of a fighting cock and then bet on its opponent.
The missing persons in the six cases reportedly went to three arenas operated by Lucky 8 Star Quest, namely Manila Arena in Sta. Ana, and those in Lipa City, Batangas province and Santa Cruz town, Laguna province.
Emotional appeal
Citing their last phone conversations with the missing persons, witnesses told the Senate committee that the victims recounted how they were being "held" by the cockpit management for some "problems," purportedly their involvement in "tiyope" schemes.
Police and family members would receive reports the next day about the recovery of the abandoned vehicle that the victims were known to have used going to the arena, but no trace of the missing persons.
Senators were suspicious why in all of the locations of the abductions, the cockpit management either did not have a closed-circuit television (CCTV) camera installed, or that it has supposedly malfunctioned.
Family members of the victims aired emotional appeals to the abductors to release their loved ones, and for law enforcers to help them solve the case as they have suffered anxiety from the uncertainty of not knowing the answer to many of their questions, or if those missing were still alive.
Isabelita Baccay, mother of two of the missing persons who disappeared after attending an 8-cock derby at the Manila Arena, told senators the struggles they had to go through trying to find her two sons, Marlon and James Baccay.
"What offense did they commit? What exactly happened? Who took them? Where were they brought? What have they done to them? Until today, we have no answers to these," she said while weeping.
Witnesses lamented how authorities supposedly dragged their feet in solving the cases, bolstering their suspicion that police personnel were involved in the abductions.
"We have gone from one police station to another, all we are asking is for arena management to cooperate so we can also have some answers," said Marilyn Germar, mother of Glenn Arzen, who went missing after his group was held by security men of Santa Cruz cockpit arena.
"We were resigned on checking out morgues whenever we learned that a dead body was found in one area, hoping that we will find his remains there," Marilyn said amid sobs.
Two of the victims were abducted in a purported arrest by a group of armed men who introduced themselves as law enforcement agents supposedly wielding warrants for large-scale estafa. The mother of another missing person, Rowel Gomez, who was reportedly working as a gaffer in cockfights, said he joined the Santa Ana cockfights because he wanted to help the family raise money for his sister's hospital bills.
At least two witnesses disclosed the alleged involvement of Charlie "Atong" Ang, owner of Lucky 8 Star Quest, in the abductions, with one of them pointing to his YouTube video wherein he supposedly issued a threat to the "manyonyope" and those who supposedly clone the legitimate operations of WPC Online Sabong.
"All of you, remember this: do not forget you have ID, you have address obtained by the CIDG (Criminal Investigation Detection Group) and the NBI (National Bureau of Investigation), cybercrime, monitoring you double agents," Ang said in his video that was shown by the committee.
"If you don't stop, you already know what will happen to you. Know that you are being reported, monitored by the [CIDG] and the [NBI], so you better stop it," he added.
Pagcor started to regulate e-sabong, or the online or off-site betting on cockfighting activities, in May last year to generate additional revenues during the pandemic.
The e-sabong events are broadcast live from cockpit arenas authorized by the local government, the regulator of in-person cockfighting events.
Pagcor also reported that it has collected "more than a billion pesos in fees" from the licensed e-sabong operators in just four months since it regulated the online industry.
E-sabong operators must cough up either P2.5 million or P8.3 million for the application of their license valid for three or 10 years, respectively.
For players, an initial P1,000 is required as minimum buy-in, which should be maintained for 30 days. A minimum bet per fight is P100. —With A REPORT FROM Inquirer Research
gsg
Subscribe to INQUIRER PLUS to get access to The Philippine Daily Inquirer & other 70+ titles, share up to 5 gadgets, listen to the news, download as early as 4am & share articles on social media. Call 896 6000.