Crisis brings out best in Cebuanos
CEBU CITY—A young artist immediately left for Metro Manila when he observed that most Cebuanos had been scampering for water following the devastation caused by Typhoon "Odette" (international name: Rai) on the island that left at least 96 people dead.
But Andre Sanchez Chan, 24, was not trying to save himself from the inconvenience of having to live without water, electricity and phone signal or from enduring the long lines in groceries and gasoline stations where food and fuel supplies were running low.
Chan went to Metro Manila to raise funds in order to buy bottled water which he would then send to Cebu to help address the shortage of supply. In a day, he was able to raise P200,000, which he used to purchase more than 15,000 liters of bottled water.
Chan is just one of the countless Cebuanos who decided to lend a hand—no matter how small—amid the devastation caused by the strongest typhoon to hit Cebu in recent years.
Ordinary people have stepped up to help typhoon survivors who are scrambling for water, food and other essentials as well as construction materials to repair their houses.
After Cebu was plunged into darkness when power supply was cut off, water pumps also stopped running since these needed electricity to function. Water delivery trucks could not also penetrate many areas because roads were blocked by toppled trees, electric poles and debris.
Devastation
Those from nearby towns converged in Cebu City, hoping to buy drinking water only to find none.
Communication signals remained a problem as Odette's strong winds either damaged or destroyed cell site towers, hampering the operation of command centers of local governments which had difficulty receiving reports from the ground.
As of Dec. 23, 96 fatalities had been reported on the island but the figures were expected to rise as reports, especially from southern Cebu, which bore the brunt of the typhoon, were trickling in due to communication problems.
Chan, who runs an art studio, saw how his neighbors on Escario Street in Cebu City were in desperate need of water.
"People, whether they are rich or poor, are looking for water to drink," he told the Inquirer.
He arrived in Metro Manila on Dec. 19 after spending 12 hours at the airport due to delayed flights. Chan, while staying with friends in the national capital, used his social media account to gather funds (through his GCash account 0917-3206680) for his fellow Cebuanos.
The crates of bottled water bought from money he raised would be sent to Cebu through the Philippine Air Force, with the help of another friend.
"My vision is there will be water in Cebu … That is my driving force," Chan said, noting that he wanted to pay it forward now that he has the capacity to help others.
Friends' initiative
A group of friends also decided to make use of Facebook to raise funds to buy water for southern Cebu towns.
Michelle Padayhag, Ricardo dela Cruz Jr. and his wife Phylline, and JP Ocat have been asking their friends to donate as little as P5 (through the GCash account 0917-9644799) so they can pool money to buy food and water for survivors.
In two days, the group raised P40,000. Ricardo, who was in Quezon City, used most of the money to buy 2,000 bottles of water. Those in Cebu bought canned goods (sardines and corned beef), rice and toiletries (shampoo, soap, toothbrush and toothpaste).
They were able to prepare at least 100 packs of relief goods that would be distributed to Padayhag's hometown of Badian once the shipment of bottled water arrives from Metro Manila.
A friend, who owns a truck, offered to bring the relief goods to the town and to Badian District Hospital.
Once they raise more funds, Padayhag plans to deliver relief goods to other southern towns, like Alegria and Malabuyoc, hit hard by the typhoon.
Desire to help
Photos of the devastation in Badian sent by her neighbors prompted Padayhag to do something, fearing that her town might be left out and forgotten amid the trail of destruction left by Odette in Cebu.
"I can't, in [good] conscience, not do anything to help," she added.
Victor Fernandez bought a small generator set so their neighbors in Sitio Tabaylawom, an interior subvillage of Barangay Tisa in Cebu City, could charge their cellular phones for free.
His brother, Carlo, who is a barangay councilman of Tisa, buys fuel for the generator set, ensuring that it will run continuously, according to their brother, Noel.
Asked why his brothers were doing this, Noel replied: "Simply to help. We need all the help we can get these days and it's only important for us to help each other at a time when communication is vital."
The desire to help drives several individuals to open their homes to those in need.
On Dec. 19, Mayflor Durano posted on Facebook that her house in Consolacion town, which has a working manual water pump, would be open to people in need.
"To my friends from Consolacion and/or nearby areas who need water (not potable). Our door/gate is open for you. We have [a] 'poso' manual water pump for ligo, laba (bathing and washing) or for toilet," she posted.
The Weigel compound in Lapu-Lapu City opened its gates to anyone who wanted to have their cellular phones charged since it had generator sets.
The University of Cebu College of Law opened the dean's office to students needing to charge their phones or a place to bunk in.
Students can bathe there and are each given four bottles of drinking water as they return home.
A homeowner, who runs a water filtration facility in Barangay Catarman, Liloan town, has provided two 5-gallon containers to each of his neighbors for free.
Mothers to the rescue
A group of mothers, whose members call themselves "Manila imports" after they moved to Cebu either due to love, business or friendship, raised at least P1.6 million for typhoon victims as of Dec. 22.
The amount was on top of goods, water and other essentials which would be delivered to the group "Courage Cebu" and their partner, the Philippine Red Cross.
Charina Altarejos Tan said their group—composed of Divine Lee-Go, Bong Aromin-Go, Gretchen Choa, Christine Benedicto, KD Syiaco Tiy, Dianne Gandiongco-Huang, Kira Wong and herself—started raising funds in March 2020 for medical front-liners and others affected by the COVID-19 pandemic.
They also raised funds to distribute relief goods when Typhoon "Ulysses" (Vamco) hit Luzon in November last year. Now, they are back to help fellow Cebuanos affected by Odette.
"We have our own experience with Odette. The houses of two of our members were damaged. Most of us have businesses deeply affected by this typhoon. But we chose to rise above these to help," Tan said.
Help, Tan said, doesn't have to be in the form of cash. It could be in kind or in spreading awareness so others could also help, she added.
She said they also wanted to teach their children that no help is too small.
For Cebuanos, even the smallest act kindness is more than enough to make a difference in somebody else's life, especially in time of crisis.
Subscribe to our daily newsletter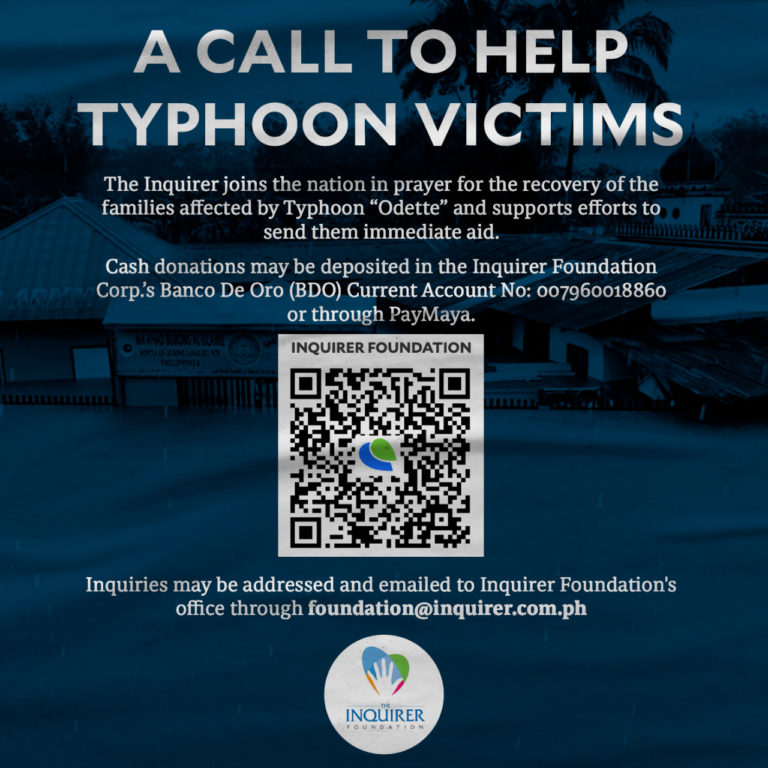 Subscribe to INQUIRER PLUS to get access to The Philippine Daily Inquirer & other 70+ titles, share up to 5 gadgets, listen to the news, download as early as 4am & share articles on social media. Call 896 6000.