'Cash sweep' of undisbursed funds, convening of NDRRMC pushed for typhoon aid
MANILA,  Philippines — Doing a "cash sweep" of undisbursed and parked funds of government and the immediate convening of the  National Disaster Risk Reduction and Management Council (NDRRMC) were just among the ideas pushed by senators to help raise funds for victims of Typhoon Odette (international name: Rai).
Senator Panfilo Lacson said NDRRMC should immediately convene so members of the Cabinet "can mobilize the different agencies using their Quick Response Funds (QRF) and other relevant appropriations available under their disposal, among others."
The Office of Civil Defense, he said, should likewise be required to submit an initial Post Disaster Needs Assessment in areas devastated by the super typhoon.
"This will guide the President to prioritize aid and assistance based on the needs and extent of damage,"  Lacson said in a statement on Wednesday.
The senator likewise urged the Department of Foreign Affairs to seek help from the international community.
"There is also a need to organize the mobilization of the country's business and private sector to extend assistance in order to maximize and prioritize relief and rehabilitation efforts in the hardest-hit areas," Lacson said.
"As it is happening now, efforts are disorganized and the interventions of politicians and presumptive candidates are not helping much."
Lacson, who is running for president in the May 2022 elections,  presented those proposals when sought for comment on President Rodrigo Duterte's earlier promise to raise about  P10 billion to fund rehabilitation and recovery efforts in areas severely devastated by the tropical storm, reportedly the strongest to lash the country this year.
For his part, Senate Minority Leader Franklin Drilon suggested a "cash sweep" as he countered Duterte's repeated remark that the government coffers have already been depleted due to the COVID-19 pandemic.
READ: Duterte worried anew about 'depleted funds' amid possible Omicron variant spread
"I am saddened by the President's statement that the government has no money to assist the typhoon victims," Drilon said in another statement.
"The DOF (Department of Finance) can do a 'cash sweep' of the released, but undisbursed, funds parked in the bank accounts of national government agencies and GOCCs (government-owned and controlled corporations)."
"This was recently done by the DOF to raise funds needed for the COVID-19 pandemic response."
According to Drilon, recent budget hearings exposed the "very poor disbursement or utilization rates of the funds" already released to certain government agencies.
He cited as an example the Department of Public Works and Highways which only disbursed 30 percent of the funds released to them.
"There are also billions of pesos parked in the coffers of PS-DBM (Procurement Service of the Department of Budget and Management) and PITC (Philippine International Trading Corp.) for unimplemented projects," Drilon said.
By doing a cash sweep, he said, the implementation of certain projects would simply be postponed to 2022 since this year's budget is extended to December 2022.
Drilon also suggested realigning the funds of the National Task Force to End Local Communist Armed Conflict for relief operations.
"As they say, if there is a will, there is a way," he stressed.
Senate President Pro Tempore  Ralph Recto said the government has "enough resources"  like the QRFs and the Special Purpose Funds to help typhoon victims.
"Frankly, there are enough resources to quickly assist victims to get back on their feet," Recto said in a text message.
In the 2022 budget, Senator Sonny Angara said the government can tap the P20 billion calamity fund.
"…This can be used to assist the many people affected by typhoon Odette," Angara said in a separate text message.
Subscribe to our daily newsletter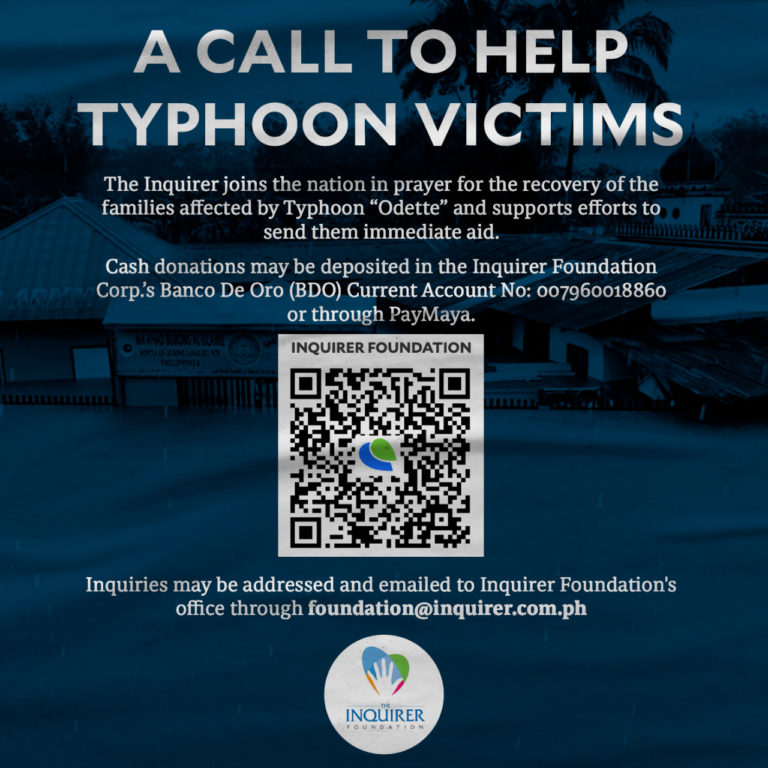 Subscribe to INQUIRER PLUS to get access to The Philippine Daily Inquirer & other 70+ titles, share up to 5 gadgets, listen to the news, download as early as 4am & share articles on social media. Call 896 6000.