Duterte's office to provide assistance to victims of Typhoon Odette
MANILA, Philippines — President Rodrigo Duterte said that his office will provide assistance to individuals who suffered the havoc of Typhoon Odette (international name: Rai).
"What I can promise you is that, I said on or before Friday, the money will be downloaded. Hindi ito 'yung (this is not the) contingent fund, hindi ito (not) calamity [fund]. This is the money from my office," the president said during the Talk to the People that aired late Tuesday.
"Each and every department ng gobyerno, mayroon talaga silang (of the government has a) component for this kind of emergencies and whatever calamity that might come our way," he said.
Duterte, however, did not disclose the amount of the assistance.
"I would be asking the people—both of the national offices or the local—kung ma-download sa inyo, na pakibilisan lang (if you receive the money, expedite the assistance)," said the Chief Executive.
"I said on or before Friday, I will be downloading the money to you. Para sa tao ito (This is for the people). Lahat (All) up to the last centavo para sa tao ito (this is for the people)," he continued.
Duterte likewise called on local officials to tap their remaining calamity funds.
"I'm asking the local officials, kung may mga resources pa kayong naiwan, pati mga munisipyo, if there's a calamity funds ninyo, pwede ninyong gamitin. Ngayon na, ipagbigay ninyo tutal it's a money intended for other purpose," he appealed.
(I'm asking the local officials, if there are still resources left, even in municipalities, if there's a calamity fund, use it now since it's money intended for other purposes.)
Earlier, Duterte said that he is looking for money for typhoon victims as funds "depleted" due to the COVID-19 pandemic.
Duterte also on Tuesday declared a state of calamity in areas affected by Odette particularly Mimaropa (Mindoro, Marinduque, Romblon, Palawan), Western Visayas, Central Visayas, Eastern Visayas, Northern Mindanao, and Caraga.
According to Office of Civil Defense administrator Undersecretary Ricardo Jalad, 156 individuals were reported dead from the typhoon while 37 others are missing.
je
Subscribe to our daily newsletter
Click here for more weather related news.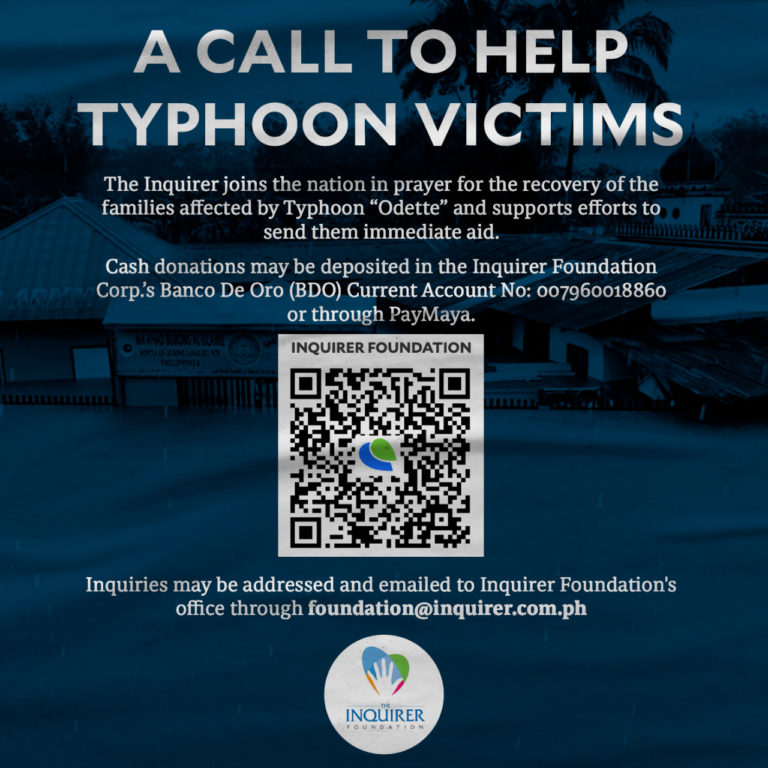 Subscribe to INQUIRER PLUS to get access to The Philippine Daily Inquirer & other 70+ titles, share up to 5 gadgets, listen to the news, download as early as 4am & share articles on social media. Call 896 6000.