156 dead, 37 missing: OCD chief confirms Duterte's worry of high death toll due to Odette
MANILA, Philippines — President Rodrigo Duterte's concerns about a possible high death toll due to Typhoon Odette was affirmed by the official numbers from the Office of Civil Defense (OCD), which showed that 156 individuals were confirmed dead while 37 are still missing.
During Duterte's pre-recorded briefing aired Tuesday night, OCD administrator Undersecretary Ricardo Jalad said that while he only reported 12 dead victims last Friday, the death toll swelled as of latest data.
"I am sorry to present this Mr. President, you're right in our first meeting, when you expressed your worry of a possible mounting of deaths.  Back then I only reported 12 deaths but as of the latest report Mr. Mayor, we now have 156 dead, 37 missing, and 275 injured caused by Typhoon Odette," Jalad told Duterte.
"The most number of  deaths came from Bohol, followed by Cebu, and Negros Oriental […] the most common circumstances of death are drowning by flood, incident of sea, being hit by fallen tree, and as well as due to flying debris and collapsed structure, and there were also deaths due to landslides," he added.
Aside from the loss of life, OCD and the National Disaster Risk Reduction Management Council (NDRRMC) has also noted a high extent of damage, with over 6,000 houses confirmed destroyed as of the moment, and other public infrastructure which costs P225 million.
Damage to agriculture on the other hand was computed at around P162 million.
"And shown are the other effects: initial report of damaged houses, 6,000 plus; 24 damaged infrastructure, initial pa rin 'yan Mr. Mayor costing P225 million.  Damage to agriculture, initial is about 6,893 hectares of crops and as well as related damages to agriculture as shown, totaling about P162 million," Jalad said.
While the numbers relayed by Jalad are initial confirmed reports and not conclusive yet, these are well below what has been reported by other agencies.  Numbers from the Philippine National Police (PNP) said that the number of dead individuals due to Odette is now at 375.
On the other hand, the Department of Agriculture said that damage to agriculture is already at P362.3 million, across areas hit by Odette last Thursday to Saturday — from northern parts of Mindanao to southern Visayas, and then Palawan.
In terms of damage to infrastructure, the Department of Education reported that it may need P393.5 million just to repair schools — not including other public buildings and infrastructure.
Starting last Thursday, Odette swept through Visayas and Mindanao, hitting the northern portion of Caraga Region before moving to the southern portions of Eastern Visayas, Central Visayas, and then Palawan — leaving a trail of destruction behind.
At its peak, Odette packed maximum sustained winds of 195 kilometers per hour (kph) near the center.
je
Subscribe to our daily newsletter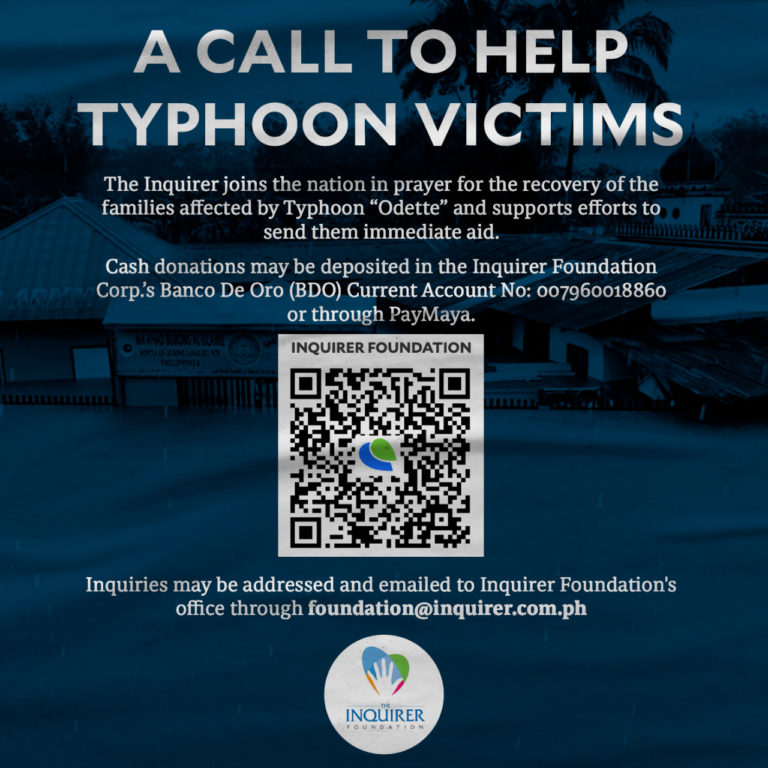 Subscribe to INQUIRER PLUS to get access to The Philippine Daily Inquirer & other 70+ titles, share up to 5 gadgets, listen to the news, download as early as 4am & share articles on social media. Call 896 6000.