Robredo: Folk in Odette-hit areas miss coverage of ABS-CBN on the tragedy
MANILA, Philippines — People badly affected by Typhoon Odette believe that those in Manila have no clear picture of what happened to them because network giant ABS-CBN, which was not given a new franchise to operate, is no longer there to provide a blow-by-blow coverage.
This was relayed by Vice President Leni Robredo on Monday, saying that it has been the common sentiment of people who were affected by Odette when it hit southern parts of Visayas and northern parts of Mindanao last Thursday.
From last Friday to Sunday, Robredo visited Bohol, Cebu, and Caraga Region — areas reported to have sustained heavy damage due to the typhoon.
"Gusto ko lang pong ikwento sa inyo 'yong mga nakita ko kasi isa po ito sa mga request ng mga nandoon: may general feeling 'yong mga kababayan natin na hindi masyadong alam natin na mula doon sa pinangyarihan ng bagyo, hindi natin masyadong alam dito kung ano 'yong tunay na nangyari sa kanila kasi unang-una, down nga 'yong communication lines," she said on her Facebook livestream.
"Napakahirap pong magpadala ng mga pictures except 'yong mga galing doon na nakalabas na, kahit kami na nandoon mahirap mag-communicate dito — ito po, very common na sinasabi sa amin na wala na kasing ABS-CBN, so wala na sa aming nagko-cover," she added.
According to Robredo, this is also the reason why she has been trying to have these stories posted on social media as people in calamity-stricken towns want their story to be heard.
"Hindi siguro nila alam na ganito kalala sa amin.  So ako po nag-promise ako sa kanila na ike-kwento ko sa inyo 'pag nagkaroon ako ng opportunity," she explained.
This is not the first calamity where people from the provinces observed a supposed information void — or the lack of details about disasters given to residents, and the alleged incomplete assessment of damage handed to government officials in Manila as well — due to ABS-CBN's shutdown.
On May 15, 2020 — just a few days after ABS-CBN's franchise expired — netizens said that some residents of far-flung towns in Quezon and Aurora provinces were unable to get the news about Typhoon Ambo, which led people into complacency thinking that it would not hit their area.
Then during the series of cyclones from October to November 2020, the lack of information from ABS-CBN, which has been proven to have a wider coverage than any mass media company in the country, was blamed for the inability of residents to track where Super Typhoon Rolly and then Typhoon Ulysses were headed.
ABS-CBN's bid for a new 25-year franchise to operate after its old one expired last May 2020 was not granted by Congress, after the House of Representatives voted in favor of not giving a franchise.
This has forced the network to shut down all its free television and radio programs, including regional services and stations across the country.
The network's shutdown came even as the National Telecommunications Commission (NTC) promised during a House hearing to provide ABS-CBN a provisional franchise just to ensure that it continues operating even amid the COVID-19 pandemic.
However, NTC did not issue such provisional authority for ABS-CBN, due to alleged questions on the validity of its existing franchise.
While he did not mention what kind of questions were raised on ABS-CBN's franchise that merited the NTC's cease and desist order, Solicitor General Jose Calida previously filed a quo warranto petition  before the Supreme Court against the network for supposedly using a corporate veil in hiding foreign ownership.
Earlier, Robredo said that after visiting Odette-hit areas, it appears that Dinagat Islands and the rest of Surigao del Norte were the hardest-hit provinces, as a lot of establishments and even government offices in the said provinces were toppled.
She said that she was set to return to the areas hit by Odette, but had to postpone her trip to wait for relief goods that she will personally bring to the calamity-stricken residents.
Starting last Thursday, Odette ravaged through Visayas and Mindanao, hitting the northern portion of Caraga Region before moving to the southern portions of Eastern Visayas, Central Visayas, and then Palawan.
At its peak, Odette packed maximum sustained winds of 195 kilometers per hour (kph) near the center.
Subscribe to our daily newsletter
Click here for more weather related news.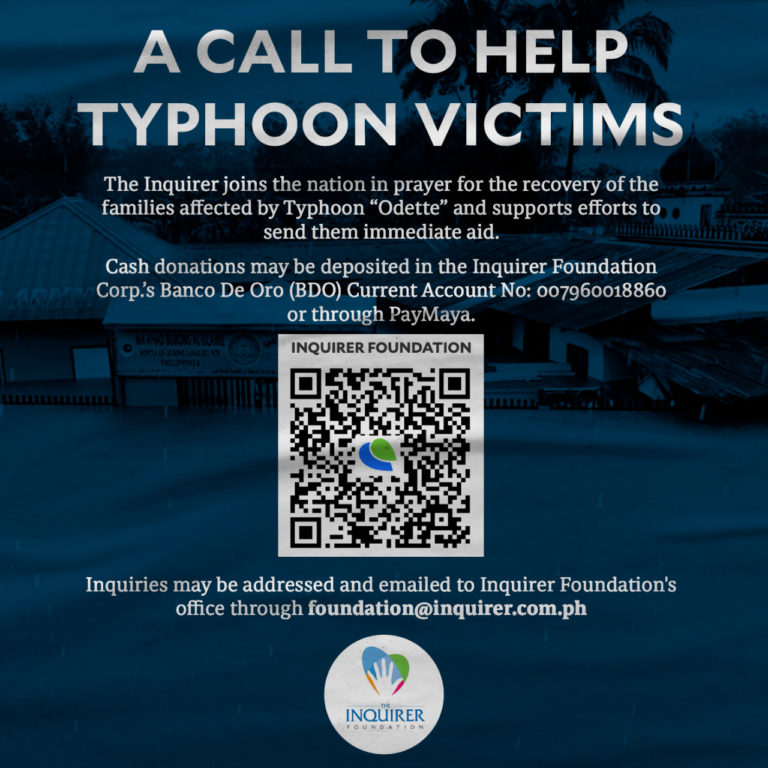 Subscribe to INQUIRER PLUS to get access to The Philippine Daily Inquirer & other 70+ titles, share up to 5 gadgets, listen to the news, download as early as 4am & share articles on social media. Call 896 6000.