Power, telco services down in 22 provinces
Several areas in the Visayas and Mindanao lost their power supply and telecommunication lines as strong winds and rains unleashed by Typhoon "Odette" (international name: Rai) battered power transmission and distribution facilities and caused multiple fiber cable cuts.The Department of Energy (DOE) on Friday said transmission and distribution lines in the two major island groups were either destroyed or damaged, while power plants were affected in small island groups.
As of Friday morning, the DOE said power outages had been reported in the provinces of Surigao del Norte, Camiguin, Biliran and Bohol, while partial power interruptions were being experienced in Capiz, Antique, Iloilo, Negros Oriental, Cebu, Southern Leyte, Leyte, Eastern Samar, Misamis Oriental, Misamis Occidental, Lanao del Norte, Surigao del Sur, Agusan del Norte, Agusan del Sur and Davao Oriental.
A total of 36 electric cooperatives in Visayas and Mindanao reported severe interruptions, according to the Philippine Rural Electric Cooperatives Association Inc.
Energy Undersecretary Felix William Fuentebella, the DOE spokesperson, said the agency was still awaiting updates from ground personnel and could not say when would power supply be fully restored in the affected areas.
"The picture is not yet complete. We still don't know the extent of the damage inflicted by Typhoon Odette because we are still in the process of assessment," said Randy Galang of National Grid Corp. of the Philippines.
In Luzon, electricity was cut off also in Palawan, mainly in the capital of Puerto Princesa and the towns of Araceli, Agutaya, Cagayancillo, Cuyo, Dumatan and Magsaysay at noon Friday, as Odette's strong winds lashed the island province ahead of its landfall that occurred at 3:46 p.m. Undersecretary Ricardo Jalad, executive director of the National Disaster Risk Reduction and Management Council, said the areas that reported communication and signal interruptions were Cebu, Bohol, Leyte, Southern Leyte, Eastern Samar, Siargao and Dinagat Islands.
Telecommunication and internet providers said they were working to restore services in the hard-hit areas, but gave no assurances as to when they can go back online.
Globe Telecom said it had "started restoration efforts in areas where it is safe to do so." Smart deployed emergency communication gear in Dinagat Islands, Surigao del Sur, Surigao del Norte, Bohol and Southern Leyte, while Dito Telecommunity said its services were also affected in Visayas and Mindanao. Fiber internet provider Converge ICT Solutions said its network operations in Iloilo, Capiz, Cebu, Cagayan de Oro and Davao were down as of Friday afternoon. Its business centers in Mandaue City, Roxas City, Iloilo City and Cagayan de Oro City were temporarily closed, the company reported.
Cebu airport closed
Mactan-Cebu International Airport, the country's second busiest gateway, temporarily suspended operations beginning Thursday night after suffering heavy damage.
Debris were still being cleared and repair works were still in progress to have the airport reopened by Dec. 19, an airport spokesperson said.
Local airlines—Philippine Airlines, Cebu Pacific, AirAsia Philippines and Air Swift—have canceled hundreds of flights over the past two days due to the typhoon.
AirAsia will mount special recovery flights to ferry stranded passengers, spokesperson Steve Dailisan said.
Passengers affected by the cancellations were also given the option to rebook flights, avail themselves of a travel fund or apply for refund.
Vax storage concerns
DOE's Fuentebella said that aside from restoring power in the affected provinces, a bigger concern would be the COVID-19 vaccines currently stored in areas still without power.
"We are now checking with the power bureau and our team where these areas [with stored vaccines] are, so that even if we cannot immediately restore the transmission and distribution lines, we can make available generator sets to support the storage facilities," he said. —With reports from Leila B. Salaverria, Romar Miranda and Dale G. Israel
Subscribe to our daily newsletter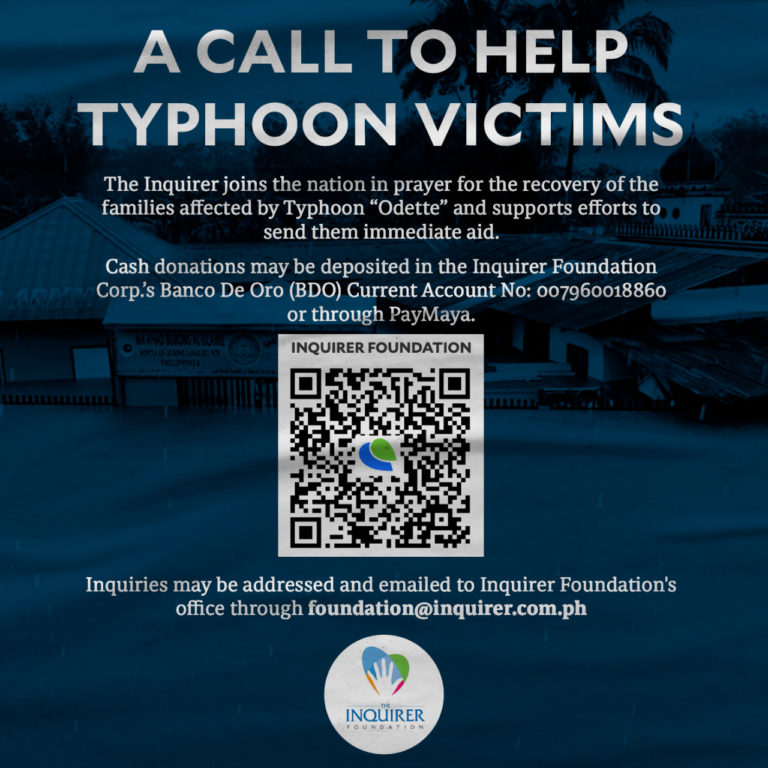 Subscribe to INQUIRER PLUS to get access to The Philippine Daily Inquirer & other 70+ titles, share up to 5 gadgets, listen to the news, download as early as 4am & share articles on social media. Call 896 6000.