'Odette' cuts deadly swathe across Visayas-Mindanao
The most powerful typhoon to hit the country this year left at least 19 people dead and many areas in Mindanao and the Visayas under muddy floodwaters on Friday, but officials were grateful that early preparations had dramatically reduced casualties compared to major storms in the past.
Assistant Secretary Casiano Monilla, deputy administrator of the Office of Civil Defense (OCD), acknowledged that Typhoon "Odette" (international name: Rai) brought back painful memories of Typhoon "Sendong" (Washi) 10 years ago and Supertyphoon "Yolanda" (Haiyan) in November 2013.
According to the National Disaster Risk Reduction and Management Council (NDRRMC), Sendong left 1,268 dead and 241 missing, and damage amounting to P2 billion in just four days it was within the Philippine area of responsibility.
Cooperation
Yolanda, one of the most powerful storms to ever hit the Philippines, left 6,300 dead and 1,061 missing. The country lost more than P95 billion in damage to infrastructure and agriculture.
"What we noticed on the ground was the cooperation of the entire population when it came to preparation for this calamity. We did not receive reports from authorities of people resisting preemptive evacuation," Monilla added. "With that, we are looking at fewer casualties—if ever we will have them."
Siargao and Dinagat Islands, where Odette made its first two successive landfalls on Thursday, could still not be reached by regular phone as of press time on Friday.
Gov. Francisco Matugas, who was at Siargao when the typhoon hit, told his son, Surigao del Norte Rep. Francisco Jose Matugas II, by satellite phone on Friday that two people died during Odette's onslaught.
"The whole island is totally devastated," the governor said.
A Philippine Coast Guard (PCG) vessel reached Siargao on Friday afternoon. One of its fixed-wing aircraft also was able to conduct an aerial survey of the island, the "surfing capital" of the Philippines.
Preemptive evacuation
Pictures taken by the PCG showed images of the fury of the typhoon's 195-kilometer per hour winds and gusts of 230 kph when it made landfall on the island at 1:30 p.m. on Thursday.
The island's airport terminal building's roof was partly blown away, while toppled trees and trees still standing appeared to have had their leaves shredded off.
Leading a meeting of the NDRRMC, President Duterte said he wasn't worried so much about damage to infrastructure. "I'm afraid that there would be a lot of deaths," he said.
Mr. Duterte said public coffers were nearly empty due to pandemic spending.
"We're trying to scrimp how much we can raise so that we can marshal it to the areas affected," he said.
The NDRRMC said 332,855 people in Eastern Visayas, Central Visayas, Western Visayas and Caraga (northeastern Mindanao) were preemptively evacuated. About 5 percent of them were housed in 209 evacuation centers scattered across these regions while the rest stayed with families and friends in safer locations.
Disaster management authorities, however, said on Friday that they still had incomplete reports as many areas were unreachable due to floods, landslides and other debris, and many had lost electricity and communication services.
Western Visayas, Central Visayas, Eastern Visayas and Caraga (northeastern Mindanao) reported massive power outages. Communications and cell phone signals also were down in Southern Leyte province, the NDRRMC said.
Monilla said the OCD's primary focus was to restore communication and power lines to expedite data gathering and validation of affected population and casualties, and damage to infrastructure and agriculture for a clearer picture of the typhoon's aftermath.
The NDRRMC placed the provinces of Negros Oriental, Cebu, Bohol, Southern Leyte, as well as Siargao and Surigao City, under "priority areas" for disaster response.
According to reports from local disaster agencies and the police, the 19 who died during the typhoon included four who were hit by trees felled by strong winds—a 14-year-old boy at Barangay Dao in San Fernando, Bukidnon province, a security guard at the University of the Philippines Visayas campus in Miagao, Iloilo province, and an elderly couple on Guimaras Island.
9 landfalls
In all, the typhoon made nine landfalls since Thursday—Siargao Island; Dinagat Island; Liloan, Southern Leyte; Padre Burgos, Southern Leyte; President Carlos P. Garcia, Bohol; Bien Unido, Bohol; Carcar City, Cebu, all on Thursday; and La Libertad, Negros Oriental; and Roxas, Palawan on Friday.
"This is a very tough time for most of us, and I sincerely request my fellow Filipinos to extend their hand to those calling for help. Let us bring forth our 'bayanihan' spirit," Iloilo City Mayor Jerry Treñas said in a statement.
Cebu Gov. Gwen Garcia placed her province under a "state of calamity" because of the devastation, power outage and a water shortage.
In Malacañang, acting presidential spokesperson Karlo Nograles, reminded people affected by the typhoon to monitor advisories from disaster officials and to keep themselves safe.
"We reiterate our call to the public to continue to remain vigilant, stay safe and dry, and cooperate with local authorities to ensure everybody's safety," he said.
According to the 8 p.m. bulletin of the Philippine Atmospheric, Geophysical and Astronomical Services Administration (Pagasa), Odette was over the coastal waters of San Vicente town on the western side of Palawan, but with weaker 150-kph winds and gusts of 205 kph.
It was moving at 30 kph west-northwestward toward the Kalayaan Island Group in the West Philippine Sea.
Aviation authorities had ordered the cancellation of 119 domestic flights to and from Ninoy Aquino International Airport.
One of the biggest airports affected by the typhoon was Mactan-Cebu International Airport, which remained closed on Friday after it was shut down on Thursday night.
The Civil Aviation Authority of the Philippines said the airport currently utilizes backup radios for operations as the airport's high frequency antenna was damaged. The airport's landlines also also were down.
"We are closely coordinating with the different government agencies and airline partners regarding announcements on the resumption of flights," GMR-Megawide Cebu Airport Corp., the airport operator, said.
Eleven flights between Cebu and Zamboanga on Friday were canceled.
Strong winds battered Metro Cebu early on Thursday night. The nonstop gusts lasted from 6 p.m. until around 11 p.m., toppling trees and lampposts. Some of the roads in the metropolitan area became impassable due to debris. Power is also down for some 95 percent of Metro Cebu.
The deadliest of the 15 storms that have entered the Philippine area of responsibility this year was Tropical Storm "Maring" (Kompasu) which killed 43 people. It also caused more than P4 billion in agricultural and infrastructure damage. —WITH REPORTS FROM DEMPSEY REYES, LEILA B. SALAVERRIA, NESTOR P. BURGOS, ROMAR MIRANDA, DALE ISRAEL AND KARLOS MANLUPIG
Subscribe to our daily newsletter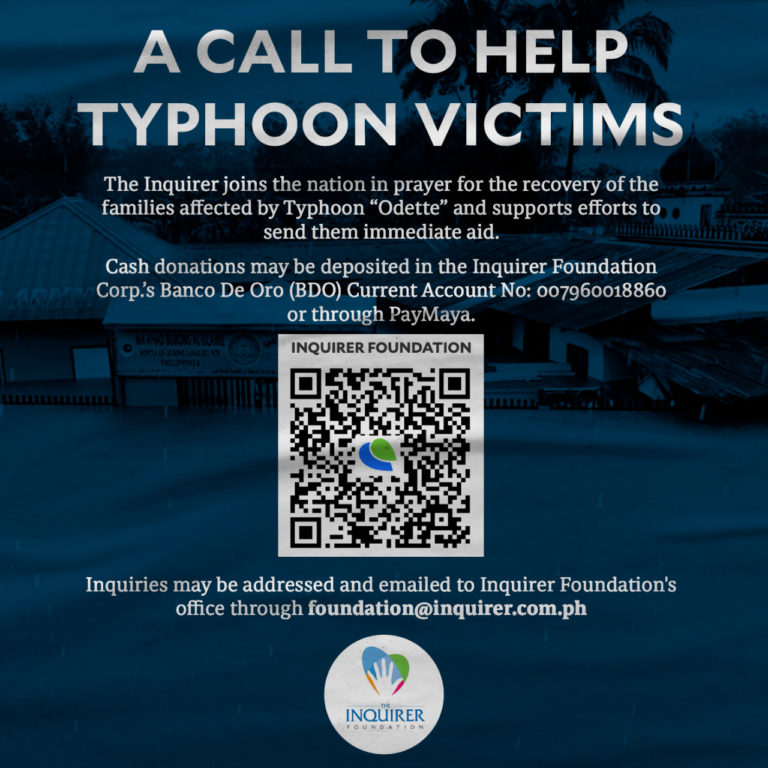 Subscribe to INQUIRER PLUS to get access to The Philippine Daily Inquirer & other 70+ titles, share up to 5 gadgets, listen to the news, download as early as 4am & share articles on social media. Call 896 6000.