Bohol still without electricity; many areas still flooded – Robredo
MANILA, Philippines — Hours after Typhoon Odette crossed Visayas, the entire province of Bohol was still without electricity as only solar-powered lights were operating Friday night, Vice President Leni Robredo said.
Robredo, who earlier flew to Bohol to personally check the situation on the ground, said a lot of roads remain impassable due to scattered debris brought by Odette's strong winds while many areas, especially the northern and eastern portions of the province, are still flooded.
In fact, the Vice President said they were not cleared to visit an evacuation area in Loay town because roads connecting the towns are still in deep floodwaters.
"Flew to Bohol the moment we were cleared to fly there post-Odette. Updates have been hard to come by over the past 24 hours, kaya hindi rin tayo mapakali (that's why we were restless). So we went to assess the situation and bring help," Robredo said in a Facebook post.
"The whole province has no electricity at solar lights lang ang gumagana. Many roads are still unpassable, and many areas in the North and East of the province are still flooded. Hindi na nga kami nakatuloy sa isang evacuation center sa Loay dahil baha pa rin," she added.
(The whole province has no electricity and solar lights are only functioning.  Many roads are still impassable, and many areas in the North and East of the province are still flooded. We were not allowed to go to one evacuation center in Loay because it is still flooded.)
Robredo said Bohol Gov. Arthur Yap and other officials like Vice Governor Rene Relampagos and Tagbilaran Mayor Baba Yap have been leading clearing operations on the ground.
"Gov. Art Yap has been leading road-clearing ops with their Tarsier 117 team. Vice Gov. Rene Relampagos and Mayor Baba Yap are also on the ground, along with other local officials," she said.
"Sa ngayon, inaalam pa ang extent ng damage (As of now we're understanding the extent of the damage), as well as the death toll, because communication lines are mostly down.  We'll be posting more photos of the damage as documented by the ground team," she added.
Earlier, Robredo announced they are converting their space for campaign volunteers along Katipunan Avenue, Quezon City, into a relief operations center where concerned citizens can drop their donations.
She said the people can donate the following items:
blankets
hygiene items like shampoo, soap, toothbrush, toothpaste, at sanitary napkins
face masks and alcohol
bottled water
rice grains
ready to eat food items like easy to open canned goods, instant noodles, biscuits, powdered drinks like coffee, and cereal drinks
As of Friday evening, the Philippine Atmospheric, Geophysical and Astronomical Services Administration (Pagasa) said that Odette slightly weakened as it started moving over to the West Philippine Sea.
Odette was packing maximum sustained winds of 150 kilometers per hour (kph) and gustiness of 205 kph. It is still moving west-northwestward at 30 kph, according to the state weather service.
RELATED STORIES
Signal No. 3 up in northern Palawan; Typhoon Odette may exit PH on Saturday
Typhoon Odette makes 9th landfall in Roxas municipality in Palawan – Pagasa
KGA
Subscribe to our daily newsletter
Click here for more weather related news.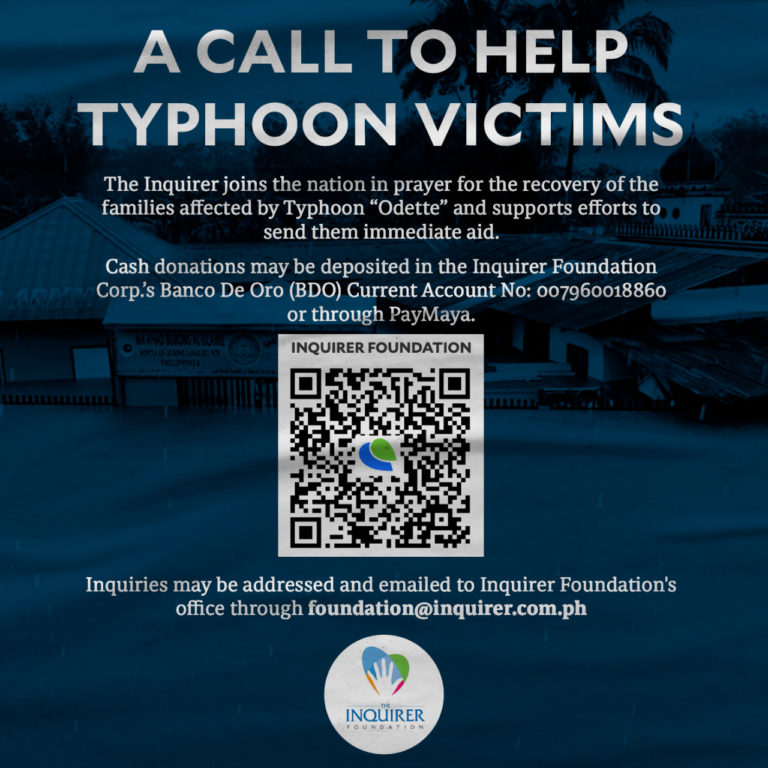 Subscribe to INQUIRER PLUS to get access to The Philippine Daily Inquirer & other 70+ titles, share up to 5 gadgets, listen to the news, download as early as 4am & share articles on social media. Call 896 6000.