National ID system registration: 3 steps you need to follow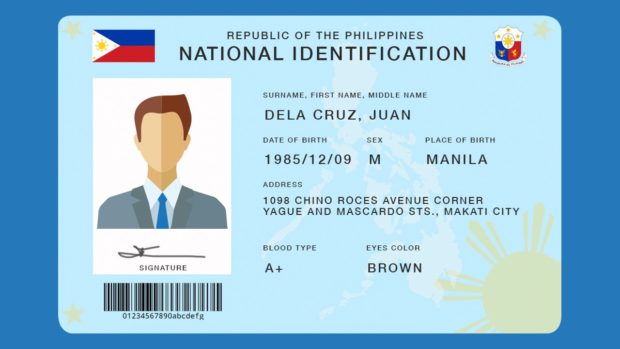 MANILA, Philippines — The Philippines Statistics Authority (PSA) launches the online registration for the Philippine Identification System (PhilSys) on Friday, April 30.
According to PSA, Filipinos have to follow the "three easy steps" to apply for PhilID.
These are:
Step 1: Applicants must register their demographic information in PSA's online portal for national ID registration. This includes information such as:
Full name
Sex
Date and place of birth
Blood type
Address
Optional information like marital status, mobile number, and email address will also be collected.
After inputting these details, applicants can proceed to set an appointment in the nearest physical registration center for the second step.
Reminder: Prepare the required documents and bring them when you attend your appointment.
Step 2: Biometric information including fingerprint, iris scan, and photograph will be taken in the registration center during your appointment.
The supporting documents will also be validated on-site.
Step 3: Issuance of the PhilSys Number (PSN) and PhilID.
"Ang inyong PSN at PhilID ay ide-deliver ng PHLPost sa inyong tahanan! Paalala lamang po na huwag i-post sa social media ang inyong PhilID dahil ito ay naglalaman ng inyong personal na impormasyon," said PSA in an online post.
(Your PSN and PhilID will be delivered to your address by PHLPost. Refrain from posting your PhilID on social media as it contains personal information.)
Where are the physical registration centers?
The PSA explained that it would set up fixed and mobile registration centers in strategic locations.
"Currently, PSA is in coordination with LGUs, government agencies, and private sector to determine these locations," the central statistical authority said on its website.
"Further updates on the exact locations of registration centers will be released prior to the opening of PhilSys registration," it added.
List of primary and secondary requirements
Applicants are required to present an original copy of at least one (1) of the following:
Primary Documents:
PSA-issued Certificate of Live Birth AND one (1) government-issued identification document which bears the full name, front-facing photograph, and signature or thumb mark.
DFA-issued Philippine Passport or ePassport;
GSIS or SSS-issued Unified Multi-purpose Identification Card (UMID);
Land Transportation Office (LTO)-issued Student's License Permit or Non-Professional/Professional Driver's License
Secondary Documents:
PSA-issued Certificate of Live Birth/NSO-issued Certificate of Live Birth with Birth Reference Number (BreN)
LCRO-issued Certificate of Live Birth
PSA-issued Report of Birth
PSA-issued Certificate of Foundling
Integrated Bar of the Philippines (IBP) Identification Card
Professional Regulatory Commission (PRC) ID
Seaman's Book
Overseas Workers Welfare Administration (OWWA) ID
Senior Citizen's ID
SSS ID
Pantawid Pamilyang Pilipino Program (4Ps) ID
License to Own or Possess Firearms (LTOPF) ID
NBI Clearance
Police Clearance/ID
Solo Parent's ID
PWD ID
Voter's ID
Postal ID
Taxpayer Identification Number (TIN) ID
Philhealth ID
Philippine Retirement Authority (PRA)-issued Special Resident Retiree's Visa (SRRV)
National ID from other countries
Residence ID from other countries
Meanwhile, the following identification documents will also be considered secondary supporting documents as long as it has a front-facing photograph, signature/Thumbmark, Full Name, Permanent Address, and Date of Birth.
Employee ID
School ID
Barangay Clearance/Certificate
Barangay ID
City/Municipal ID
Other FAQs about the PhilID
How much is the PhilID?
The PhilID is free. However, fees will apply to the replacement of the PhilID due to damage or loss. Holders of a Certificate of Indigency will not be charged the replacement fee as long as they present their certificate.
How long is the validity of the PhilID?
PhilIDs issued to Filipino citizens do not expire, while resident aliens get them for one year only.
Is the PhilID a replacement for other government IDs?
The PSA clarified that the PhilID isn't meant to replace other IDs that have their own uses.
"The PhilID is a foundational ID which serves as a valid proof of identity which would help ease transactions with both government and private sector through easier validation and authentication of identity," PSA added.
The PhilSys is the government's central identification platform for Filipino citizens and resident aliens. Meanwhile, the PhilID is the non-transferrable physical ID card, which will be issued upon completing registration.
President Rodrigo Duterte registered himself on PhilSyS in January and received his own ID late last month.
READ: LOOK: Duterte registers for the national ID system
READ: LOOK: Duterte receives his national ID
Duterte had urged Filipinos to try the PhilSys ID system, saying it would help make transactions more efficient.
READ: Duterte: Give national ID system a chance
The PSA aims to register 70 million individuals by the end of this year.
READ: 7.4M Filipinos register for National ID system in Q1, says PSA exec
abc
Subscribe to INQUIRER PLUS to get access to The Philippine Daily Inquirer & other 70+ titles, share up to 5 gadgets, listen to the news, download as early as 4am & share articles on social media. Call 896 6000.