9 of 10 Metro Manila residents wear face mask vs COVID-19, survey says
MANILA, Philippines — Nine out of 10 Metro Manila residents wear face masks to protect themselves from COVID-19, a survey released Thursday by the OCTA Research group showed.
The group's Tugon ng Masa survey, conducted from Dec. 9 to 13, 2020, showed that 93 percent of 600 respondents aged 18 and above from Metro Manila wear a face mask to avoid getting COVID-19.
Of the total respondents, 83 percent said they use a face shield, 89 percent continue to practice proper hygiene through handwashing and 73 percent observe physical distancing.
In terms of frequency of use, the survey's results showed that most of Metro Manila residents "always" use a face mask.
Eighty-three of the respondents said they "always or regularly" use a face mask when going outside their home, while 16 percent said they wear a face mask "most of the time" outside their homes.
The percentage of those who "always" wear a face shield when going out is lower at 61 percent.
Only 31 percent said they wear it "most of the time," 7 percent responding "sometimes" and 1 percent said "rarely."
When it comes to physical distancing, data from the survey showed 67 percent of the respondents "always" keep a safe distance from others.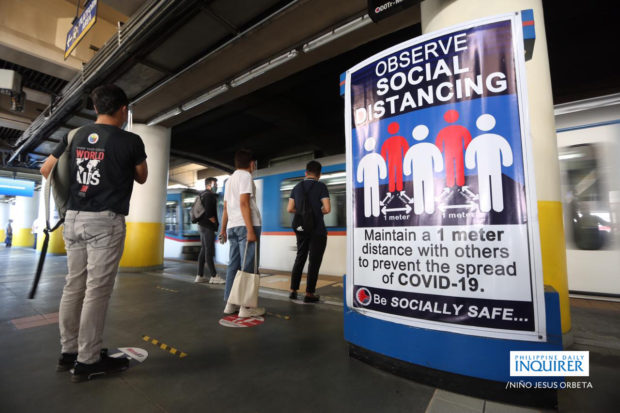 Other measures taken to prevent themselves from getting COVID-19, as shown by the survey, are covering the mouth and nose when coughing or sneezing, staying at home except for accessing essentials, praying, taking vitamins, avoiding crowded areas, sick people and travelling, and seeking medical attention when feeling ill.
According to the survey, the higher the educational attainment, the higher the observance of minimum health standards except for the practice of social distancing.
The survey results showed that the proportion of those who practice social distancing was the highest among 80% for elementary graduates as compared to only 74% for college graduates.
A recent survey also conducted by OCTA Research group showed that only 25 percent of Metro Manila residents are willing to get inoculated with a COVID-19 vaccine.
gsg
For more news about the novel coronavirus click here.
What you need to know about Coronavirus.
For more information on COVID-19, call the DOH Hotline: (02) 86517800 local 1149/1150.
The Inquirer Foundation supports our healthcare frontliners and is still accepting cash donations to be deposited at Banco de Oro (BDO) current account #007960018860 or donate through PayMaya using this link.