Moving Cagayan folk away from river eyed
Governors of Cagayan Valley, Cordillera regions tapped to study relocation of riverside settlements following widespread flooding
The Department of Environment and Natural Resources (DENR) is looking at the possible relocation of residents living along the banks of Cagayan River, after Typhoon "Ulysses" (international name: Vamco) caused widespread flooding in Cagayan Valley region.
During his visit to Tuguegarao City this week, Environment Secretary Roy Cimatu said a working group of governors of the provinces of Cagayan, Isabela, Quirino, Nueva Vizcaya and those in the Cordillera would be formed to oversee engineering interventions for the country's longest river.
Cimatu directed Gwendolyn Bambalan, the DENR executive director, and Mario Ancheta, Mines and Geosciences Bureau (MGB) director, both in Cagayan Valley, to work with the provincial governments for potential relocation of communities along the riverbanks.
Several towns were submerged in 4.5-meter-deep (15 feet) floodwaters when Cagayan River and its tributaries swelled from the heavy rains brought by Ulysses.
Mines closed down
Cimatu also ordered the MGB to close down small-scale mining operations in hazard-prone areas in Quezon town, Nueva Vizcaya, where nine people were killed in typhoon-triggered landslides. The landslide victims were mine workers and their relatives living within the site of a mining firm at Barangay Runruno.
Heavy rains and strong winds brought by Ulysses loosened the soil, causing layers of mud to bury the workers who were trapped in their houses on Nov. 12. The houses were made of light materials and were buried in mud and boulders.
While no particular operations were cited by the DENR, Cimatu ordered the MGB to identify a possible "Minahang Bayan" site for those who would be displaced by the closure. A Minahang Bayan is a common area where small-scale miners are allowed to mine, to curb illegal and indiscriminate mining.
Easement rule
In a meeting with provincial officials in Cagayan Valley, Cimatu supported the strict enforcement of the easement rule along riverbanks.
"We have to follow the 20-meter easement. There should be no building or any structure within the easement zone," Cimatu said.
He asked Tuguegarao City Mayor Jefferson Soriano to remove the illegal structures along creeks that blocked the waterways and worsened the flooding.
A big portion of the city was covered in floodwater that reached up to 2-meter (7 feet) deep on Nov. 14.
Dam level dips
Elevation in Magat Dam in Isabela continued to dip, with one spillway gate opened at 1 meter. As of 3 p.m. on Thursday, its water level was at 189.89 meters above seal level, further decreasing from the 190.2 masl recorded at 6 a.m. that same day.
The dam released water at 527 cubic meters per second. This was higher than the water flowing into the reservoir, which was recorded at 264.4 cms, according to the weather bureau.
"We are expecting that the spillway gate will be closed eventually," said weather specialist Sheila Schneider.
The government weather service is also monitoring a low pressure area east of northern Luzon, which is expected to bring rains over Magat Dam as it passes through Cagayan and Isabela between Thursday and Friday.
Magat's water level remained a few meters below its spilling mark at 193 meters, which, Schneider said, was common during these months. —JHESSET O. ENANO AND VILLAMOR VISAYA JR.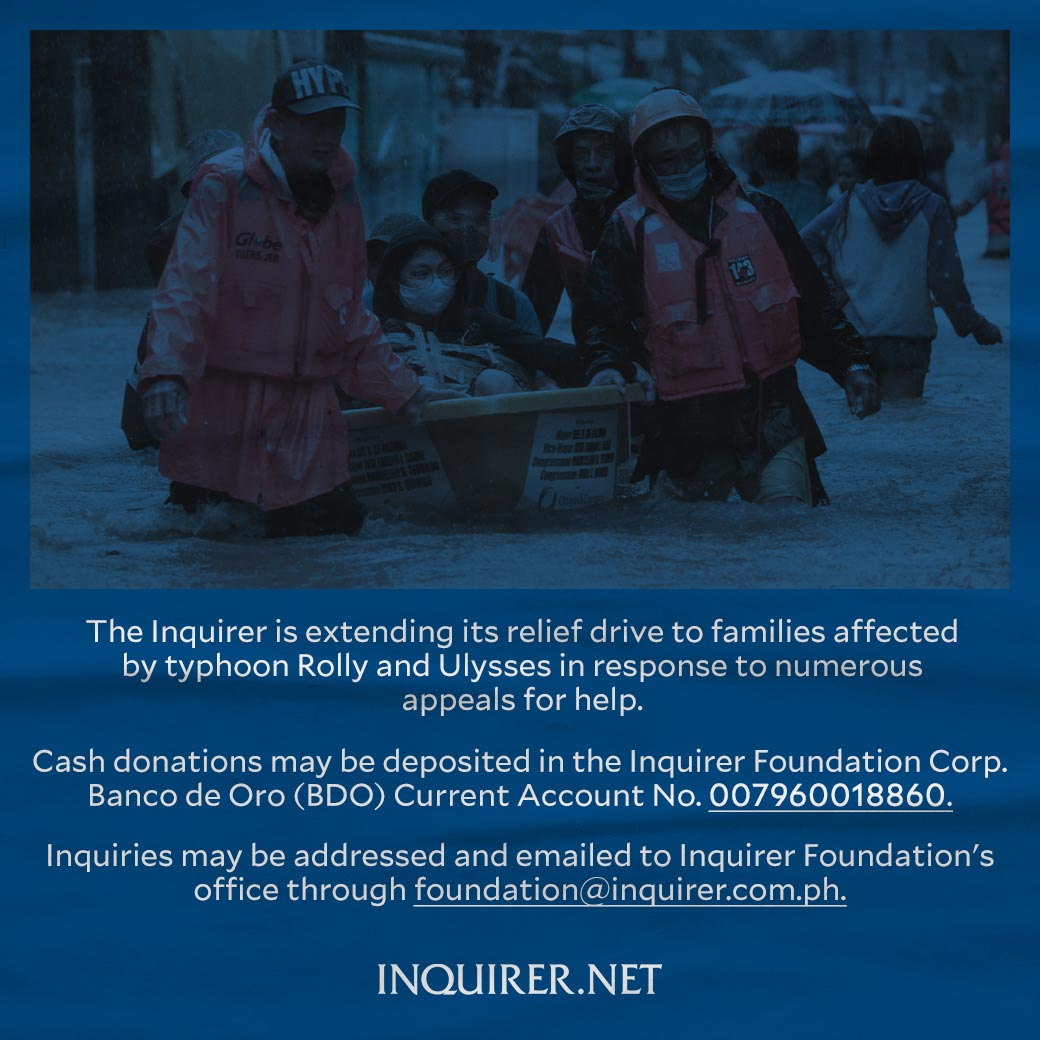 Subscribe to INQUIRER PLUS to get access to The Philippine Daily Inquirer & other 70+ titles, share up to 5 gadgets, listen to the news, download as early as 4am & share articles on social media. Call 896 6000.