Laguna de Bay shore villages still flooded
SAN PEDRO CITY, Laguna, Philippines — The flood left by Typhoon Ulysses (international name: Vamco) is receding, though at a very slow pace that families along the shoreline of Laguna de Bay worry about catching diseases from almost stagnant water now turned murky and stinky.
The Regional Disaster Risk Reduction and Management Council (RDRRMC) in Calabarzon (Cavite, Laguna, Batangas, Rizal and Quezon) said the cities of Calamba, San Pedro and Biñan, and the towns of Santa Cruz and Pila in Laguna province, mainly lakeshore communities, remained under knee- to waist-deep floodwater.
On Monday, local governments started clearing sewers and water drainage to ease flooding, said Aldwin Cejo, Laguna disaster management officer.
Nowhere to go
But Cejo and officials like Biñan Mayor Walfredo Dimaguila Jr. believed they could only do so much since Laguna de Bay, a natural catch basin, was full to the brim.
"There's nowhere else the water could go but to the Laguna lake, or we just wait for it to dry up if—and only if—it doesn't rain [in the coming weeks]," Dimaguila said in a phone interview.
The flooding in Laguna may last a month until the lake water level returns to its normal 12.5 meters, said Emiterio Hernandez, environmental regulatory department chief of the Laguna Lake Development Authority.
Boots, boats
Water level in the lake was at 12.9 meters after Ulysses dumped heavy rain while crossing the region during the second week of November.
"We also think it's [because of] the flood draining down from Rizal province," Cejo said.
Without any other means of transport but pedicabs ("padyak") or tricycles, most residents in Barangay Landayan here wade through knee-deep flood in going to the public market or their workplaces, said resident Aldus Alba.
He said the water had started to smell "like it came from the sewer."
"We can hang on [until the flood subsides], but I just hope they give us some rubber boots," said another resident, Darwin Pili.
Nico Pavino, San Pedro disaster management officer, said the villages of San Roque and Cuyab were still underwater, while in Biñan, residents in the villages of Malaban and Dela Paz were using wooden boats to move around the neighborhood.
The RDRRMC said 12,413 families (51,631 people) were still in evacuation centers across Calabarzon as of Sunday.
Ulysses left 18 people dead and a P217 million worth of damage to infrastructure and agriculture in the region.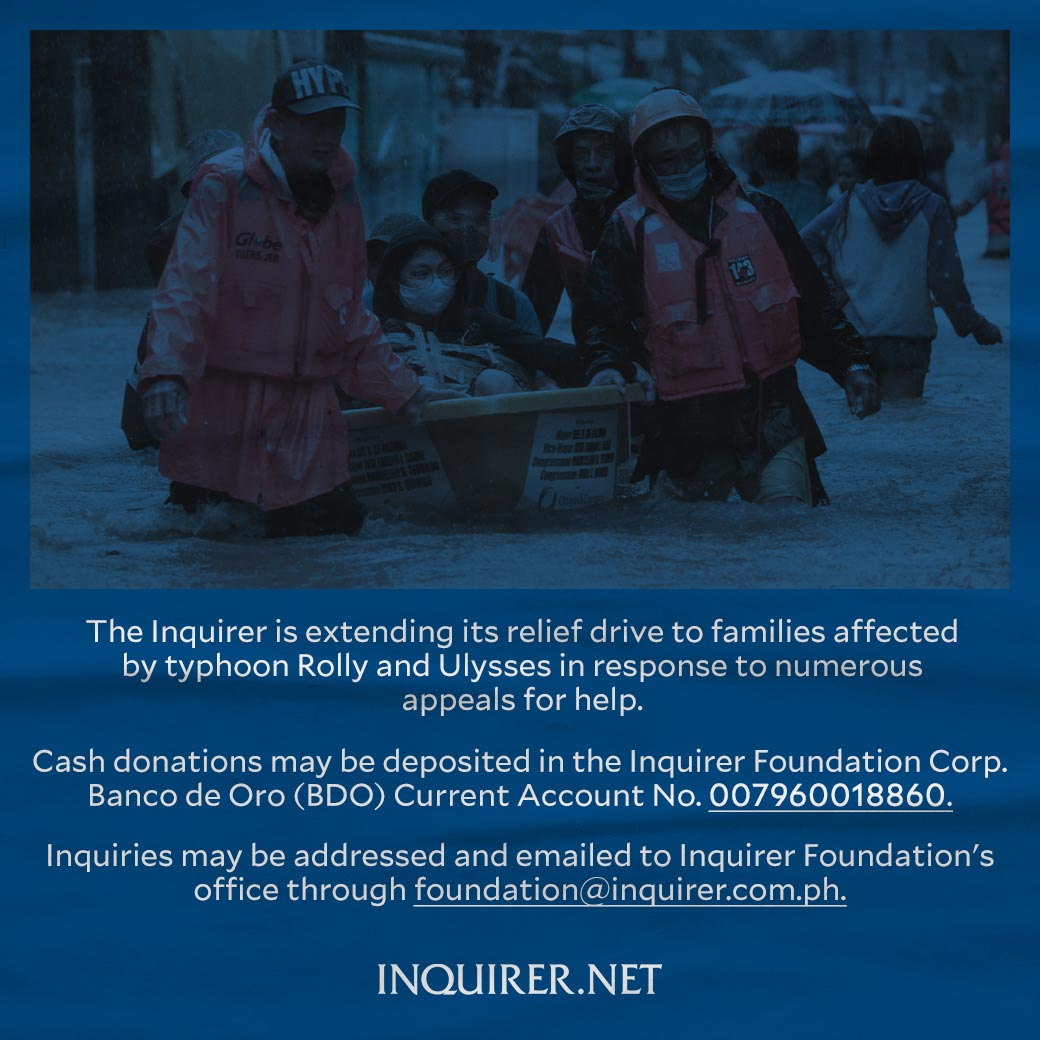 Subscribe to INQUIRER PLUS to get access to The Philippine Daily Inquirer & other 70+ titles, share up to 5 gadgets, listen to the news, download as early as 4am & share articles on social media. Call 896 6000.