Too much photo ops? Robredo says they only want donors know where funds went
MANILA, Philippines — While Vice President Leni Robredo belied claims that she has been bringing media to her events like relief operations, she admitted that her team has been documenting their activities for an important reason.
According to Robredo, it is a way of showing where the donations made by their private partners and ordinary citizens went, as her office operates mostly on funds from the private sector.
The Vice President was asked on One News' program The Chiefs on Friday to react to Secretary Salvador Panelo's comments that the Office of the Vice President is making it appear that she is doing more than the national government — a mindset that Robredo labeled as "unfortunate."
"If I was spending my own money I don't have to be very transparent about it, 'yong accountability sa akin lang.  Pero alam ng lahat na I'm spending private money eh […] and itong mga nagdo-donate sa amin, nagdo-donate sila because they become aware of what we are doing on social media," she explained.
(If I was spending my own money I don't have to be very transparent about it, the accountability stays with me.  But everyone knows that I'm spending private money, and our donors only donate goods just because they become aware of what we are doing on social media.)
"We don't have media following us around, but for us, we document everything because our only currency in what we are doing is trust.  We need to show our donors that we're spending their money based on their intentions when they donate," she added.
Due to a limited budget, donations have been the primary source of funding for Robredo's Office of the Vice President (OVP).  According to Kaya Natin, a foundation that partners with OVP, they have raised P55.30 million worth of donations as of Friday.
OVP's system of donations and photo documentations have been in place even before the typhoons came, as it was the same set-up used in accumulating donations for the hospitals' COVID-19 response.
Robredo has been drawing flak from administration supporters and even from President Rodrigo Duterte himself for allegedly grandstanding when immense flooding affected areas in Cagayan Valley, after Typhoon Ulysses filled up the Magat Dam.
As social media exploded with requests for rescue in Cagayan Valley — and pleas for help as the country's media focused on the destruction in Marikina and Rizal province — Robredo again converted her social media page into a place where people can send their distress calls.
Robredo said she formed a team to coordinate with the military and the rescuers, but Duterte looked at it as if the Vice President was trying to order the armed forces.
Panelo initially admonished Robredo for supposedly freeloading on the government, by going with the planes bringing government's relief goods and making it appear that she was responsible for it.
Robredo labeled these as fake information, as she never rode a military plane after Super Typhoon Rolly and Ulysses' onslaught.  Panelo and Defense Secretary Delfin Lorenzana have both apologized for the mix-up, as it was Robredo's relief goods — and not the Vice President — who was in the C-130 planes.
But Robredo stressed again that they are not competing with the government and President Duterte.
"Napaka-importante sa amin na well-documented lahat kahit nga hindi ako kasama sa operations we're documenting that and we're posting that on Facebook […] bakit parang tinitignan nila na nagko-compete kami?" she asked.
(It is so important for us that these are well-documented, even if I am not with them during the operations, we're documenting these and posting them on Facebook.  Why are they looking at it as some sort of a competition?)
JPV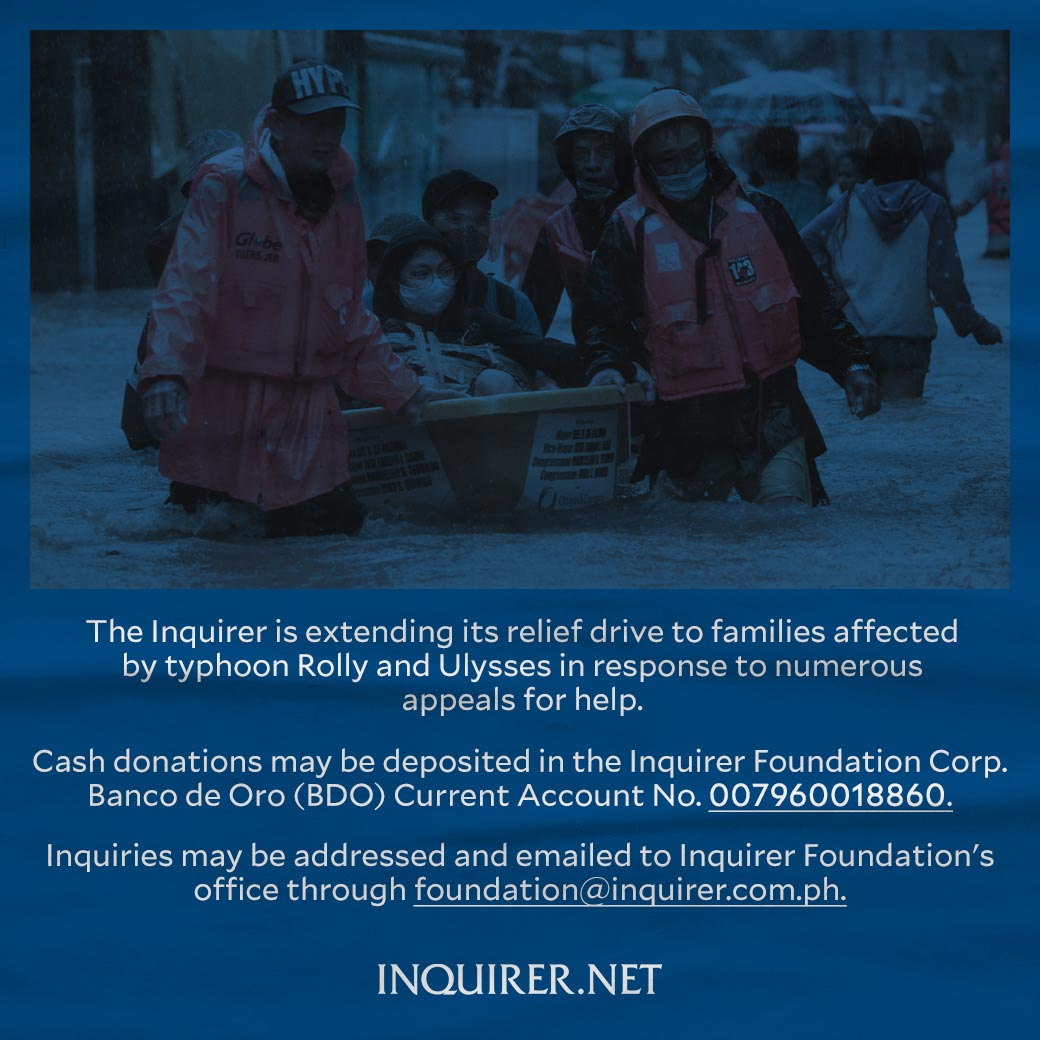 Subscribe to INQUIRER PLUS to get access to The Philippine Daily Inquirer & other 70+ titles, share up to 5 gadgets, listen to the news, download as early as 4am & share articles on social media. Call 896 6000.