PWD stroke survivor donates P12K to typhoon victims in Marikina
A 50-year-old man who was left disabled after suffering from a stroke has saved up the money he had collected from strangers on the streets to aid typhoon victims in Marikina City.
Romeo "Romy" Menil, a resident of Barangay Mambugan, Antipolo City, Rizal, personally went to the Marikina City Hall and handed over his voluntary donation of P12,390 to Mayor Marcelino Teodoro for families who have been affected during the onslaught of Typhoon Ulysses which caused massive flooding in the city and other parts of Luzon last week.
Menil was accompanied by a barangay official of Mambugan as he went to Marikina City on Monday, Nov. 16.
"Imbes na para sa kanyang mga pangangailangan ilaan o gastusin [ang kanyang naipong pera], bagkus ito ay kanyang ibinigay para sa mga taga Marikina na nasalanta ng Bagyong Ulysses," netizen Jazz Pher Justo wrote on Facebook as he shared photos of Menil's act of kindness and generosity.
(Instead of setting aside his savings for his own needs, he handed it over for the people of Marikina who were devastated by Typhoon Ulysses.)
The same photos were shared on Marikina City's official Facebook page wherein they praised and thanked Menil for sending help to the typhoon victims despite his own disability.
Menil's story of generosity has caught public attention and brought Marikina City's Facebook post to go viral, with over 12,000 reactions and over 2,700 shares so far. INQUIRER.net also reached out to Menil for interview but has yet to receive a response, as of this writing.
Meanwhile, in a recent report, the Marikina government has estimated the damage caused by Typhoon Ulysses in the city to reach P30 billion. Almost 40,000 houses in the city were submerged in floodwaters, while long-lasting effects on the city's economy are expected.
Classes in Marikina City may resume by January next year, said Mayor Marcelino Teodoro. He also said that the month-long suspension of classes due to the deluge caused by Typhoon Ulysses may be extended. JB
RELATED STORIES:
Damage caused by Ulysses in Marikina City estimated at P30B

Classes in Marikina City may resume by January, says mayor
Marikina mayor backs proposal to declare national climate emergency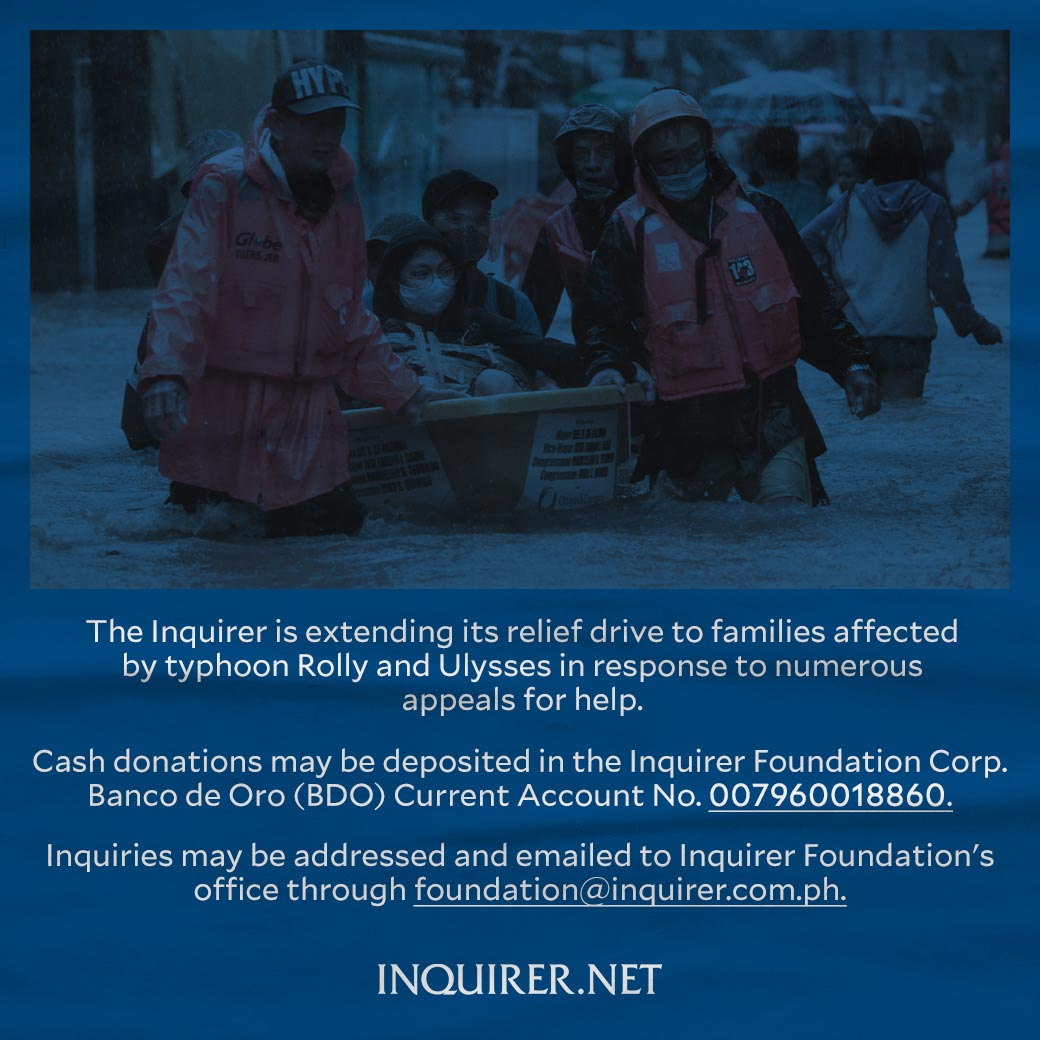 Subscribe to INQUIRER PLUS to get access to The Philippine Daily Inquirer & other 70+ titles, share up to 5 gadgets, listen to the news, download as early as 4am & share articles on social media. Call 896 6000.