Great flood in Cagayan: A case of unclear communication?
MANILA, Philippines — It was the worst flooding they have experienced in 40 years – people stranded on their almost totally submerged homes after Typhoon Ulysses lashed majority of the Luzon region with its rain bands discarding ample amount of water over Cagayan and Isabela.
But some local officials think the typhoon was not solely to blame for their current unfortunate conditions; they believe water from one of the country's largest dams – Magat Dam – could be the main culprit.
The National Irrigation Administration (NIA) had released advisories informing cities and municipalities in areas surrounding the Magat Dam, located along Magat River which is a major tributary of the Cagayan River. However, Cagayan Gov. Manuel Mamba, said that was not enough.
According to him, the likely impact of the dam water discharge, as well as the gravity of flooding that it may cause, was not adequately conveyed and explained.
"Sa amin, we don't know the extent of the effect on the flooding itself. Kahit na sabihin mo sa aming 6,000 [cubic meters per second of water], kahit sabihin mo sa aming apat na swimming pool per second ang mailalabas niya," Mamba told INQUIRER.net in a phone interview.
(We don't know the extent of the effect of the flooding itself. Even if they tell us to expect 6,000 cubic meters per second of water, even if they tell us it's equivalent to four swimming pools, we don't know that.)
"'Di naman [kami] sinabihan na magpa-evacuate na kayo dahil mag-release kami ng ganito, ganito kasi ang mangyayari, they do not even tell us dahil hindi nila alam kung gaano kalalim. 'Di nila alam kung anong epekto ng binibitawan nila," he added.
(We were not told to evacuate because they will release this amount of water, because this will happen, they did not even tell us because they did not know how deep the flooding would be. They don't know the effect of what they would release.)
Duly notified
Wilfredo Gloria, department manager of the NIA Magat River Integrated Irrigation System,  said they issued advisories to the Office of Civil Defense (OCD) as well as municipal and city government offices six hours prior to the opening of Magat Dam's floodgates.
This move was in accordance with their protocol on the discharge and flood warning operation in dams in times of storms, according to Gloria.
Specifically, Gloria said, notices were sent regarding the pre-release of water in Magat Dam on November 9, which was three days prior to the expected arrival of Typhoon Ulysses in Northern Luzon on November 12.
Two floodgates were opened on November 9, he noted.
"We sent the notices to the Office of Civil Defense, to the Provincial Risk Reduction Management offices pati na 'yung mga (as well as) City and Municipal Disaster Risk Reduction Management offices," Gloria told INQUIRER.net in a Zoom interview.
"It was sent through emails, text messaging, atsaka 'yung mga hard copies then sinabayan natin ng pagbibigay din ng notices sa ating mga radio stations kasi alam naman natin na malawak ang sakop ng ating mga radio stations."
(It was sent through emails, text messaging, and even hard copies. We also sent the notices to the radio stations since we know that the reach of radios is wide.)
Gloria added there were also flood warning systems along the Magat River.
"Ito 'yung may public address system na sinasabayan din ng siren na ibig sabihin, 'yung mag-antabay 'yung ating mga kababayan na nasa along the riverbank of Magat River, sa loob ng anim na oras ay dadaloy na yung tubig na pakakawalan ng Magat Dam. May sirena, may siren," he explained.
(These are public address systems with sirens which means that those along the riverbanks of Magat River should be on alert because in six hours there would be water discharged from the Magat Dam. There are sirens.)
Gloria likewise said their advisories also contained information such as the amount of water as well as the time it will be released by the dams.
But come the night of November 11, when Cagayan started to feel the presence of Ulysses, Gloria said rainfall was heavier than expected thereby increasing water inflow in Magat Dam. On November 12, more floodgates were opened, Gloria said, quickly making it clear that the seven floodgates in Magat Dam were not opened all at the same time.
"For every additional opening ng ating gates, may corresponding notices din tayo through texting, so 'yun ang ating mga proseso," he said.
(For every additional opening of gates, there is a corresponding notice, that's our process.)
"Then 'yung sa notice of pre-release natin, it was sent through emails, all means na makarating sa ating mga kababayan 'yung impormasyon na 'yun," he added.
(Then for notice of pre-release, it was sent through emails and all means that would reach our residents.)
Eventually, Gloria said the blame should not be only on NIA, pointing out that Cagayan River has 20 tributaries and the Magat River is just one of them.
"Dahil sa malawakang pag-ulan na dulot nitong Bagyong Ulysses, halos lahat nitong 20, including Magat, ay nag-contribute ng pagbaha…. 'Pag nagkasabay-sabay itong 20 tributary rivers na nag-contribute ng malaking tubig ay talagang malawakang pagbaha," he insisted.
(Because of the rainfall brought by Typhoon Ulysses, almost all of the 20 tributaries, including Magat, contributed to the flooding… If these 20 tributary rivers would bring large amounts of water at the same time, there will really be flooding.)
He further emphasized that soil in Cagayan Valley is already saturated given the continuous rain over the past few days before the flooding.
"If we will hold the water coming in, it will compromise—mao-overload ang Magat Dam… at mas lalong grabe ang magiging epekto niyan which would result to dam break, the worst is to collapse," Gloria said.
(If we will hold the water coming in, Magat Dam will be overloaded and the effect will be worse, like dam break, or worst, it will collapse.)
'Suddenly underwater'
Even before the great flood happened, evacuation efforts were done in response to the advisories issued by NIA, according to Cagayan Gov Mamba. Although he admitted that they did not expect the "gravity and enormity" of the water that inundated vast parts of their province as the water level in Cagayan River reached 13.1 meters.
To put into perspective, Mamba said the Cagayan River only reached over 11 meters when parts of the province became flooded in 2019.
READ: Cagayan reeling from worst flooding, says governor; online cries for help surge
He noted that flooding this time is so extensive that even residents in Tuguegarao City reported the occurrence of floods for the first time in 45 years.
"Hindi namin in-expect na aabot ng 13.1 meters. So 'yung mga tao ang expectations din nila is katulad din ng flooding noong 2019 so they were also surprised then suddenly underwater kami," Mamba said.
(We did not expect that it will reach 13.1 meters. The expectations of the people was the flooding would just be like that of 2019 so they were really surprised when we were suddenly underwater.)
But even if NIA gave a clearer picture as to what the impact of the water discharge from Magat Dam would be, Mamba believes these "assumptions" would "no longer have basis."
READ: 50 villages in 6 Cagayan towns still isolated by flood
Ang Cagayan River and the river basin ng Cagayan River ay ibang-iba na ngayon. Nawala na lahat ang aming mga forests. Heavily silted na ang Cagayan River, wala na 'yung river channels namin so they themselves could not have any assumption anymore na may basis," Mamba said.
(The Cagayan River and the river basin are so different now from before. The forests are gone and the river is silted. There are no more river channels so they themselves could not have any assumption anymore with basis.)
READ: Recovery for submerged Cagayan town will 'take a long time'
"'Yung landscape mismo nag-iba na. Remember this, 40 years na 'yan. 'Yung mga assumption nila noong ginawa nila 'yan, iba na ngayon. Kalbo na 'yung ating mga forests, silted ang aming river bed. They themselves do not even know ano 'yung epekto na binibitawan nila," he added.
(Our landscape is different now. Remember it's already over 40 years old. Their assumptions back then is different now. Our forests are gone and the river bed is silted. They themselves do not even know the effects of the water they discharge.)
Role of communication
Assistant Professor Garry Jay Montemayor from the Department of Science Communication-College of Development Communication in the University of the Philippines-Los Baños, said the government, as well as policies, have a role in communicating to the public the risks of natural calamities.
In particular, he said that scientists and experts in the national level should coordinate with the local government units, which has better reach to their constituents.
But how will this work? One possible solution is following a "what-so what-now what" format, according to Montemayor.
For instance, in times of typhoon, Montemayor said the "what" would be typhoon signals, the "so what" would show the possible implications of the typhoon signals such as the uprooting of trees, while the "now what" would tell the public what to do to prepare for the storm.
But the UP Los Baños professor underscored that the "now what" aspect of communication heavily depends on the audience—and this is where the local government units come in.
"Dapat naiintindihan ng local government 'yung 'what-so what' para makapag-craft sila ng policies at makapaglabas sila ng information kung ano 'yung dapat gawin ng constituents," Montemayor told INQUIRER.net in another phone interview.
(The local governments should really understand the 'what-so what' aspect so they can craft policies and they can release information as to how their constituents should respond.)
"Malaki ang role ng government, scientists at ng media sa pagre-report ng hazards at potential disasters (The government, scientists, and media play a big role in reporting hazards and potential disasters," he added.
KGA
RELATED STORY
Roque doubts legal action vs Magat Dam over Cagayan flood will prosper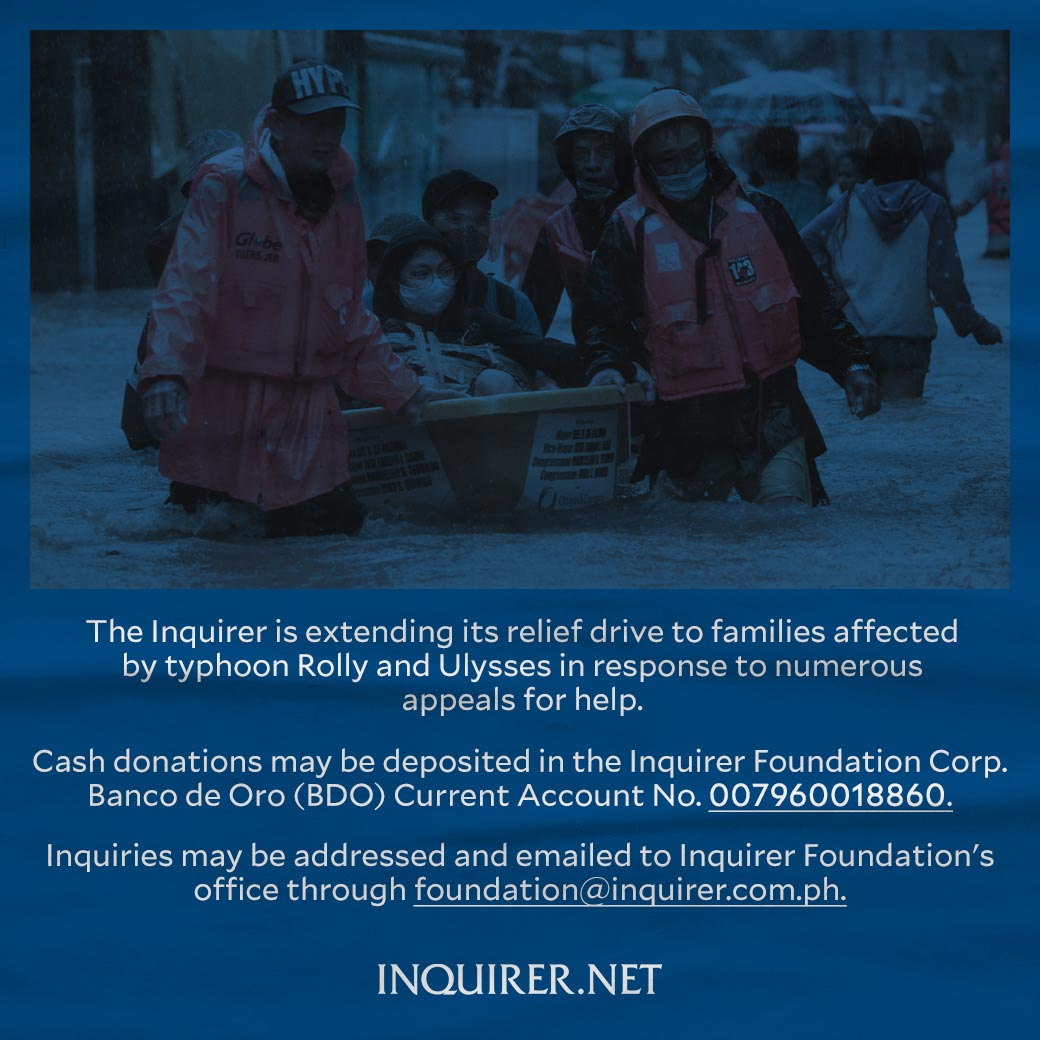 Subscribe to INQUIRER PLUS to get access to The Philippine Daily Inquirer & other 70+ titles, share up to 5 gadgets, listen to the news, download as early as 4am & share articles on social media. Call 896 6000.