to streamline gov't response
Zubiri bats for Dept. of Disaster Resilience
PILI, Camarines Sur — Senate Majority Leader Miguel Zubiri is calling for the creation of the Department of Disaster Resilience that will handle the long – term planning and execution of government response to calamities and disasters.
Zubiri was here Sunday morning to personally donate 700 sacks of rice to Bicol residents displaced by tyhpoons Rolly (Goni) and Ulysses (Vamco).
He said the Department of Disaster Resilience will focus on all disaster aspects including preparation, rescue, relief and rehabilitation.
Zubiri said the Department, once created, would focus also on pre-positioning of equipment and relief goods and its distribution to local government units.
"I will address this issue in the Senate hearing next week. I believe when we establish this Department, there will be no need to create a task force every time we face disasters," he said.
"I've seen the effects of the typhoons in Catanduanes and Tiwi in Albay and one could really say it was an atomic bomb-like effect," Zubiri said.
Prior to his visit in Camarines Sur, Zubiri also visited to Catanduanes and Tiwi, Albay.
"There were massive infra destruction, the coastal towns in Albay were ground zero," he said.
Rolly poured torrential rains over Albay on Nov. 1 and caused floods and volcanic materials to cascade down from Mount Mayon, burying villages in Guinobatan town where at least five residents died.
"It's really high time that we address this issue in the Senate. You see, the disaster response is messy and slow," Zubiri said.
Set aside differences, help victims first
Meanwhile, San Jose Del Monte Rep. Florida "Rida" P. Robes on Sunday called on Filipinos to just unite in helping victims of the recent typhoons instead of wasting time engaging in finger-pointing and politicking.
"It is deeply disheartening that despite the many problems being faced by our country, some have used it to criticize and advance their own political and personal interests. Our difficulties are enormous, our challenges are unprecedented. Many of our countrymen need urgent help. They need our support and assistance at this time," Robes said.
She added that people in the typhoon-affected areas in dire need should be prioritized and that holding accountable those responsible for their plight can be done at a proper time.
"Now is not the time to make condemnation. Now is the time to act and do whatever we can to help our distressed countrymen. Let us take the best road for our countrymen. Let us step up to help our fellow Filipinos in need!" she said.

gsg
Subscribe to our daily newsletter
Click here for more weather related news.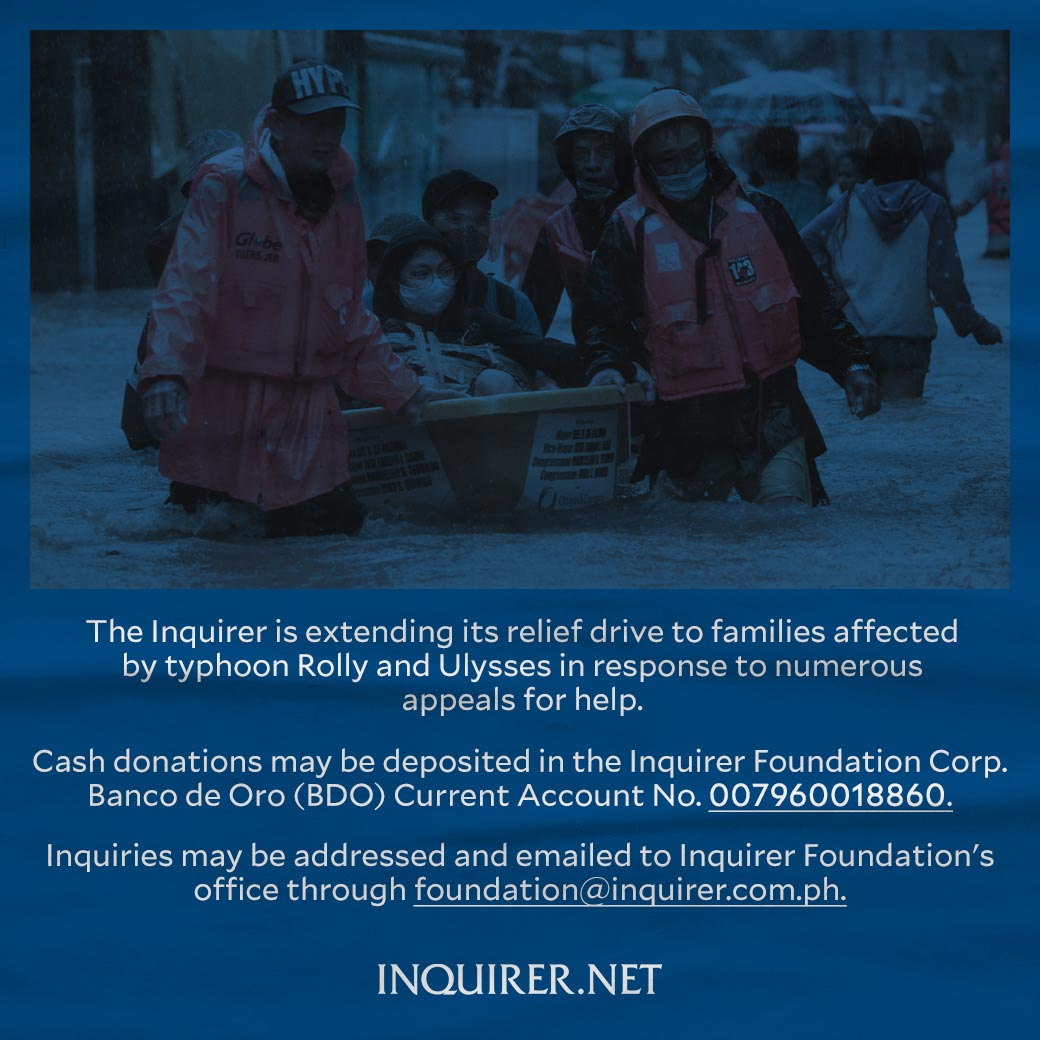 Subscribe to INQUIRER PLUS to get access to The Philippine Daily Inquirer & other 70+ titles, share up to 5 gadgets, listen to the news, download as early as 4am & share articles on social media. Call 896 6000.