Zarate pushes for Evacuation Centers Bill in wake of Super Typhoon Rolly
MANILA, Philippines — House Deputy Minority Leader Carlos Isagni Zarate of the Bayan Muna party-list group urged his colleagues on Sunday to fast-track a bill that would mandate the creation of safer evacuation centers.
Zarate made the call through a statement he issued on the day that Super Typhoon Rolly hit the Bicol Region, where thousands of people again flocked to makeshift shelters.
"Up till now evacuees are staying in basketball courts, schools and churches. .Even President Duterte has seen the problem himself and vowed to construct more evacuation centers early this year and with this we hope that House Bill 5259 would also be fast-tracked," Zarate said.
"Since after the Super Typhoon Yolanda we have been pushing for the enactment of such a law and we hope that it can be done soon so that the suffering of our disaster struck country would be minimized," he added.
According to Bayan Muna, Congress should prioritize the passage of House Bill No. 5259, or the Evacuation Centers Bill, which would deviate from the common practice of using schools and basketball courts — facilities that may still be in the danger zone — as evacuation centers.
Zarate explained that under their bill, evacuation facilities would be created in safer environments and in structures resistant to typhoons and earthquakes. They would also be complete with relief goods and emergency equipment.
The lawmaker further noted that some safer evacuation sites were being used for the treatment of COVID-19 patients.
Earlier, child advocate group Save the Children feared that children are at greater risk of contracting the coronavirus by staying in cramped-up evacuation centers.
During calamities like typhoons that forces families to hole up in temporary evacuation centers, health authorities are always on the watch for possible outbreaks that may occur due to closely-situated tents and settlements.
Early on, it was reported that 87,000 families were evacuated in preparation for Rolly's landfall, but the numbers increased over time.
READ: Over 87,000 families evacuated in Bicol provinces due to Typhoon Rolly
"Areas hit by Quinta have yet to recover but are now being hit by Super Typhoon Rolly, the strongest recorded typhoon for 2020. These areas are hard put where to evacuate their residents because their normal evacuation centers are occupied due to the COVID-19 pandemic, so now is the time to contruct more disaster resilient evacuation centers," Zarate stressed.
"This is a departure from the common practice of using schools and multi-purpose halls as evacuation centers but are still in danger prone areas. The evacuation centers proposed by HB 5259 should also be located in between baranggays so that more people can reach them at the soonest time possible and may also serve as the command center for disaster response," he added.
In Camarines Sur, photos from the Office of the Vice President showed that several classrooms of the Sabang National High School which was used as an evacuation center of Calabanga town residents, also sustained damage.
One classroom's ceiling collapsed while another lost its roofing — an example of Zarate's claim that some evacuation centers were not necessarily safe from a typhoon's destruction.
Rolly is not also the first destructive weather disturbance to hit the country.  In early October, Bicol and other parts of Luzon also endured Tropical Depression Ofel, which was quickly followed by Tropical Storm Pepito that moved across Aurora and the rest of Central Luzon.
Then, Typhoon Quinta barreled through Southern Luzon, also slightly affecting Bicol just days before Rolly entered the Philippine area of responsibility.
Zarate said that the recent storms coupled with the pandemic raised another dimension into the proposed evacuation centers, as there might be a need to put up a permanent quarantine facility in each locality.
"In fact, one lesson that we should learn from this COVID-19 pandemic is the need, too, of a permanent quarantine facility in every locality, which the proposed evacuation center, can also be repurposed or subdivided into if need be," he said.
"The fact that the Philippines is a country in the Ring of Fire and is also often visited by typhoons yearly, the government has to undertake measures while waiting for the completion of a comprehensive disaster preparedness program and its eventual implementation," he noted.
[atm]
Subscribe to our daily newsletter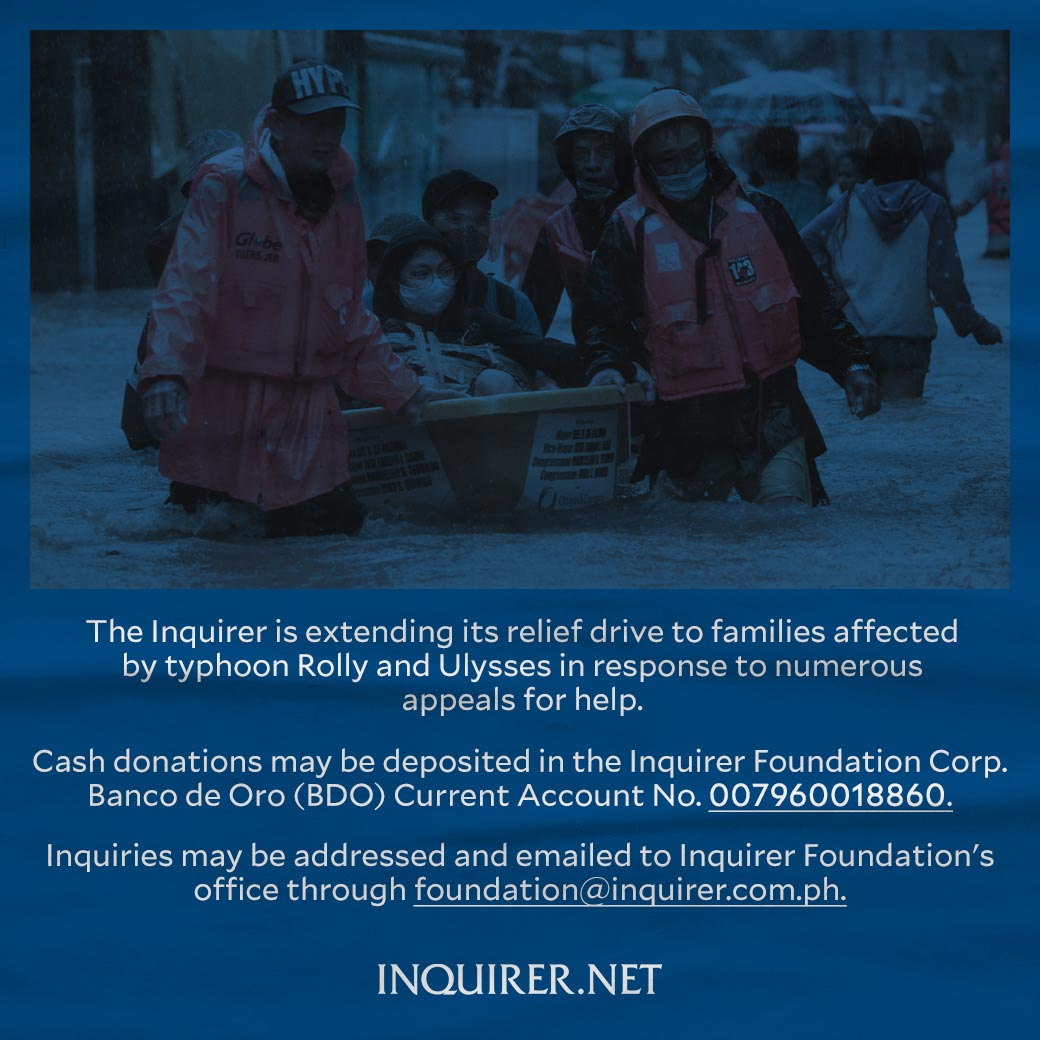 Subscribe to INQUIRER PLUS to get access to The Philippine Daily Inquirer & other 70+ titles, share up to 5 gadgets, listen to the news, download as early as 4am & share articles on social media. Call 896 6000.