NTC orders telcos to provide free calls, free charging in typhoon-hit areas
MANILA, Philippines — Telecommunication companies have been ordered to provide free calls and free charging services in areas that were severely affected by Super Typhoon Rolly, the National Telecommunications Company (NTC) said.
According to a memorandum the NTC addressed to Globe Telecom Inc. and Smart Communications Inc. on Monday, Libreng Tawang and Libreng Charging services should be set up in Bicol Region and Southern Luzon after Rolly battered these areas over the weekend.
NTC's Regional Offices were also tasked in the memorandum signed by Commissioner Gamaliel Cordoba to monitor the implementation of the program and the adherence to health standards placed to avoid COVID-19 transmissions.
"In the aftermath of Typhoon Rolly, you are hereby directed to deploy Libreng Tawag and Libreng Charging Services in strategic areas affected by the Typhoon.  You are also reminded to observe strict health protocols to avoid transmissions of coronavirus disease," NTC said.
"Director Arnold Barcelona of NTC Region IV-A (CALABARZON), Director Ronald Cabute of NTC Region IV-B (MIMAROPA) and Director Ariel Padilla of NTC Region V (Bicol) are tasked to monitor and oversee the implementation of this memorandum in their respective areas of jurisdiction," it added.
Rolly made landfall on Saturday, deviating from its initial predicted track of moving along Aurora and northern Quezon, instead battering Bicol Region and Southern Luzon especially Camarines Sur, Catanduanes, and Albay.
As of now, several provinces in the above-mentioned areas are still inaccessible by road due to toppled trees and other structures.  On the other hand, communications and power are still cut in some areas, as communication was only made possible by satellite phones in badly-hit localities.
JPV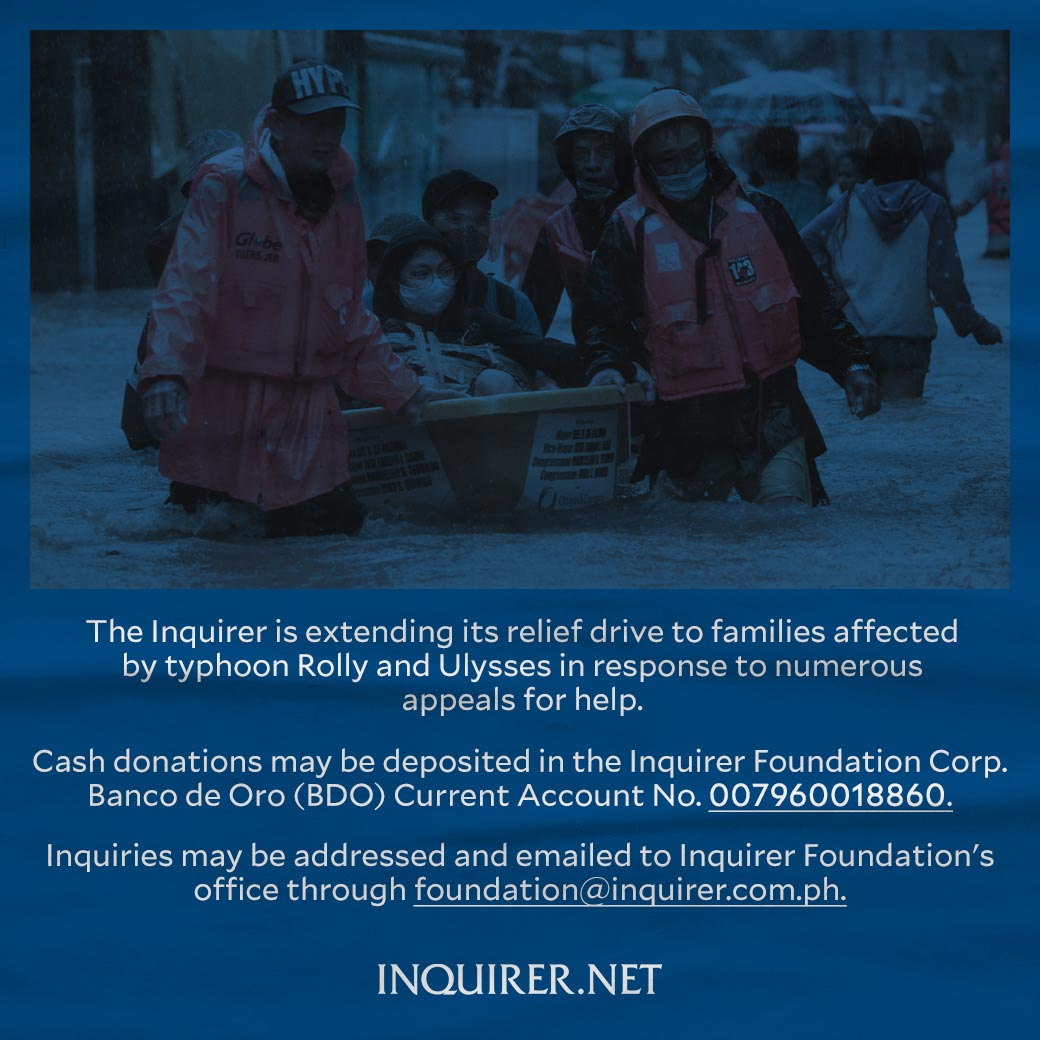 Subscribe to INQUIRER PLUS to get access to The Philippine Daily Inquirer & other 70+ titles, share up to 5 gadgets, listen to the news, download as early as 4am & share articles on social media. Call 896 6000.