Super Typhoon Rolly batters Bicol, leaving at least 7 dead
At least seven people were killed as Typhoon Rolly (international name: Goni) pounded the Philippines on Sunday, bringing catastrophic winds and dumping intense rains that flooded villages and sent thousands of people fleeing their homes.
Categorized as a supertyphoon before it slammed into the Philippine landmass, Rolly, carrying winds of up to 225 kilometers per hour and gusts of up to 310 kph, first made landfall in Bato town, Catanduanes province, at 4:50 a.m. before slightly changing course and hitting land a second time in Tiwi, Albay province, at 7:20 a.m.
Rolly was downgraded to typhoon after it struck the Bicol region, where it tore off roofs, toppled trees and power lines, destroyed roads and bridges, made rivers top their banks and flood low-lying areas, and triggered cascades of mud from the slopes of Mt. Mayon that flooded towns below the volcano.
Four killed
At least four people were killed in Albay, according to Gov. Al Francis Bichara. But according to Agence France-Presse, the Office of Civil Defense later issued a statement saying at least seven people were killed.
Two of the victims — a 5-year-old boy and his father — drowned in the town of Oas, while a woman was swept away by volcanic mud in Guinobatan. Another woman was killed by a falling tree in Daraga.
The volcanic mudflow damaged bridges in Daraga and Santo Domingo, cutting off the towns from Legazpi City, Albay's economic center.
"Albay was battered," Bichara said, pointing to the devastation caused by the storm as it touched down in several parts of the province, including Tabaco and Malilipot towns.
In Sorsogon province, badly hit were the towns of Donsol, Pilar, and Castilla, according to Gov. Francis Escudero.
Rolly weakened into a typhoon at 8 a.m. and made a third landfall in the vicinity of San Narciso town in Quezon province at noon.
Rolly came a week after Typhoon "Quinta" (Molave) hit the same region of the Philippines. That storm killed 22 people and flooded low-lying villages and farmland, before crossing the South China Sea to Vietnam.
Cedric Daep, director of Albay's provincial disaster office, said Rolly, which pushed storm signals to No. 5 as it roared toward land on Sunday, was slightly weaker than the strongest typhoons to strike the region: "Rosing" (Angela, 300 kph, November 1995), "Yolanda" (Haiyan, 315 kph, November 2013), and "Reming" (Durian, 320 kph, November 2006).
Of the three storms, Reming was the most destructive, unleashing tons of volcanic mud that buried many villages, killing more than 1,500 people.
Roaring westward
As of 2 p.m. on Sunday, the Office of Civil Defense in Bicol was still trying to determine the extent of typhoon damage in Catanduanes, Albay, Camarines Norte and Sorsogon. Information was coming in slowly because of damage to communication and power lines.
After lashing Bicol, Rolly roared westward, bringing destructive winds and heavy rains as it moved toward Marinduque province and southern Quezon in the afternoon and Batangas and Cavite provinces on Sunday evening.
As of 4 p.m., the storm was located 50 km south-southwest of Tayabas, Quezon, packing maximum winds of 165 kph and gusts of up to 230 kph and moving westward at 25 kph.
The state weather service Philippine Atmospheric, Geophysical and Astronomical Services Administration (Pagasa) said Rolly's eye was expected to be at 70 km south of Metro Manila between 5 p.m. and 7 p.m. Strong winds were reported across the metropolis toward evening.
Rolly's approach prompted the evacuation of 2,853 people in Pampanga on Saturday and Sunday. Water was released from overfilling Ipo Dam in Bulacan province on Sunday.
In Laguna province, two villages in Calamba City went under water and authorities evacuated 2,899 people from lakeshore towns on Sunday.
In Quezon, three villages in Lopez and five in San Francisco were flooded as the storm dumped heavy rains.
Local authorities ordered the evacuation of people living in flood-prone parts of Manila, Muntinlupa and Taguig as the storm approached on Sunday.
May weaken
Pagasa said Rolly might weaken as it crossed southern Luzon on Sunday night, but would emerge still a typhoon into the West Philippine Sea.
As of 5 p.m on Sunday, storm signal No. 3 was raised over Metro Manila, southern Zambales, southern Pampanga, southern Bulacan, Rizal, Quezon (including Polillo Islands), Cavite, Laguna, Batangas, Marinduque, northwestern Occidental Mindoro (including Lubang Island), and northern Oriental Mindoro.
The rest of Zambales, Pampanga, Bulacan, southern Tarlac, rest of Occidental Mindoro, Oriental Mindoro, and southern Nueva Ecija were under signal No. 2.
Signal No. 1 was up over mainland Cagayan, Isabela, Apayao, Kalinga, Mountain Province, Ifugao, Abra, Ilocos Norte, Ilocos Sur, La Union, Benguet, Nueva Vizcaya, Quirino, the rest of Aurora, Nueva Ecija, Tarlac, Camarines Sur, Camarines Norte, Burias Island, Romblon and Calamian Islands.
Pagasa warned of storm surge reaching up to 3 meters in the northern coastal areas of Quezon, Metro Manila, Cavite, Bulacan, Pampanga, Bataan, the southern coastal area of Batangas and most of the southern coastal areas of Quezon.
Residents were also warned of possible storm surge in the coastal areas surrounding Laguna de Bay and Taal Lake.
As Rolly blew across Luzon, another cyclone, Tropical Storm "Siony" (Atsani), entered Philippine territory.
Pagasa said Siony slightly intensified and was forecast to move west-northwest at 30 kph.
As of 3 p.m. on Sunday, the new storm was 1,140 km east of Central Luzon, with winds of up 75 kph and gusts of up to 90 kph.
The weather service said Siony was "less likely" to affect any part of the country in the next two to three days.
—Reports from Jhesset O. Enano, Krixia Subingsubing, Mar Arguelles, Rey Anthony Ostria, April Mier-Manjares, Mark Alvic Esplana, Geoerg Gio Brondial, Maricar Cinco, Dexter Cabalza, Carmela Reyes-Estrope, Armand Galang, Joanna Rose Aglibog, Greg Refraccion, Villamor Visaya Jr., Nestor Burgos Jr., Joey Gabieta, Ador Vincent Mayol, Tonette Orejas, AFP, and Reuters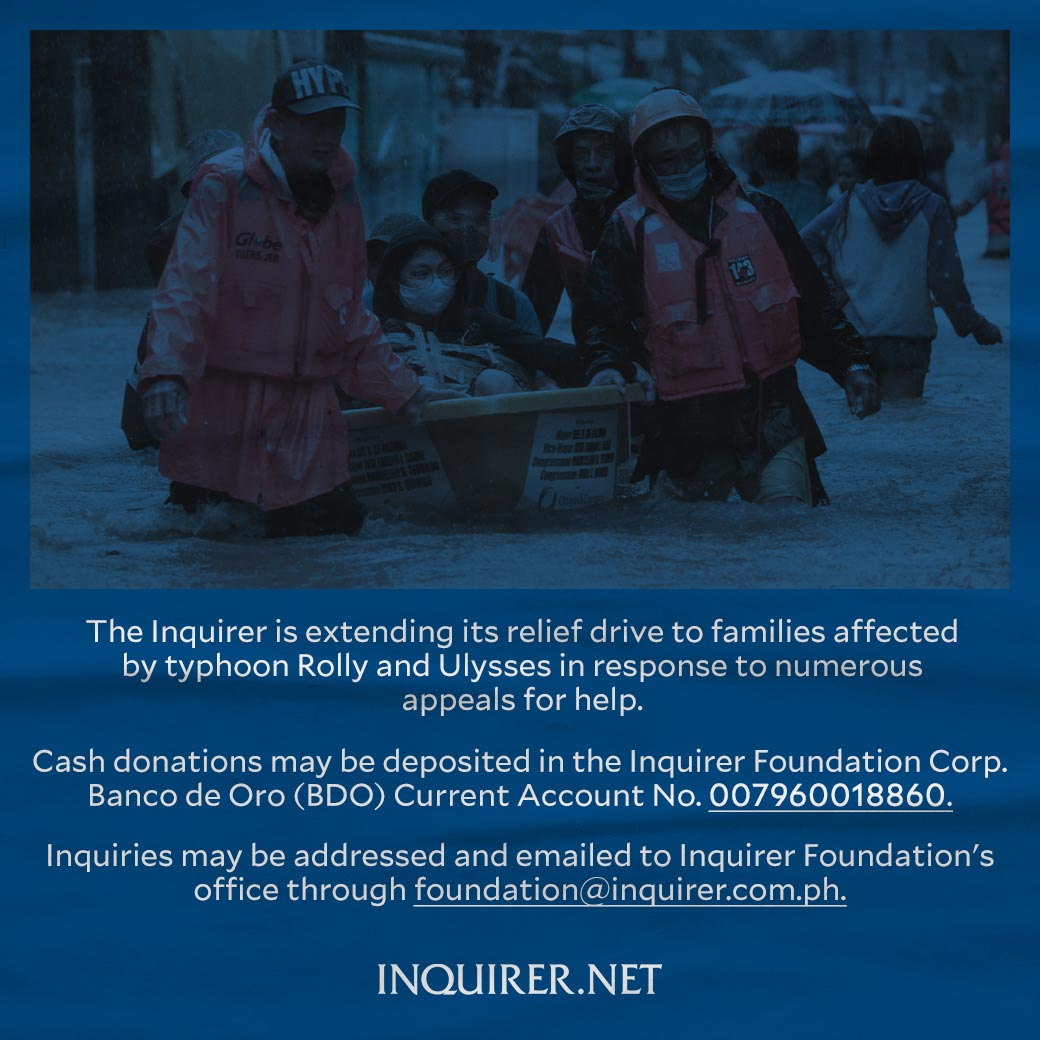 Subscribe to INQUIRER PLUS to get access to The Philippine Daily Inquirer & other 70+ titles, share up to 5 gadgets, listen to the news, download as early as 4am & share articles on social media. Call 896 6000.