Ex-Agriculture Secretary Alcala posts bail for graft 
MANILA, Philippines — Former Agriculture Secretary Proceso Alcala has posted a P30,000 bail before the Sandiganbayan's Fifth Division for a graft case.
"Today, Proceso J. Alcala, personally appeared and posted bail bond for his provisional liberty in the amount of Thirty Thousand Pesos, under Official Receipt No. 5497801 V dated April 22, 2019," read the order dated April 22.
Alcala's graft case was in connection with the "garlic cartel" scheme, which reportedly monopolized garlic prices from 2013 to 2014.
The Anti-Graft Court scheduled Alcala's arraignment on May 24 at 8:30 a.m.
"Let the arraignment and pre-trial of said accused [Alcala] be set on May 24, 2019 at 8:30 in the morning," Sandiganbayan's Fifth Division said.
Previously, the Office of the Ombudsman indicted Alcala and 23 others, including garlic traders and officials of the Bureau of Plant Industry (BPI), for violating the Anti-Graft and Corrupt Practices Act in relation to the garlic cartel scheme. /ee
READ: Former Agriculture Secretary Alcala, 23 others face graft trial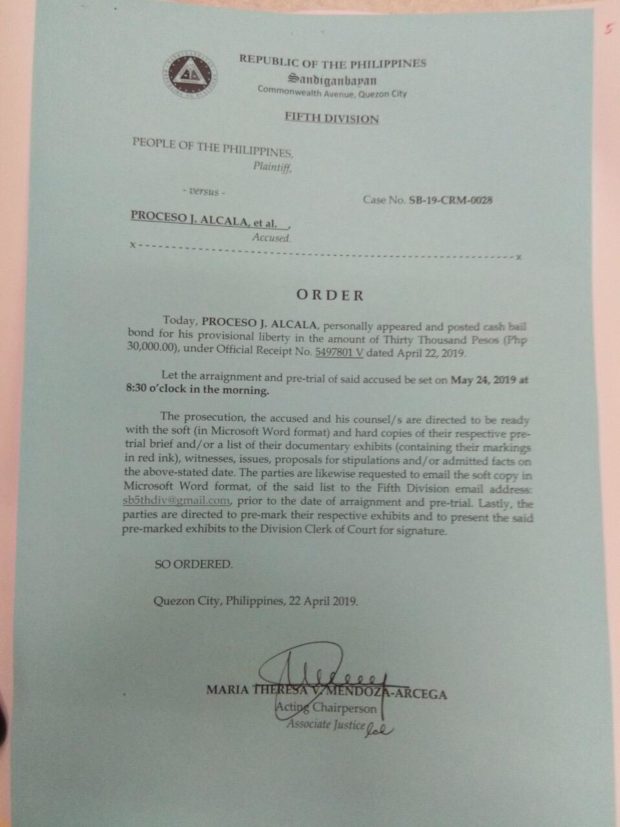 Subscribe to INQUIRER PLUS to get access to The Philippine Daily Inquirer & other 70+ titles, share up to 5 gadgets, listen to the news, download as early as 4am & share articles on social media. Call 896 6000.