Strongest typhoon of the year slams Philippines
MANILA, Philippines—The world's strongest typhoon of the year slammed into the Philippines early Friday. It had been poised to be the strongest tropical cyclone ever recorded at landfall, a weather expert said.
"There will be catastrophic damage," said Jeff Masters, a former hurricane meteorologist who is meteorology director at the private firm Weather Underground.
The US Navy's Joint Typhoon Warning Center in Hawaii shortly before landfall said Typhoon "Yolanda" (international name: "Haiyan") maximum sustained winds were 314 kilometers per hour (195 mph), with gusts up to 379 kilometers per hour (235 mph).
"195-mile-per-hour winds, there aren't too many buildings constructed that can withstand that kind of wind," Masters said.
The local weather bureau had a lower reading, saying the storm's speed at landfall had sustained winds at 234 kilometers (145 miles) per hour, with gusts of 275 kph (170.88 mph). The bureau takes measures based on longer periods of time.
Thousands of people have evacuated villages in the typhoon's path.
Typhoon Yolanda's speed at landfall was expected to beat out Hurricane Camille, which was 305 kilometers per hour (190 mph) at landfall in the United States 1969, Masters said.
The only tiny bright side is that it's a fast-moving storm, so flooding from heavy rain—which usually causes the most deaths from typhoons in the Philippines—may not be as bad, Masters said.
"The wind damage should be the most extreme in Philippines history," he said.
The storm later will be a threat to both Vietnam and Laos and is likely to be among the top five natural disasters for those two countries, Masters said.
The storm is forecast to barrel through the Philippines' central region Friday and Saturday before blowing toward the South China Sea over the weekend, heading toward Vietnam.
The typhoon slammed into the eastern province of Samar. Another province devastated by an earthquake last month was in the path of the storm.
The storm was not expected to directly hit Manila farther north, but  the second to the lowest alert in a four-level typhoon warning system was issued in the flood-prone capital area, meaning it could experience winds of up to 100 kph (62 mph) and rain.
President Benigno Aquino III warned people to leave high-risk areas, including 100 coastal communities where forecasters said the storm surge could reach up to 7 meters (23 feet). He urged seafarers to stay in port.
Aquino ordered officials to aim for zero casualties, a goal often not met in an archipelago lashed by about 20 tropical storms each year, most of them deadly and destructive. Yolanda is the 24th such storm to hit the Philippines this year.
The president also assured the public of war-like preparations: three C-130 air force cargo planes and 32 military helicopters and planes on standby, along with 20 navy ships.
"No typhoon can bring Filipinos to their knees if we'll be united," he said in a televised address.—Jim Gomez with Oliver Teves and Teresa Cerojano in the Philippines and Seth Borenstein in Washington 
RELATED STORY:
Yolanda hits land, 58 areas under storm signals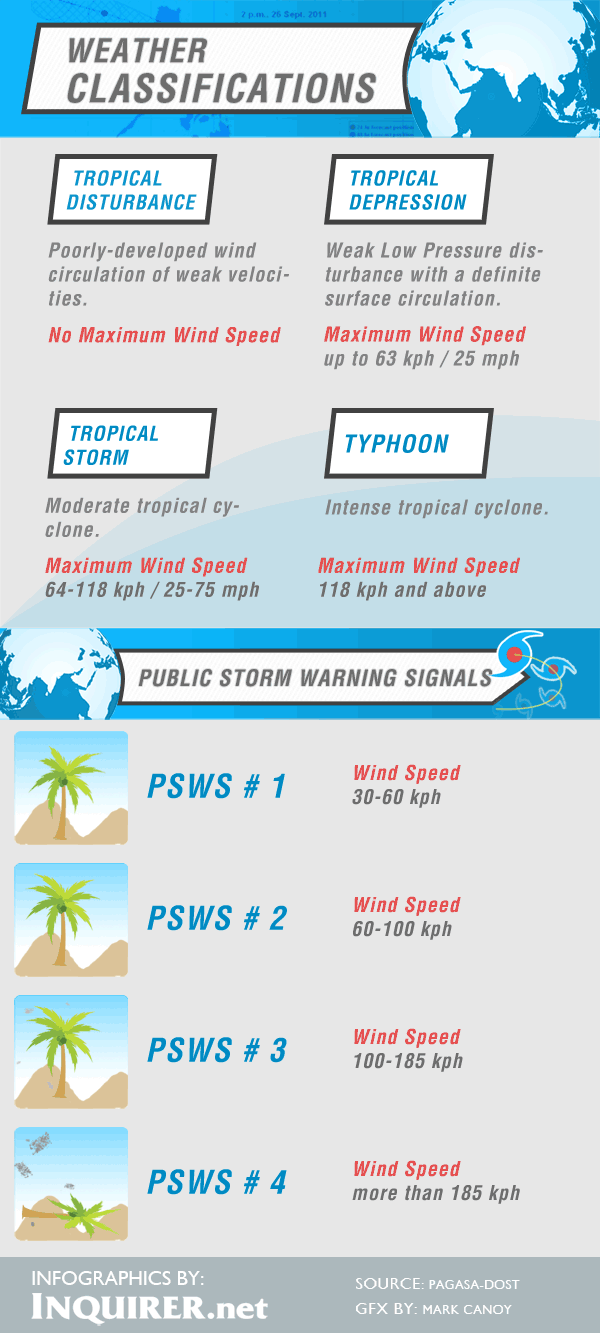 Click here for more weather related news.
Subscribe to INQUIRER PLUS to get access to The Philippine Daily Inquirer & other 70+ titles, share up to 5 gadgets, listen to the news, download as early as 4am & share articles on social media. Call 896 6000.