Supertyphoon slams Batanes
For the first time in 25 years, the Ivatans of Batanes were feeling the fury of a supertyphoon as Typhoon Odette's howling winds and torrential rains ravaged the country's northernmost territory starting midnight of Friday.
Budget Secretary Florencio Abad, who is from the province, said "Odette" was "the strongest typhoon to hit Batanes in 25 years."
It devastated crops, uprooted old trees, cut coconut trees in half and blew away roofs and entire houses in the three-island group, Abad said in a series of text messages, quoting his wife, Rep. Henedina Abad.
"The ferocious winds of Odette swirled with fury like a tornado unroofing houses, especially those built of light materials, and flattening crops and plants along its path," said Mayor Reuel Ibañez of the northernmost town of Itbayat, likely to be the hardest hit municipality.
Ibañez said many residents were forced to abandon their homes at the height of the typhoon.
"It hit hardest starting at 1:30 a.m. (Saturday) when it was gusting, according to residents, to almost 300 kph," Abad said, noting that the Washington Post had reported that Odette (international name "Usagi") was so far "the strongest typhoon to hit the earth this year, the equivalent of a category 5 hurricane."
Mayor Max Babalo of the fishing town of Sabtang said strong winds spawned waves as high as 8 meters, sinking fishing boats and destroying fishing piers.
Toppled coconut trees and GI roofing sheets littered the streets of Ivana on Saturday. The town mayor, Leonardo Hostallero, said his family was forced to evacuate as huge waves hit their house.
Hostallero said Batanes residents, who are quite used to storms and other weather disturbances, were not prepared for the strength of Odette, having last experienced a storm of this magnitude back in 1987.
That storm carried winds of 250 kilometers per hour. Odette packed winds of 205 kph.
"The typhoon's gusty winds and the heavy rains that came with it cut power lines and swept away water distribution pipes, said Abad.
He said Basco, the capital, and surrounding villages were without power and water.
There were no reports of injuries or casualties in Batanes as of Saturday afternoon.
Abad said a thorough assessment had been difficult to make because of the danger of venturing out into the open.
Exiting Saturday
Odette made landfall over the southern part of Itbayan early Saturday, moving west northwest on its way out of the Philippine area of responsibility, the weather bureau said.
The Philippine Atmospheric, Geophysical and Astronomical Services Administration (Pagasa) predicted that the typhoon would exit the country by Saturday evening even as Pagasa lowered public storm signals in parts of northern Luzon.
But as of midday Saturday, Storm Signal No. 3, indicating wind speeds of 100 to 185 kph, was still up over the Batanes group, Pagasa said.
Signal No. 2 (60 to 100 kph winds) was up over Cagayan, including the Calayan and Babuyan island groups, Apayao and Ilocos Norte, while Signal No. 1 (30 to 60 kph winds) was up over Abra, Kalinga, Isabela, Benguet, La Union, Ilocos Sur, Mt. Province and Ifugao.
The Joint Typhoon Warning Center of the US Department of Defense has reclassified Odette as a "super typhoon" for reaching a sustained wind speed upwards of 150 miles per hour (241 kph).
But Pagasa has no such classification and uses a different method for calculating wind speeds. As of 4 p.m. Saturday, Pagasa calculated that Odette was packing maximum sustained winds of 175 kph near the center and gustiness of up to 210 kph.
Situated some 160 kilometers west of Itbayat as of 4 p.m. Saturday, the storm was forecast to move west northwest at 19 kph.
At least 5 deaths
While Batanes officials have yet to report any typhoon-related casualty, other provinces in northern Luzon recorded at least five deaths since Friday.
In Isabela, four residents of Palanan town drowned after their boat, the Mikee Rose, sank in the waters of Dingalan in Aurora province on Friday, police said.
Chief Insp. Freddie Natividad, Isabela police spokesperson, declined to identify the victims until their relatives were properly notified.
In Apayao province, police reported the death of Carina Agustin, 46, a resident of Barangay Alem in Pudtol town. Agustin's body was found near the Malunog River.
Batanes-based photographer Noli Gabilo was in Cagayan when the typhoon struck. In a text message on Saturday, Gabilo said his mother, who is based in the island town of Sabtang, had complained that the winds had blown the roof off her kitchen.
"The damage to property there has been extensive. The strongest winds were felt at 1 a.m.," Gabilo said.
But the town's residents started experiencing Odette's worst much earlier. Strong winds struck at 11:30 p.m. on Friday, shattering homes made of light materials.
Huge waves roared in from the sea, smashing into roads and huts near coastal villages.
Ivana resident Emilia Calma, 75, confirmed that the last strong typhoon to ravage the province struck in the late 1980s.
Landslides
In the Cordillera region, heavy rains on Friday night triggered landslides in upland communities, resulting in the closing of major roads, the Office of Civil Defense said.
Electricity was cut off in some sections of Baguio City as well as the Benguet town of Sablan after strong winds felled power transmission lines, reports from the Benguet Electric Cooperative said. With reports from Juliet Cataluña, Villamor Visaya Jr., Leilanie Adriano and Vincent Cabreza, Inquirer Northern Luzon
Related Stories:
Super typhoon whips north PH, Taiwan, heads for China
Flooding alert up in Laguna as rains cause rivers to swell
Typhoon hits Taiwan, Philippines, nears Hong Kong
Subscribe to our daily newsletter
Click here for more weather related news.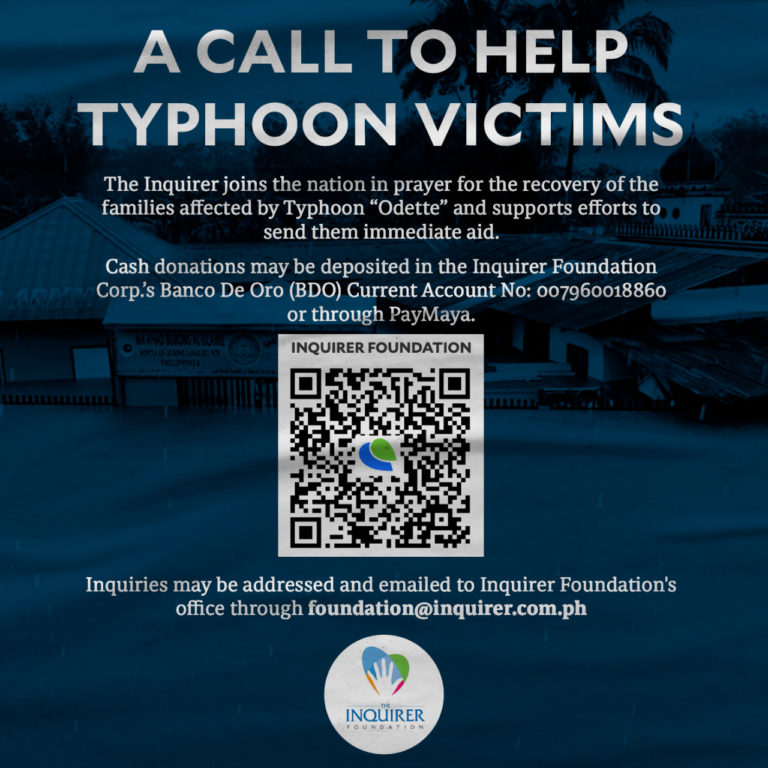 Subscribe to INQUIRER PLUS to get access to The Philippine Daily Inquirer & other 70+ titles, share up to 5 gadgets, listen to the news, download as early as 4am & share articles on social media. Call 896 6000.