DUE TO FLORITA
Classes in private schools also suspended in 4 Metro Manila cities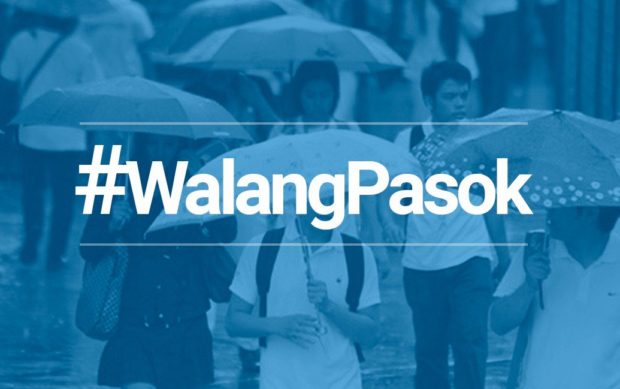 MANILA, Philippines — The mayors of Manila, San Juan, Quezon City, and Caloocan also suspended Wednesday classes in private schools in all levels in their areas due to Severe Tropical Storm Florita.
Earlier, on Tuesday, President Ferdinand Marcos Jr. suspended classes in public schools and work in government offices in Metro Manila and several provinces in Luzon until Wednesday.
In Manila, Mayor Honey Lacuna also suspended work in city government offices but let private offices use their own discretion on whether to suspend work.
Workers providing basic and health services are exempted from work suspension.
In Quezon City, authorities, led by Mayor Joy Belmonte, expected some flooding due to light to moderate and occasional heavy rainfall.
In its latest advisory on Tuesday, the city government said that as of 7:35 p.m. the area had already accumulated 97 mm of rain in the last 19 hours. An estimated 30 mm more of rain was expected to continue for the next 12 hours.
In San Juan, Mayor Francis Zamora made it clear that, while work in government offices will be suspended, city workers who provide security, custodial, medical, and rescue services were expected to be on duty.
Florita slightly weakened on Tuesday due to the "frictional effects of rugged terrain" of Northern Luzon. It is expected to leave the Philippine Area of Responsibility (PAR) by Wednesday morning, according to the Philippine Atmospheric, Geological and Astronomical Services Administration.
RELATED STORIES
Bongbong Marcos suspends classes, gov't work in Metro Manila, Luzon provinces due to 'Florita'
'Florita' slightly weakens, may exit PH on Wednesday – Pagasa
atm
Subscribe to INQUIRER PLUS to get access to The Philippine Daily Inquirer & other 70+ titles, share up to 5 gadgets, listen to the news, download as early as 4am & share articles on social media. Call 896 6000.