Group brings Christmas Day cheers to Negros islanders hit by 'Odette'
BACOLOD CITY––A private organization creatively added special touches to the Christmas Day delivery of relief goods to an island in Negros Occidental that was affected by Typhoon "Odette."
The Negrense Volunteers for Change Foundation (NVC), ferried a cotton candy machine, brought dolls and teddy bears, and one lechon manok (roast chicken) per family, in addition to canned goods, rice, and water packed in bags to Purok Alimango of Canramos Island, Binalbagan in southern Negros Occidental.
"The children were so amazed at seeing a cotton candy machine churning in their community," said Alyne Batano, a Field Officer of NVC.
"Some of them thought that cotton candy is available only in the town plaza and on fiesta days, while some of the children had never even heard of cotton candy", she said.
NVC served all the families in Purok Alimango. The island, like many parts of the province, had its share of destroyed homes and disrupted livelihood, as well as poignant stories.
"I met a 15-year-old girl, who pulled out a box of honor student medals from beneath their collapsed house, only to return it to the same place because there was nowhere else to keep them since they had only begun to live in a makeshift shed since the storm," said Jessie Lachica, another NVC Field Officer.
NVC was among the early responders among private organizations after the typhoon hit the province at dawn on Dec. 17.
"Our team was on the ground just a few hours after we were hit," Millie Kilayko, NVC president, said.
"We sent a team to Taal-hit areas the day after the volcano exploded, We were in Cotabato just as early. We would never have forgiven ourselves if we could not be helping on the ground faster in our province", she added.
To date, NVC had served 11 cities and municipalities, including the sixth district in Negros Occidental, which had been hardest hit, delivering truckloads of rice, groceries, water, and Mingo Meals, an instant nutritious complementary food for infants and toddlers made of rice, mongo, and malunggay (moringa), which their organization manufactures.
"We have a three-pronged response to the Typhoon Odette disaster," Kilayko said.
"In addition to Relief, we have drafted a Rehab Program to undertake repair or rehabilitation of damaged houses. The third is Rebuilding Lives, which involves primarily helping build food-secure communities by assisting small farmers and fishermen through the acquisition of tools, equipment, and technology," she said.
"We are a very small organization … while we will not be able to do great things, we hope to accomplish an efficient response," she added.
While NVC is best known for its nutrition program and emergency relief response through Mingo Meals, its Peter Project also helped provide over 5,000 motorized boats to fishermen from Eastern and Western Visayas, who lost theirs to Typhoon "Yolanda," Kilayko said.
lzb
Subscribe to our daily newsletter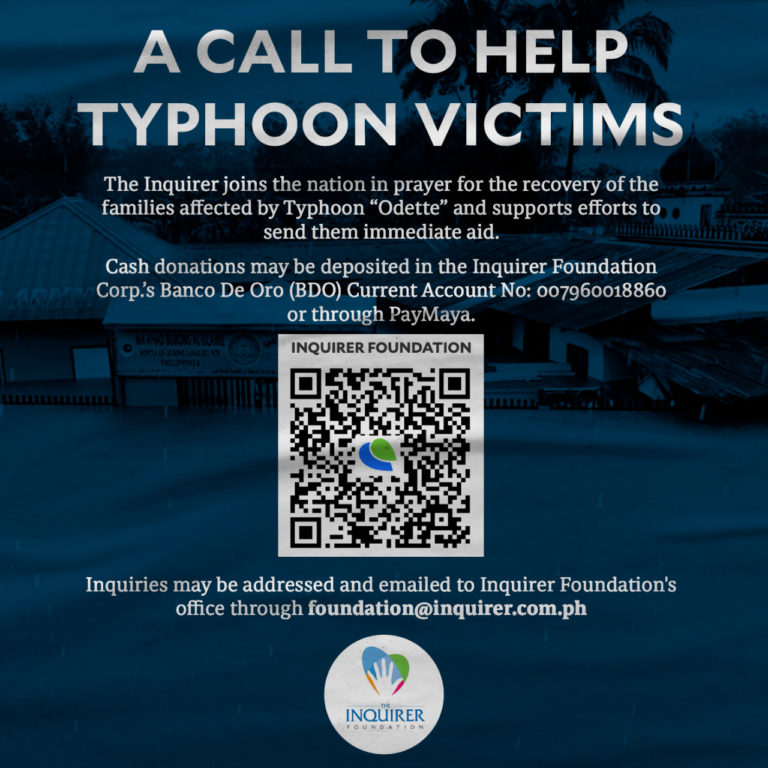 Subscribe to INQUIRER PLUS to get access to The Philippine Daily Inquirer & other 70+ titles, share up to 5 gadgets, listen to the news, download as early as 4am & share articles on social media. Call 896 6000.