Senators: Use P1.4T idled funds for aid
Senate Minority Leader Franklin Drilon on Thursday said there were more potential sources of funds to aid victims of Typhoon "Odette" (international name: Rai), but he was more disgusted than pleased after learning where the money could come from.
The funds totaling P1.44 trillion pesos, Drilon said, were first disclosed last week by the Commission on Audit (COA), which reported that the money was originally intended for infrastructure spending but could not be released as the projects had either been delayed, abandoned or left idle.
"We have P1.44 trillion funds for various infrastructures sitting somewhere while thousands of families have no homes and food this Christmas," Drilon said in a statement.
"We have these mammoth funds for projects that are stalled for years while the government is saying it is scrimping on funds to provide immediate aid to typhoon-affected cities, municipalities and provinces," he said.
On Tuesday, five days after Odette hammered Northern Mindanao and the Visayas, President Duterte and the Department of Budget and Management announced that the administration was raising P10 billion for disaster relief.
The following day, Drilon and other lawmakers cited larger amounts available to the Chief Executive that could be used as calamity funds.
17 agencies faulted
The audit body's consolidated annual financial report in 2020 made public on Dec. 17 said various projects by 17 government agencies "were either not executed in accordance with the plan, with noted deficiencies, not completed on time (or) not completed at all, which may result in waste of government funds or delayed enjoyment of project benefits."
Other projects amounting P1.1 billion that were supposed to have been implemented by 12 state universities and colleges were not completed, the COA added.
"[This is] criminal neglect," Drilon said.
He was dismayed that while the government was saddled with a P11.7-trillion debt, some agencies allowed much-needed funds to lay idle.
"These funds should be immediately realigned to provide funds to typhoon victims," he said.
Ping: Rechannel money
Sen. Panfilo "Ping" Lacson agreed with Drilon that the money should now be rechanneled to fund the rehabilitation of areas ravaged by Odette.
Lacson said the government was "neck-deep in debt" but Filipinos were not seeing the programs, projects and activities "designed to uplift (their) lives."
"So much is lost to corruption, oftentimes committed with impunity by shenanigans who continue to laugh their way to the banks while we, the taxpaying public, are left with the proverbial empty bag," he said.
Lacson said the state audit reports provided "very good leads" that will allow antigraft bodies to identify misuse and abuse of public funds, as well as to pursue cases against erring public officials and their cohorts in the private sector, including contractors and suppliers.
For vaccine purchase
According to Drilon, the idled funds could also be used to procure COVID-19 vaccines for next year, noting that the bulk of the budget for the so-called booster shots remained in the unprogrammed fund of the proposed 2022 General Appropriations Act, or the national budget. The President was expected to sign it next week.
A total of 3,283 projects worth P108.32 billion that were supposed to have been implemented by the Department of Public Works and Highways were also found to be deficient, he said.
Du30: Sorry for delay
Drilon said support for the social and health service sectors "took a backseat" because the government used so much of its resources for infrastructure and defense spending.
The President on Thursday visited Puerto Princesa City, Palawan, where he apologized for the delay in the government's release of emergency funds.
Addressing a public gathering at the old airport in Barangay Bancao-Bancao, he said top officials were having a "hard time" trying to get a picture of the situation on the various islands in the path of the typhoon.
"I ask for forgiveness for the delay in the government response," he said.
He explained that before calamity funds were to be released, local officials like mayors had to first make a report on the condition of their towns or cities.
"But if I will wait for the report—it's not only one place, there are many places far away that have been affected—so I said, we will not wait for it. I will answer for it, just release the money," he said.
Clearing operations
A day earlier, Mr. Duterte also visited Siargao Island and Dinagat Islands province, the first two places pummeled by Odette on Dec. 16.
In Dinagat, he promised to speed up clearing operations and help residents rebuild their homes, according to acting presidential spokesperson Karlo Nograles.
Mr. Duterte also directed the social welfare department to provide financial assistance to the affected families while the interior department was to monitor and supervise the distribution of the aid, Nograles said.
In Siargao, the President said the budgets of some government projects had been reduced so that each affected family could receive P40,000 to P50,000.
He said the financial assistance would be available by Thursday or Friday.
Popular television host Willie Revillame, who joined the President in Siargao, said he would give P1 million each to the mayors of the nine towns on the island to buy roofing materials for houses to be built for the homeless.
For Dinagat, the President said the National Housing Authority would provide assistance worth P100 million to typhoon victims whose houses were damaged or destroyed.
Energy Secretary Alfonso Cusi reported that electricity would be restored in Dinagat partially by Dec. 25, and in three Siargao towns on Dec. 30.
Public Works Undersecretary Rafael Yabut said all roads on Siargao Island have been cleared of fallen trees. Housing Secretary Eduardo del Rosario reported that 2,500 tarpaulin tents have already been distributed in Siargao, Dinagat and Surigao City. —WITH A REPORT FROM JEROME ANING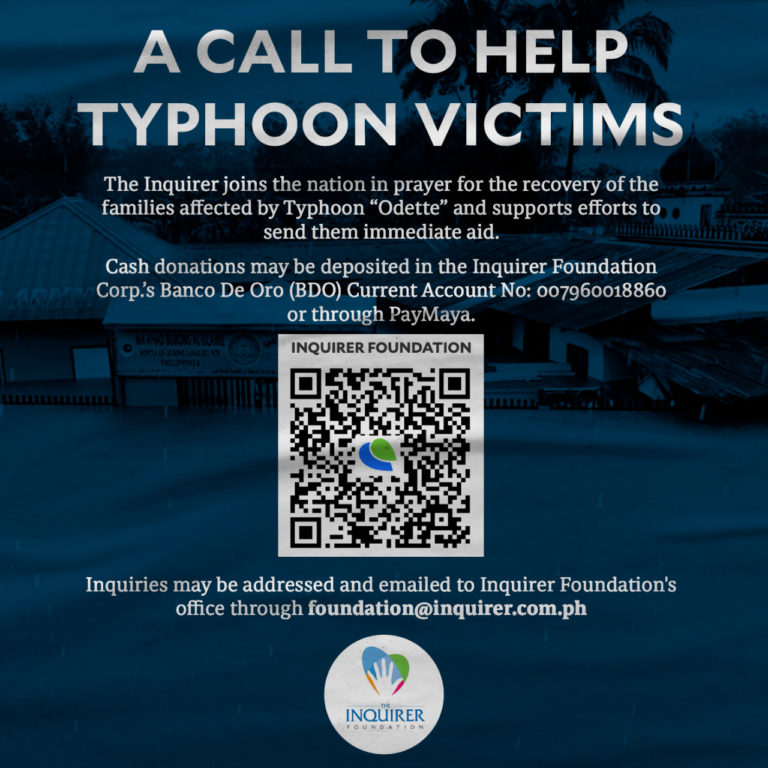 Subscribe to INQUIRER PLUS to get access to The Philippine Daily Inquirer & other 70+ titles, share up to 5 gadgets, listen to the news, download as early as 4am & share articles on social media. Call 896 6000.