SURVIVORS' PLIGHT
Help scant in remote areas in the Visayas
CLARIN, BOHOL—"We need food." "We need water." "We need housing materials."
These were the messages written on torn plywood hung on trees and displayed on the facades of damaged chapels and flattened homes, and along roads in this town in Bohol province as food and water remained scarce in areas devastated by Typhoon "Odette" (international name: Rai) last week.
Among those pleading for help is Julia Toong, a resident of Barangay Bacani here who is staying at a public school that has been converted into an evacuation center.
She said she received food assistance only once and the 3 kilos of rice, instant noodles and canned goods that she got had long been consumed.
"We are OK here at the school. Food is our problem because we don't have money," Toong said.
She could not ask for help from her three children who were staying in Cavite City as she and other survivors in the center had no phones.
The plea for help is repeated in Inabanga town.
"Wala nami bugas (We don't have rice anymore)," a sign reads.
Assistance coming
Many Boholanos have complained that they have not received food aid and drinking water from government agencies.
"We have been waiting. We are hungry; there's no food and water," said Jen Mellicor, a resident of Barangay Lawis, Inabanga.
Some, who received help a day after the typhoon hit the province on Dec. 16, said their food lasted for only a day.The provincial government has started distributing food packs but has appealed for aid for hundreds of thousands left homeless.
Private organizations have also been giving help to survivors.
In a statement, Ramon Aboitiz Foundation Inc. Emergency Operations Center (RAFI EOC) said preparation was underway for distribution of relief packs in Bohol.
"More than 5,000 relief packs are currently being prepared by the foundation and will be ready for distribution within the week," it said.
RAFI EOC said that as of Dec. 22, the foundation was able to raise P5.6 million in cash and pledges, and was set to buy additional 50,000 relief packs for the provinces of Cebu and Bohol, drinking water for the three cities of Cebu, and generator sets for Cebu City and Cebu province.
Bohol was among the Visayan provinces ravaged by Odette. Government reports showed that the typhoon killed at least 103 people.
Also badly hit was Cebu, which recorded at least 96 fatalities, and Negros Oriental, with 72 dead.
A week after the onslaught, most parts of Cebu, Negros Oriental and Bohol were still without power while communication signals remained poor.
Begging
In Negros Oriental, typhoon survivors in Bais City were forced to beg for donations.
Many would run toward vehicles that were delivering limited food packs. Others sat by the roadside holding dippers or pitchers, waiting for passersby to give them food or cash.
Lawyer Lloyd Elmaco of the Bais City legal office said typhoon survivors needed food and potable water.
Elmaco urged groups to coordinate their relief operations with local officials and agencies, especially those who plan to go to the worst-hit areas.
"For your safety, coordinate with us. We want to avoid possible incidents of stampede, violence, or any form of harassment coming from ground zero," he said.
The distribution of some of the food assistance have been delayed in reaching isolated areas in Negros Oriental.In Tanjay City, 82 kilometers northwest of Dumaguete City, the provincial capital, Elibern Ramirez and her neighbors said they had yet to receive any aid.
"Since [Dec. 17], our families and neighbors have been helping each other by sharing food. We have been expecting help to come but it has been a week already," she told the Inquirer in a telephone interview.
She said the only access to their community was through a railway bridge of Central Azucarera de Bais that collapsed due to heavy flooding on Dec. 16.
Ramirez said she needed to go downstream and cross a portion of the river, which is about waist-deep, to reach the city center and look for food.
Their neighborhood, she said, has been subsisting on root crops and bananas.
Residents in typhoon-hit towns in southern Cebu and in Southern Leyte went on social media to ask for help.
"Why is there no media coverage in Boljoon town? Many roads, houses and schools were damaged. Our area needs help," pleaded Driza Baruiz-Tabada.
Also needing help are residents of the remote island of Gilutongan in Cordova town and the islets off Lapu-Lapu City. —REPORTS FROM LEO UDTOHAN, CONNIE FERNANDEZ-BROJAN AND KARLOWE BRIER
Subscribe to our daily newsletter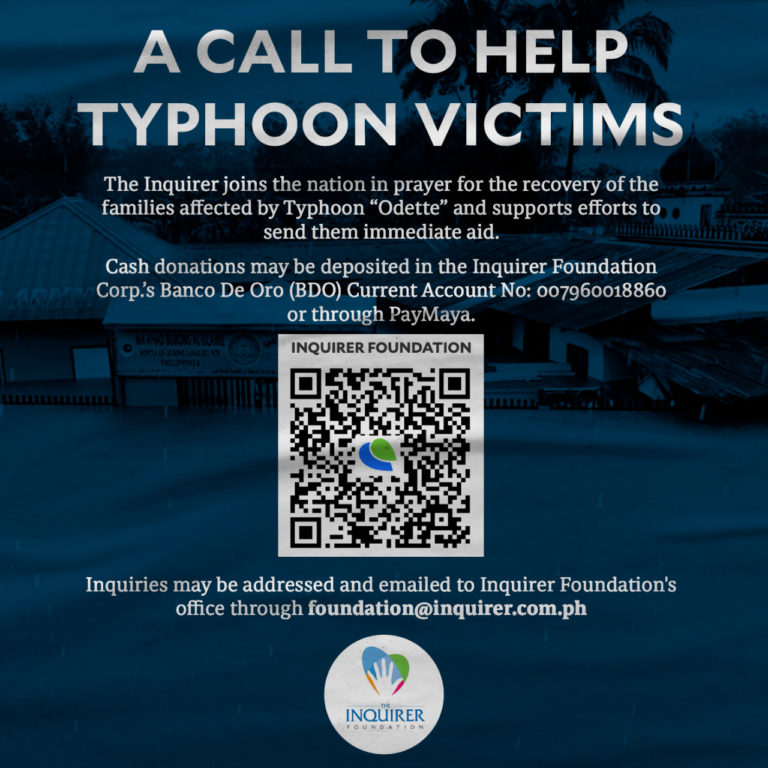 Subscribe to INQUIRER PLUS to get access to The Philippine Daily Inquirer & other 70+ titles, share up to 5 gadgets, listen to the news, download as early as 4am & share articles on social media. Call 896 6000.