'State of mourning' in Surigao City
SURIGAO CITY—The national flag has been flown at half staff in the local government center here starting Monday when City Hall reopened for official business four days after being ravaged by Typhoon "Odette" (international name: Rai).
"This is an expression of our mourning with the people of Surigao who had to bear this calamity," said city administrator Jerry Centro. "We sympathize with all the people of Surigao who lost their homes."
As of Wednesday noon, the city's disaster response command center recorded five deaths due to the typhoon. Four died as they were pinned down by roof sheets, posts and trusses when their houses were knocked down by strong winds. One had a lingering illness but died at the height of Odette's onslaught.
Centro said it was a consolation that the death toll was minimal given that the city was in the direct path of the typhoon. However, the physical destruction was enormous.
A local government assessment showed that as of Wednesday, 23,738 houses were destroyed while 19,424 were damaged. Odette's trail of destruction affected 50,957 families.
Evacuees
In the island barangay of San Pedro, village chief Edgardo Gulfo said of the 252 houses in their community, only five remain standing. Displaced residents are staying in the village school, health center and day care center—the only public facilities incurring minor damage.
Days after Odette hit, power has yet to be fully restored in the city, making City Hall and a few commercial establishments that opened dependent on generator sets for their electricity supply.
At the local government center, there are designated charging stations for residents to power up their gadgets. On sidewalks, most vendors sell rechargeable flashlights and solar-powered lights.
Supply of running water has been partly restored, according to Centro.
Plea for help
Telecommunications signal is unstable and not dependable for data connection, hampering the operation of banks.
Along the road in Barangay Bonifacio, residents lined on the sidewalk and gestured at passing vehicles, appealing for help. Some of them put out their messages on cardboards.
Arjay Apuy of Barangay Oroc said his family was surviving on coconut pith ("ubod") in the last five days.
Centro said the local government had yet to reach a majority of residents in the distribution of aid as their resources for disaster response had been depleted in providing for the COVID-19 emergency.
He said aid packages in the local government's disaster response center had been prioritized for distribution in the city's 21 island barangays where transportation was difficult because most of the passenger boats were wrecked.
Centro said those in urban villages were easier to reach by groups conducting relief operations.
"This is why we are pleading for your help," he said.
Centro said Surigao City would need between 5,000 and 7,000 bags of rice a day.
Hunger sets in
In nearby Taganaan town in Surigao del Norte province, while the damage by Odette is not as extensive, most of the town's more than 17,000 people are beginning to feel the pinch due to scarcity of food, which used to come from Surigao City.
Mayor Cesar Diaz said they could not yet provide food aid to affected families because the local government's supplier for disaster relief had begged off.
Diaz said they would need as many as 2,500 sacks of rice for emergency relief, especially in the five island villages.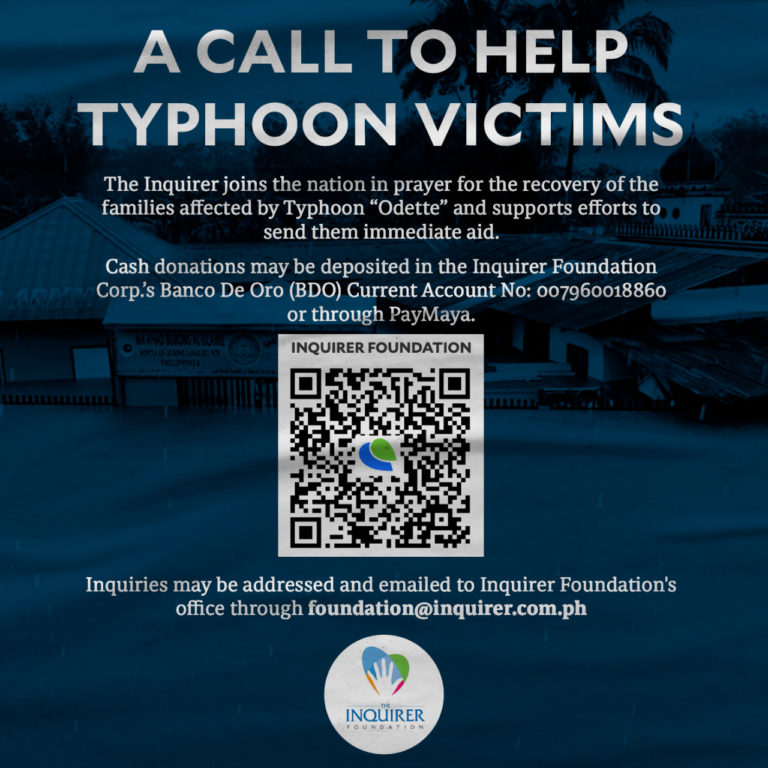 Subscribe to INQUIRER PLUS to get access to The Philippine Daily Inquirer & other 70+ titles, share up to 5 gadgets, listen to the news, download as early as 4am & share articles on social media. Call 896 6000.