Odette death toll in the Visayas tops 100
MANILA, Philippines — More than 100 people have been reported killed in the Visayas in the wake of Typhoon Odette (international name: Rai), which triggered floods and landslides as it cut a destructive swath across parts of the region as well as Mindanao, according to reports received by local governments in these areas.
Thousands more who survived the intense winds and massive flooding have also been left homeless and desperately in need of food, potable water, and financial assistance to rebuild their homes as many areas remain without power.
As of Sunday, the death toll in the region was at 147, broken down into 72 in Bohol, 33 in Negros Occidental, 16 in Negros Oriental, 14 in Cebu City, 8 in Southern Leyte, two in Guimaras, and one each in Iloilo City and Iloilo province.
At least 18 more people remain missing, including 15 in Negros Occidental and three in Southern Leyte. Cebu province, one of the hardest-hit areas, has yet to release its list of fatalities.
But in a situation report as of 9 a.m. on Sunday, the National Disaster Risk Reduction and Management Council (NDRRMC) said it had received reports of about 30 deaths in the provinces of Cebu, Negros Oriental, Iloilo, Bukidnon, and Guimaras, in addition to one more in Bohol.
Of the 31 fatalities, only four were confirmed, according to the NDRRMC. These were Joemar Sumiling, 32, of La Carlota City; Rosalyn Caberte, 53, of Iloilo City; Virginia Palencia, 63, and Rudulfo Castro, 76, both residents of Guimaras who were killed after being pinned by falling trees.
Of the 72 reported dead in Bohol, most, or 12, were from Ubay town where Odette made landfall, although Gov. Arthur Yap said that as of Sunday afternoon, he had received reports from only 42 of 48 local governments due to damaged communication lines.
Power has yet to be restored to the province which is home to some of the country's popular tourist destinations, such as the Loboc River which overflowed at the height of the typhoon.
"It is very clear that the damage sustained by Bohol is great and all-encompassing," Yap said in a video posted on his official Facebook page. "People have suffered greatly in terms of destroyed homes and agricultural losses."
He appealed for relief donations, especially drinking water.
Residents carrying water containers were found waiting for hours outside refilling stations that increased their price slightly to cover the cost of generator sets.
Long lines were also seen on Lamdagan and Gallares Streets in the capital city of Tagbilaran where a firetruck was stationed to supply water.
"Tubig maoy importante sa karun (Water is more important now)," said Lito Alagadmo, 44, who endured the wait to get water.
Water and food were also a problem in Ubay town, with Joshua Cadenas, 36, saying he wanted to find some for his two children, ages 7 and 8.
Negros Occidental Gov. Eugenio Jose Lacson said the 33 deaths in the province were based on reports from town and city disaster teams. At least 15 died in Sipalay City alone, according to Zeaphard Gerhart Caelian, provincial disaster management program division head.
Lacson said he would seek the approval of the provincial board to place Negros Occidental under a state of calamity so that funds could be allocated to those affected.
The Inquirer saw some people begging on roads while others joined long lines for food and water assistance in the southern portion of the province.
At least 3,764 houses were reportedly destroyed with 16,477 others damaged based on initial reports although the figures were expected to go up as more reports come in.
A state of calamity was also expected to be declared in Iloilo City and Guimaras province to enable the release of funds.
In Negros Oriental, 13 bodies were recovered in Bais City alone, Roseller Lobaton, head of the Bais City Disaster Relief, Rehabilitation and Management Council, told the Inquirer.
"Only four have been claimed by relatives and the rest are still unidentified," he said, adding that he expected the casualty count to rise with the start of search and retrieval operations.
In Southern Leyte, rescue teams have been hampered by downed communication and power lines, according to Danilo Atienza, head of the provincial disaster risk reduction and management office.
He said the towns located on Panaon Island, including San Ricardo, San Francisco, Liloan, Pintuyan and Limasawa, could still not be reached.
Stores out of food, water
In Limasawa, almost 90 percent of houses and other structures, including the municipal police station, were either destroyed or damaged.
In Metro Cebu, many grocery stores ran out of food and water three days after Odette battered the Visayas. The high demand for fuel and water has also prompted some people to take advantage of the situation by jacking up prices.
The Inquirer checked the different supermarkets and groceries in Cebu over the weekend and found out that there were no longer stocks of bread, canned goods, noodles, and water, among other items. Despite this, people patiently waited in long lines outside the establishments, hoping that the stocks would be replenished.
Many water refilling stations have also closed due to the lack of power which is needed to put water into containers. But some enterprising residents who were able to store drinking water were selling it at P50 per gallon from the usual P10.
The high demand for fuel has likewise caused prices to go up. "From P60 to P63 per liter, unleaded gasoline is now sold at P150 per liter in unauthorized fuel refilling stations," said a vehicle owner who asked not to be identified.
Diesel, on the other hand, was now priced at P100 per liter from the previous P49.11.
P176.4-M agricultural damage
In a bulletin on Sunday, the Department of Agriculture (DA) reported that Odette caused P176.4 million worth of agricultural damage and affected 3,664 farmers and fishers in Calabarzon, Bicol, Western Visayas, and Caraga regions.
But according to the DA, "these values are subject to validation."
The NDRRMC said that Odette affected some 181,500 families or about 700,000 persons in 2,209 barangays in Western Visayas, Eastern Visayas, Northern Mindanao, Davao region, Soccsksargen (South Cotabato, Cotabato, Sultan Kudarat, Sarangani, General Santos City), Caraga, the Bangsamoro Autonomous Region in Muslim Mindanao, Mimaropa and the Bicol region.
It added that over 120,000 families were displaced by the strongest typhoon to hit the country this year.
As of Sunday morning, the Philippine Atmospheric, Geophysical and Astronomical Services Administration said that Odette had been spotted 430 kilometers northwest of Pag-asa Island in Palawan, outside the country's area of responsibility.
However, it maintained its strength with maximum sustained winds of 195 kph near the center and gustiness of up to 240 kph while moving west-northwest at 15 kph.
—WITH REPORTS FROM CARLA P. GOMEZ, LEO UDTOHAN, ALEX PAL, JOEY A. GABIETA, ADOR MAYOL, NESTOR BURGOS JR., KARLOWE BRIER, GRACE OBERES, NESTOR CORRALES, REUTERS AND AFP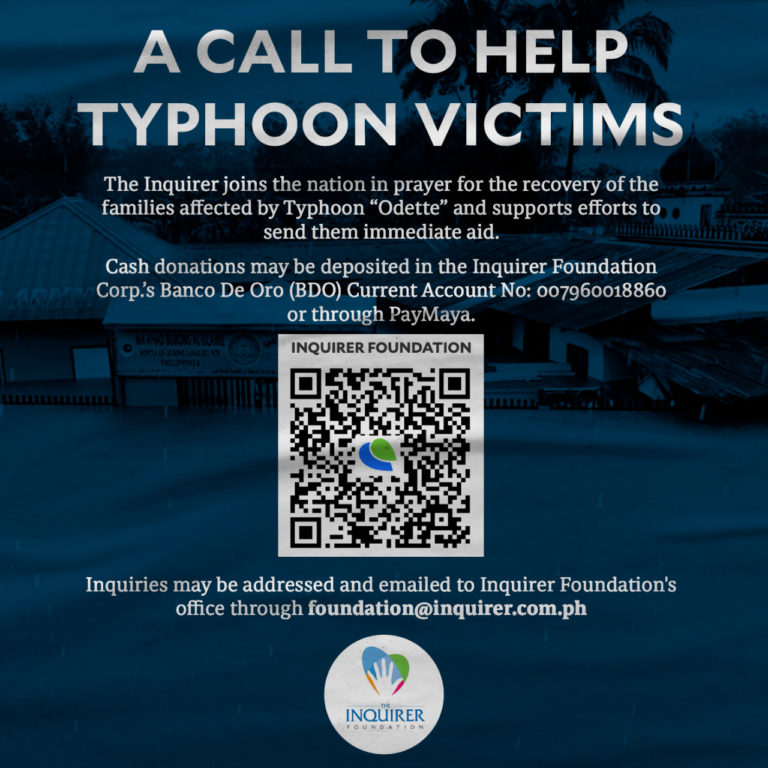 Subscribe to INQUIRER PLUS to get access to The Philippine Daily Inquirer & other 70+ titles, share up to 5 gadgets, listen to the news, download as early as 4am & share articles on social media. Call 896 6000.