Typhoon Odette (Rai): Darker days ahead for 3.8M people living below poverty line
MANILA, Philippines—Typhoon Odette (international name: Rai) pummeled parts of Mindanao and the Visayas on Thursday (Dec. 16) with its path cutting across six regions where at least 3.8 million people, based on estimates made by a United Nations agency, live below the poverty line.
The number of people below the poverty line and whose lives were expected to be further hammered by the 15th typhoon to enter the Philippine area of responsibility (PAR) was estimated by the UN Office for Coordination of Humanitarian Affairs (UN-OCHA) which monitored the impact of Odette on the poor in the Philippines.
Odette, according to UN-OCHA, had been on track in having a direct impact on at least 16 million people in the six regions on its path.
Initial information and data from the Philippines' National Disaster Risk Reduction and Management Council (NDRRMC) were inconclusive about whether the UN-OCHA projection came to reality.
But early information and numbers provided by the disaster-mitigating agency showed Odette's impact to be massive and widespread.
Casualties
According to data from the NDRRMC. as of Dec. 17, one person had died while two others were injured due to Odette.
The casualties, according to NDRRMC, were all males aged 11 to 14 years old and 19 to 25 years old.
Affected population
So far, the NDRRMC has recorded 12,829 affected families, 44,264 affected persons, and 262 barangays that experienced winds exceeding 200 kilometers per hour and heavy rains brought by Odette.
At least 332,855 persons were on the storm's path in Western Visayas, Central Visayas, Eastern Visayas, Zamboanga Peninsula and Caraga.
Initial NDRRMC data said 18,010 persons had been displaced with 17,510 of them seeking shelter in 250 evacuation sites while 500 others finding safer ground outside evacuation sites.
On Dec. 14, the NDRRMC had estimated that more than 10,000 villages are on Odette's path, most of these in the Visayas and Mindanao and parts of Southern Luzon.
Damages
As of 12 noon on Oct. 17, the NDRRMC has yet to present data on damage to homes, infrastructure, agriculture and buildings.
But social media was repleted with pictures and videos showing the horrors brought by Odette. In Tagbilaran City, Bohol province, one of the areas directly hit by Odette, photos posted by netizens showed cars, trucks and sea vessels dumped onto shores.
Videos showing the strength of Odette's winds—which reached 240 kph at one point—causing trees to sway heavily and parts of roofs flying.
Reports
There were two areas in the Bangsamoro Autonomous Region of Muslim Mindanao (BARMM), according to NDRRMC, which were flooded by torrential rains brought by Odette.
A rain-induced landslide was also recorded by the agency. However, there were no available details yet as to where the landslide occurred.
Lifelines
Three bridges were hit by flooding, two of which remained passable while one was closed to all types of vehicles.
There were a total of 73 ports in the regions of Calabarzon (Cavite, Laguna, Rizal, Quezon), Mimaropa (Occidental and Oriental Mindoro, Marinduque, Romblon, and Palawan), Bicol, Western Visayas, Central Visayas and Caraga that were rendered disabled by Odette.
The NDRRMC said 4,503 passengers, 2,245 cargoes, 75 vessels were stranded at the ports.
Power was cut off in at least 71 towns and cities in Western Visayas, Central Visayas and Eastern Visayas. NDRRMC said as of past noon on Dec. 17, these areas were still without electricity.
Three cities or towns in Central and Eastern Visayas experienced interruption in telecommunications. Services had been restored in two of the areas as of past noon on Dec. 17.
As of 3 p.m. the NDRRMC has yet to receive reports on water supply damage.
Cost of assistance
The NDRRMC has not yet updated the estimated cost of assistance provided to those who were impacted by Odette.
The agency, however, earlier listed resources and assets prepositioned for Odette. These were:
Standby resources for food and non-food items: P332 million for Mimaropa, Central Visayas, Eastern Visayas, Western Visayas and Caraga
Assets or resources for search, rescue and retrieval (SRR): 3,175 SRR teams, 558 land assets, 281 sea assets, 8 air assets
Assets for emergency telecommunications: 33 sets of telecommunications equipment
Assets or resources for logistics: 66 land assets, 245 sea assets, 39 air assets
Non-food items had been distributed to regions in anticipation of Odette.
These include:
157,640 boxes of hygiene kits worth P76 million
10,302 pieces of malong, or protective covering, worth P2 million
16,629 family packs worth P183 million
29,437 pieces of blankets worth P7 million
22,460 boxes of surgical masks worth P1 million
The Office of Civil Defense (OCD), in its office in Quezon City, also stored non-food items worth P75 million which it can deploy on the basis of need.
The DSWD has also prepared 23,569 food packs in Central Visayas, 14,911 for Cebu, 6,658 for Bohol, and 2,073 for Negros Oriental.
Suspended classes, work
At least 261 cities or municipalities have suspended classes while 239 announced work suspension due to Odette.
RELATED VIDEO
TSB
Subscribe to our daily newsletter
Click here for more weather related news.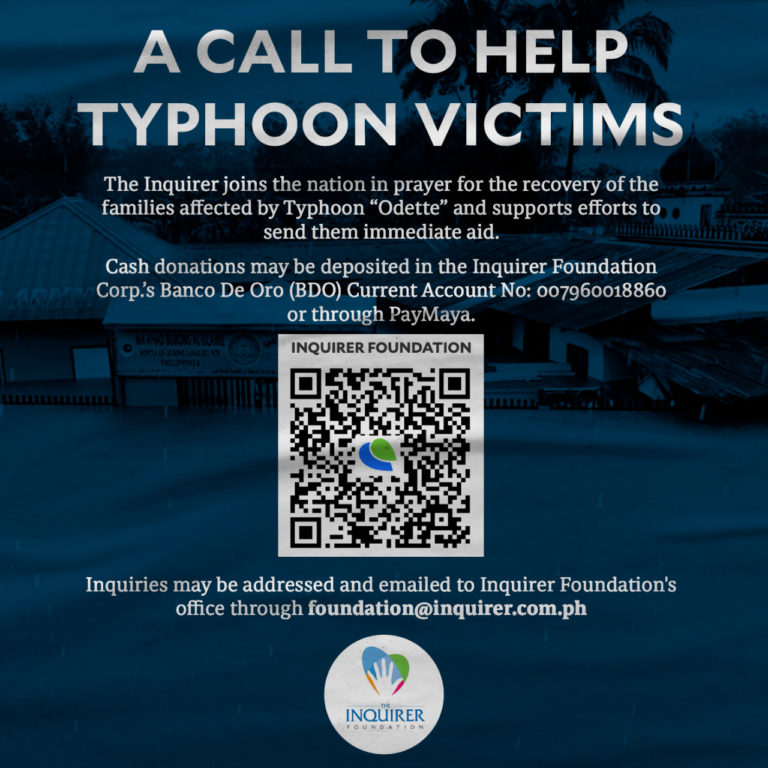 Subscribe to INQUIRER PLUS to get access to The Philippine Daily Inquirer & other 70+ titles, share up to 5 gadgets, listen to the news, download as early as 4am & share articles on social media. Call 896 6000.