Typhoon Odette: Flashback of 2011 killer Typhoon Sendong in Cagayan de Oro
For many Cagayan de Oro residents, December 16, 2011 was a tragic day that changed the city forever.
But who would have thought that on its 10th year anniversary, this collective memory would be revisited by another catastrophe?
An eerie coincidence
Super Typhoon Odette (international name: Rai) has made landfall and traversed a path nearly identical to that taken by Tropical Storm Sendong in 2011, giving residents of Cagayan de Oro a flashback of the catastrophic devastation that unfolded before their eyes exactly 10 years ago.
Sendong, known internationally as Washi, ravaged the cities of Cagayan de Oro, Iligan and Dumaguete on the first night of the traditional 'Simbang Gabi,' leaving more than 1,200 dead and billions of pesos in damaged properties.
As Odette followed its current track, it had been forecast to make landfall in the vicinity of Caraga or Eastern Visayas on the same day that Sendong did 10 years ago—an eerie coincidence for locals.
Reliving memories
A survivor from Sitio Tibasak, Barangay Macasandig, recalled the decade-old trauma that Sendong inflicted on her family on the night of Dec. 16, 2011.
"I didn't expect that the volume of water would be that big," said 67-year-old Vicenta Dogoldogol in Bisaya.
She said she can still vividly remember how the muddy flash floods poured into her home in just minutes. She and her family were left with no choice but flee to an elevated court near their home, which they thought was safer ground.
The water level, however, continued to rise contrary to what they had expected or hoped. Vicenta looked around and decided to climb the court's 10-foot high basketball ring stand, along with her husband and their two dogs, in a desperate attempt to survive.
They held tightly on top of the rusty stand for almost seven hours, while hearing screams for help coming from the city's main river—possibly their neighbors who were washed away, many of them still missing today.
In her prayers at that moment, Vicenta said that she had already surrendered her fate to God. Though she had only one request—to die together with her husband.
"Lord, if it's our time already, just let us die here so that our bodies could be easily retrieved by then," said Vicenta in an interview with INQUIRER.net.
They survived the ravaging flood.
Future-proofing the city
In a region that had been rarely visited by typhoons at that time, residents like Vicenta were caught by surprise by the volume of water carried by floods in the middle of the night.
A community near where Vicenta lived, Sitio Cala-Cala, had been wiped out by strong water current at the height of torrential rains.
To prevent another disaster from threatening lives again, the local government declared several areas hit by Sendong as no-build zones and relocated thousands of families to safer places.
The local government also pushed through with building a mega dike with the help of the Department of Public Works and Highways' flood control management cluster.
Funded by the Japan International Cooperation Agency (JICA), the mega dike is a major flood risk management project along the city's main tributary, which is expected to be completed in 2023.
Better prepared
The local government unit of Cagayan de Oro has laid out plans to prevent the repeat of the 2011 tragedy. These included clearing operations.
According to Nick Jabagat, chief of the City Disaster Risk Reduction and Management Office, all staff members are now on duty to fully monitor the situation. Personnel were also deployed to various areas of concern, especially villages that are considered as flood-prone.
With Odette's arrival in Northern Mindanao, Vicenta said she hoped to remember Sendong's 10th year by preparing to evacuate as early as she and her family could. She said the lessons she learned 10 years ago will not be taken for granted.
Standing tall, moving forward
When asked if she has moved on already, Vicenta said yes but with reservations. She said moving on was a process she would have to endure alone as her husband, William, with whom she survived Sendong, had died in 2018.
"I couldn't help but recall everything that happened. Starting with how I felt during the situation; where I am at that moment; and where am I heading to," she added.
Amid all this, Vicente said she stands tall and is moving forward—10 years on.
TSB
Subscribe to our daily newsletter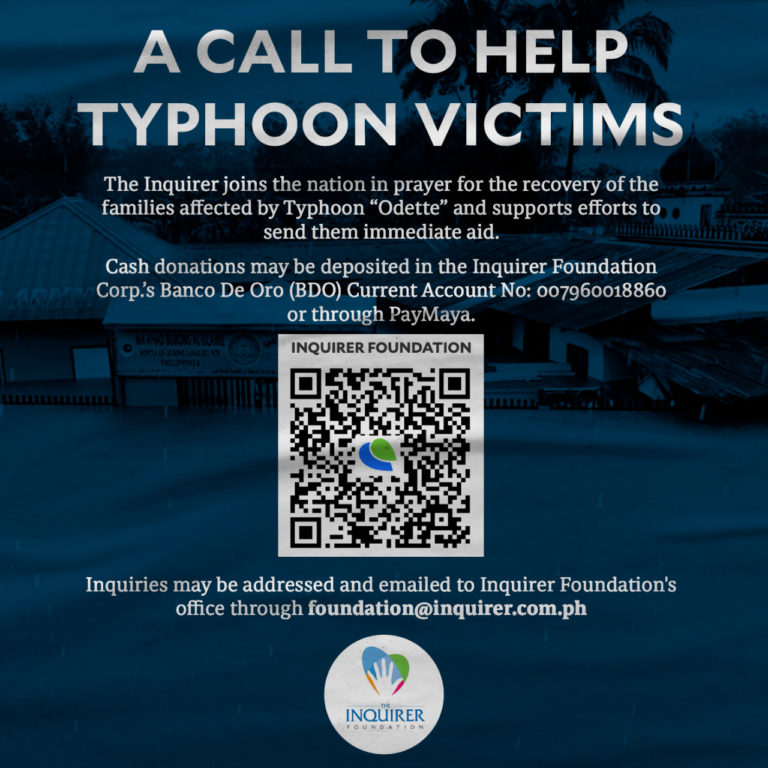 Subscribe to INQUIRER PLUS to get access to The Philippine Daily Inquirer & other 70+ titles, share up to 5 gadgets, listen to the news, download as early as 4am & share articles on social media. Call 896 6000.