Sen. Nancy Binay eyes bill requiring Congress' nod on design of banknotes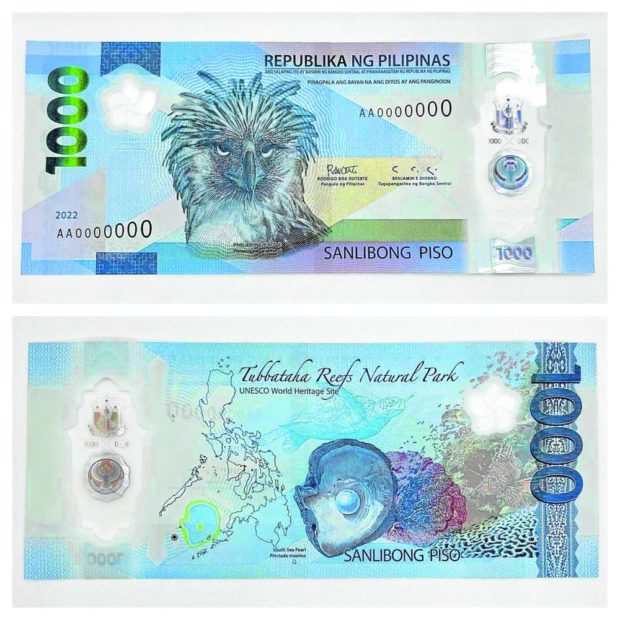 MANILA, Philippines — Senator Nancy Binay on Wednesday said she is planning to file a bill that would require the concurrence of Congress before changing the design of the country's legal tender.
"I'm thinking of filing a bill na kailangan ng concurrence of Congress. Kasi in Congress, yung the mere renaming of national highways or even schools, dumadaan yan sa Kongreso," Binay said in an interview on ABS-CBN News Channel.
(I'm thinking of filing a bill that would require the concurrence of Congress. Because in Congress, the mere mere renaming of national highways or even schools goes through us.)
"So baka for something as as important as our money, baka ito, kailangan ng concurrence ng Congress," she added.
(So maybe, for something as important as our money, this may need the concurrence of Congress.)
The Bangko Sentral ng Pilipinas (BSP) recently released a new design of a P1,000 bill, replacing Filipino heroes—Chief Justice Jose Abad Santos, Brigadier General Vicente Lim, and Girl Scouts of the Philippines founder Josefa Llanes Escoda, who were killed during the Japanese occupation in the Philippines—with the image of the endangered Philippine eagle.
"There's two sides naman dun sa pera, so why is there a need to remove our heroes and put yung flora and fauna on the other side," Binay said.
Senate probe
Further, Binay raised the possibility of having a Senate probe on the matter, saying the impact of the BSP's shift to polymer in printing the new P1,000 bills should also be looked into.
"Maybe we can file a resolution investigating [it]. That's another concern kasi [because] we try to introduce indeginious materials to our money so kung gagamit na tayo ng [if we're gonna use] polymer, paano naman yung nagsu-supply ng [what will be the effect on our suppliers of] abaca?" the senator pointed out.
"Would that have an effect with yung livelihood of our people? Lalo na ngayon na ang laki laki ng unemployment [Especially now with the high unemployment rate]," she added.
"Or by using polymer it creates another source of income for our people. So baka [maybe] that is something that we also need to consider with the shift to another material for our money,' she also added.
Currently, bank notes in the Philippines are made of 80 percent cotton and 20 percent abaca. The BSP said in 2010 that abaca in the Philippines has improved durability and has extended the life span of bills.
With polymer, however, the BSP said bank notes will be "more hygienic" as these have lower bacterial count than cotton-based bills.
The BSP explained that if polymer is used, a peso bill will last longer. It is also cost efficient, it said.
gsg
Subscribe to our daily newsletter
Subscribe to INQUIRER PLUS to get access to The Philippine Daily Inquirer & other 70+ titles, share up to 5 gadgets, listen to the news, download as early as 4am & share articles on social media. Call 896 6000.