Unicef sends out P6 million worth of supplies for typhoon-hit victims
MANILA, Philippines — The United Nations Children's Fund (UNICEF) announced on Monday that it has received a total of P115 million donations and has delivered P6 million worth of supplies to victims of  typhoons that recently hit the Philippines.
"Around P6 million in supplies have been received by children and families," UNICEF said in a statement.
"These include hygiene kits, water quality testing equipment, generator, electrical pumps, latrines, water purification tablets, teachers & learners kits containing notebooks, crayons, blackboard & chalk, and child-friendly space kits containing tents, toys, and foam mats," it added.
According to the organization's estimate, around 9,000 people will benefit from these supplies.
Unicef also explained that it is currently delivering more water monitoring supplies, hygiene kits, face masks, face shields, and other essentials for families in Quezon, Rizal, Laguna, and Tuguegarao.
On November 18, Unicef kickstarted a $3.7 million or around P178 million appeal for the victims of Super Typhoon Rolly.
A few days later, on November 25, the organization increased the appeal to P250 million after including emergency response for victims of Typhoon Ulysses.
"UNICEF has received PhP115 million so far from the UN Central Emergency Response Fund (CERF) and from individual donors, including PhP23.1 million in supplies," the organization detailed.
Despite receiving huge sums of donations, UNICEF calls anew for fulfilling the remaining P135 million target in their appeal.
"UNICEF is calling for urgent support to fill the PhP135 million funding shortfall to augment prepositioned supplies and respond to the dangers continuously being faced by children, especially in preparation for weather disturbances forecasted until the end of 2020," the organization said.
People can donate through this link [ https://donate.unicef.ph/campaign/typhoon-rolly ] to support Unicef's emergency response to provide affected families with water kits and hygiene essentials, learning materials, tents, and child-friendly space kits.
EDV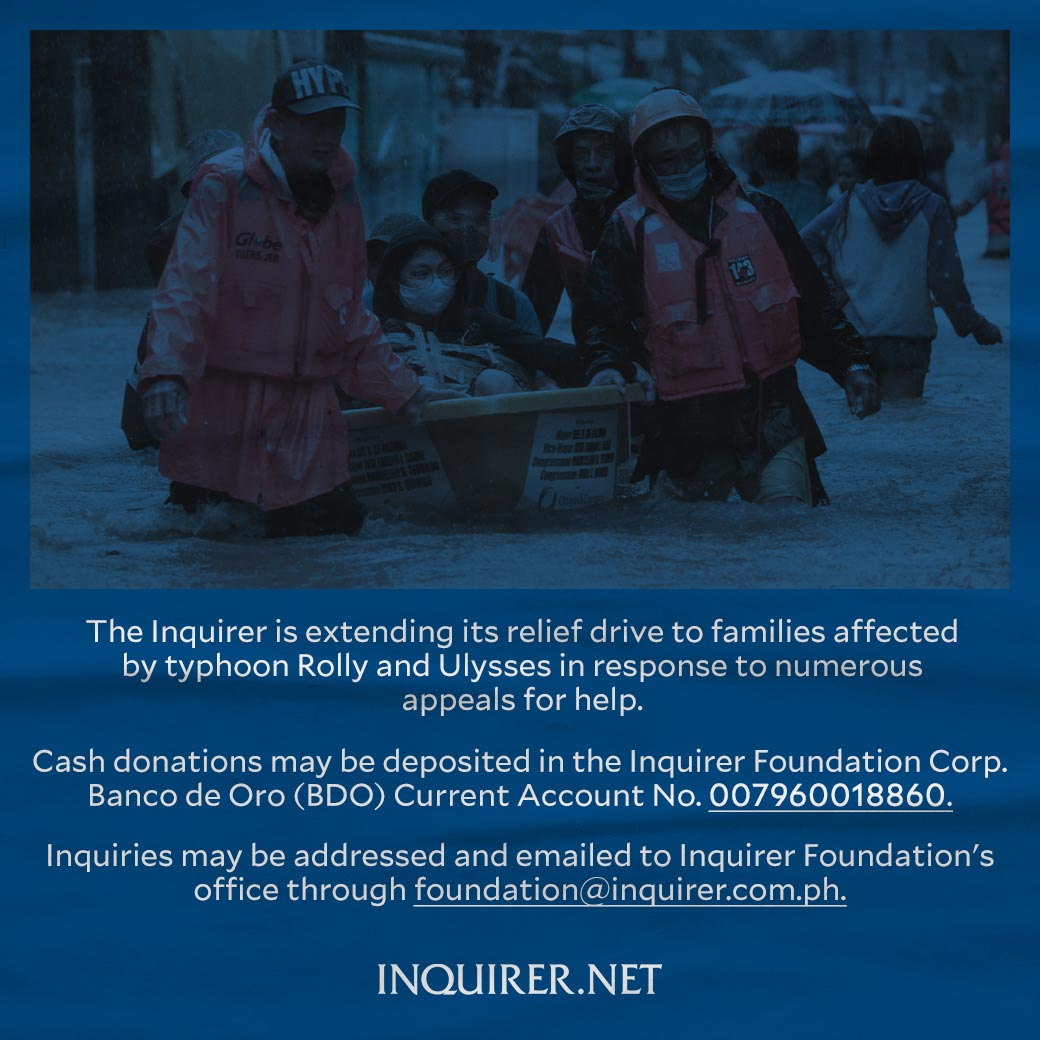 Subscribe to INQUIRER PLUS to get access to The Philippine Daily Inquirer & other 70+ titles, share up to 5 gadgets, listen to the news, download as early as 4am & share articles on social media. Call 896 6000.