Unicef worried about growing dangers PH children face due to typhoons
MANILA, Philippines – United Nations Children's Fund (Unicef) expressed concern for vulnerable children in the country following the recent typhoons' devastating effects.
"UNICEF and its partners are responding to an emergency within another emergency. Children and their families are growing more and more vulnerable as they experience the threat of COVID-19 coupled with strong typhoons and other disasters. We are concerned for the many children who are experiencing recurring threats to their survival, development, protection, and participation," said UNICEF Philippines Representative Oyunsaikhan Dendevnorov in a statement.
Unicef also expressed worry that the recent calamities would make the already vulnerable children "become even more disadvantaged."
"Children who are already fearful of COVID-19 and strong winds from past typhoons would have to relive their experience with each typhoon that comes their way. Children who were already stunted can become severely malnourished from lack of food and contaminated water sources," the organization said.
The organization added that children might contract diseases due to malnourishment or contaminated water sources. It also explained that children could be at risk for gender-based violence in crowded evacuation centers.
According to a recent situational report by the National Disaster Risk Reduction and Management Services (NDRRMC), around 827,269 families were affected by Ulysses's onslaught. These people are from 5,951 barangays in Regions I, II, III, Cavite, Laguna, Batangas, Rizal and Quezon (CALABARZON), Occidental Mindoro, Oriental Mindoro, Marinduque, Romblon, and Palawan (MIMAROPA), V, National Capital Region (NCR), and Cordillera Administrative Region (CAR).
A total of 55,921 families or 223,378 persons are staying in 1,570 evacuation centers.
Before Typhoon Ulysses ravaged Luzon, Unicef kickstarted a $3.7 million appeal for the victims of Super Typhoon Rolly.
"This is intended to support communities and partners to have access to water, sanitation, hygiene, nutrition, education, health, and protection services. Initial WASH, education and protection supplies such as hygiene kits, teachers and learners kits, tents and child-friendly space kits are making their way to the most vulnerable communities," said Unicef.
Despite the organization's current efforts to aid typhoon-hit areas, it still emphasizes the importance of additional resources.
"[T]hese resources run the risk of being depleted if no additional resources are secured given the magnitude of these consecutive emergencies and the anticipated additional weather disturbances before the year ends."
People can donate through this link to support Unicef's emergency response to provide affected families with water kits and hygiene essentials, learning materials, tents, and child-friendly space kits. [ac]
Click here for more weather related news.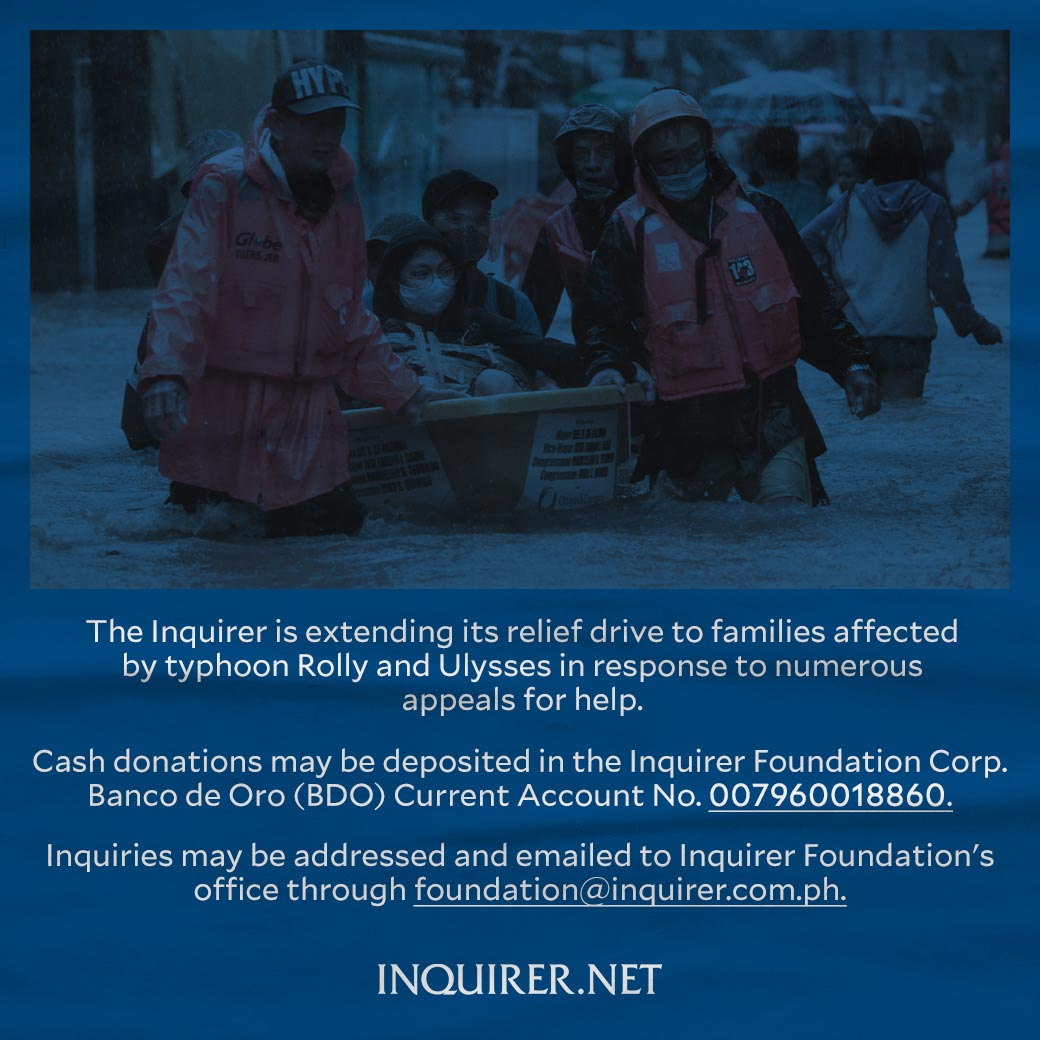 Subscribe to INQUIRER PLUS to get access to The Philippine Daily Inquirer & other 70+ titles, share up to 5 gadgets, listen to the news, download as early as 4am & share articles on social media. Call 896 6000.