Military plays key role in Cagayan de Oro relief mission for Cagayan Valley
CAGAYAN DE ORO CITY—The military deployed troops and transport equipment to bring food and other items donated by local governments and the private sector in northwestern Mindanao to families displaced by flooding brought by Typhoon Ulysses in the region of Cagayan Valley.
On Thursday (Nov. 26), a military aircraft landed at the old Lumbia Airport, now a Philippine Air Force base, to be loaded with the donations, all weighing at least 2,000 kg, bound for Tuguegarao City.
Maj. Rodulfo Cordero Jr., spokesperson for the Army's 4th Infantry Division (4ID), said the cargo plane was loaded with 47 boxes of non-food items that included blankets, mats, hygiene kits and 50 boxes of food like rice and other items.
Cordero said the 4ID was able to collect donations of 740 sacks and boxes of clothes and these other items:
422 blankets and towels
283 boxes of canned and assorted goods
38 sacks of rice
500 water jars
61 bags and boxes of personal hygiene kits and face masks
1,351 pieces of kitchenware and cleaning agents
The donation drive was dubbed "Cagayan de Oro Helps Cagayan Valley" although it drew donors not just from Cagayan de Oro City but also the local governments of Gingoog City, Oroquieta City, Talakag town in Bukidnon, and Dumalinao town in Zamboanga del Sur. At least 12 individuals and 10 civil society groups also donated.
Cordero said the donation drive was a "multi-sector endeavor" that was launched "with the noble intention of helping our brothers and sisters who need our help during these trying times."
At the Lumbia airfield here, Army and Air Force men loaded sacks and boxes of donations to the C-295 cargo plane which was expected to arrive in Tuguegarao after nearly four hours of flight.
Journalist Froilan Gallardo, one of those who planned the donation drive, said "the donations came from the heart because we also have been victims during Typhoon Sendong" in 2011.
"We want our brothers and sisters in Cagayan Valley to feel that we are here to help," said Gingoog City Mayor Erick Cañosa, in a message to survivors of Ulysses.
"We are here, giving an opportunity to our fellowmen affected by Ulysses in Cagayan Valley, so they will feel that we are here, willing to help them," the mayor said during a send-off ceremony at the Air Force facility in Lumbia.
Speaking on behalf of Maj. Gen. Andres Centino, the 4ID commander, Col. Michele Anayron Jr., 4ID assistant division commander, said people from northern Mindanao responded quickly to the call for donations perhaps because they knew what it was like to suffer from a devastating typhoon. The region had been devastated by two typhoons in the past—Sendong and Pablo.
"Yet, from one survivor to another, it is inspiring how fast the donations have accumulated, in just a span of a few days," Anayron said.
Cordero said the remaining donations, stored in a hangar in Lumbia, will be picked up by other military cargo planes in the coming days. WITH RIGINE CLYR L. ARRAZ
TSB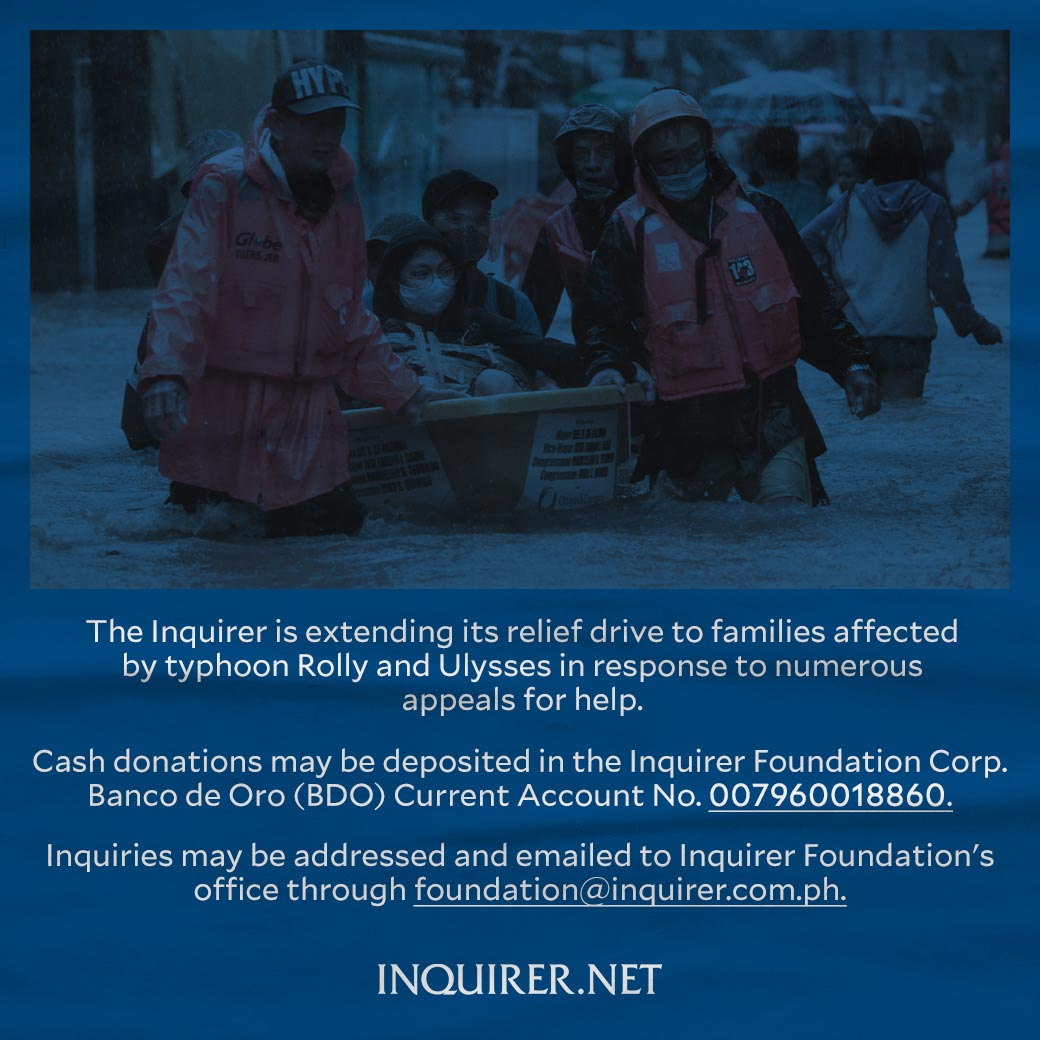 Subscribe to INQUIRER PLUS to get access to The Philippine Daily Inquirer & other 70+ titles, share up to 5 gadgets, listen to the news, download as early as 4am & share articles on social media. Call 896 6000.