DEPED NEEDS 'CATCH-UP' PLAN
Luzon calamity compounds challenges of distance learning
MANILA, Philippines — While laboring to scrape off layers of mud in the family home in Marikina City, Myrna Ner wept at the sight of her sons' damaged self-learning modules.
"When I saw that their modules were covered in mud and were unreadable, I cried and cried. I could not think of other ways for them to continue their studies," she tearfully told the Inquirer.
Ner, who has two sons age 16 and 18 in senior high school, was among the thousands of Marikina residents who had to leave everything behind on Nov. 12 as floods brought by Typhoon Ulysses (international name: Vamco) rose to alarming levels.
The family of five did not expect the muddy waters to reach the second floor of their home, where the children's printed modules were stashed in plastic boxes. But they had to flee to a nearby evacuation center with only the clothes on their backs.
Despite Ner's worries, the Department of Education (DepEd) has assured the public that funds had been set aside for the reproduction and redistribution of modules to students, particularly those living in the hardest-hit areas of Metro Manila and many parts of Luzon, with Cagayan Valley among the latest to suffer.
In a text message to reporters on Nov. 16, Education Undersecretary for Finance Annalyn Sevilla said the DepEd was "ready" to download funds to local offices.
"We are collating the report from our [disaster risk reduction and management service] team on the damaged learning resources. The DepEd central office, through the finance department, will release additional funds for them to replace or reproduce damaged self-learning modules (SLMs)," Sevilla said.
She said the funds would also cover cleanup operations for distressed schools, as well as psychosocial aid and provision of hygiene kits.
Digital copies
When schools reopened in October, Education Secretary Leonor Briones repeatedly claimed that the DepEd was considering reducing its dependency on printed SLMs, given their grave effect on the environment.
Sevilla clarified that the planned reproduction of the learning materials for typhoon victims did not contradict Briones' statement. "We are also considering digital copies, but only for areas, regions, divisions and schools certified by the regional directors to be needing such, and in compliance with the contextualized basic education-learning continuity plan (BE-LCP) of the schools," she said.
In a memorandum dated Nov. 9, Sevilla said the procurement of data storage devices and tablets for teachers and learners could be deducted from a regional office's BE-LCP fund.
But even if gadgets are provided for the use of digital SLMs to parents and students, residents in flood-hit areas still worry about how to maintain the education of their children.
In Ner's case, the family house made mostly of light materials was almost completely wrecked by heavy floods and raging winds brought by Ulysses.
"My sons will have to temporarily stop their studies. Their modules were destroyed and covered with mud … They can no longer read anything there," Ner said.
Suspension of classes
Marikina Mayor Marcelino Teodoro, recognizing this problem, has suspended classes until Dec. 16.
Teodoro said the suspension was implemented to give school officials ample time to reproduce and redistribute the learning modules, and to allow the local government to clean up parts of the city still covered in mud.
"Even if our students have modules and gadgets, how will they learn if their feet are submerged in mud while studying?" the mayor told reporters.
Reducing stress
Thousands of students have clamored for an academic break in the aftermath of the recent typhoons.
But Diosdado San Antonio, the education undersecretary for curriculum and instruction, stressed that the DepEd had already authorized school officials to lessen the stress and anxiety of learners by making some activities in modules optional.
San Antonio also explained that the first quarter of the school year had already been extended by up to 12 days to give students enough time to adjust to the demands of distance learning. School days will then be gradually reduced in the latter quarters.
Still, such adjustments may not be enough for the 2.3 million students who are still without power supply in their typhoon-ravaged communities as of this writing.
In a recent Senate hearing, Senate President Pro Tempore Ralph Recto pointed out that learners may not be able to effectively catch up on their lessons if they could not make use of their gadgets or tune in to their television sets. "If you don't have electricity, how will you watch lessons on TV or receive assignments via email if there's no power source for your cell phone?" Recto said.
The DepEd's learner enrollment survey, which was conducted in July, showed that 3.6 million parents preferred online learning for their children, while 1.3 million chose TV lessons over other learning modalities, such as modular and blended learning.
The agency assured the public that it was preparing a "catch-up" plan with affected regional offices. It is yet to reveal the details of this plan.
Briones last week directed all field offices to submit a list of teachers and other school personnel who were severely affected by the massive flooding.
According to Undersecretary for Field Operations Revsee Escobedo, the DepEd met with regional directors on Saturday afternoon to collate reports on the exact number of students who were displaced, as well as the number of learning materials that need to be reproduced.
For more news about the novel coronavirus click here.
What you need to know about Coronavirus.
For more information on COVID-19, call the DOH Hotline: (02) 86517800 local 1149/1150.
The Inquirer Foundation supports our healthcare frontliners and is still accepting cash donations to be deposited at Banco de Oro (BDO) current account #007960018860 or donate through PayMaya using this link .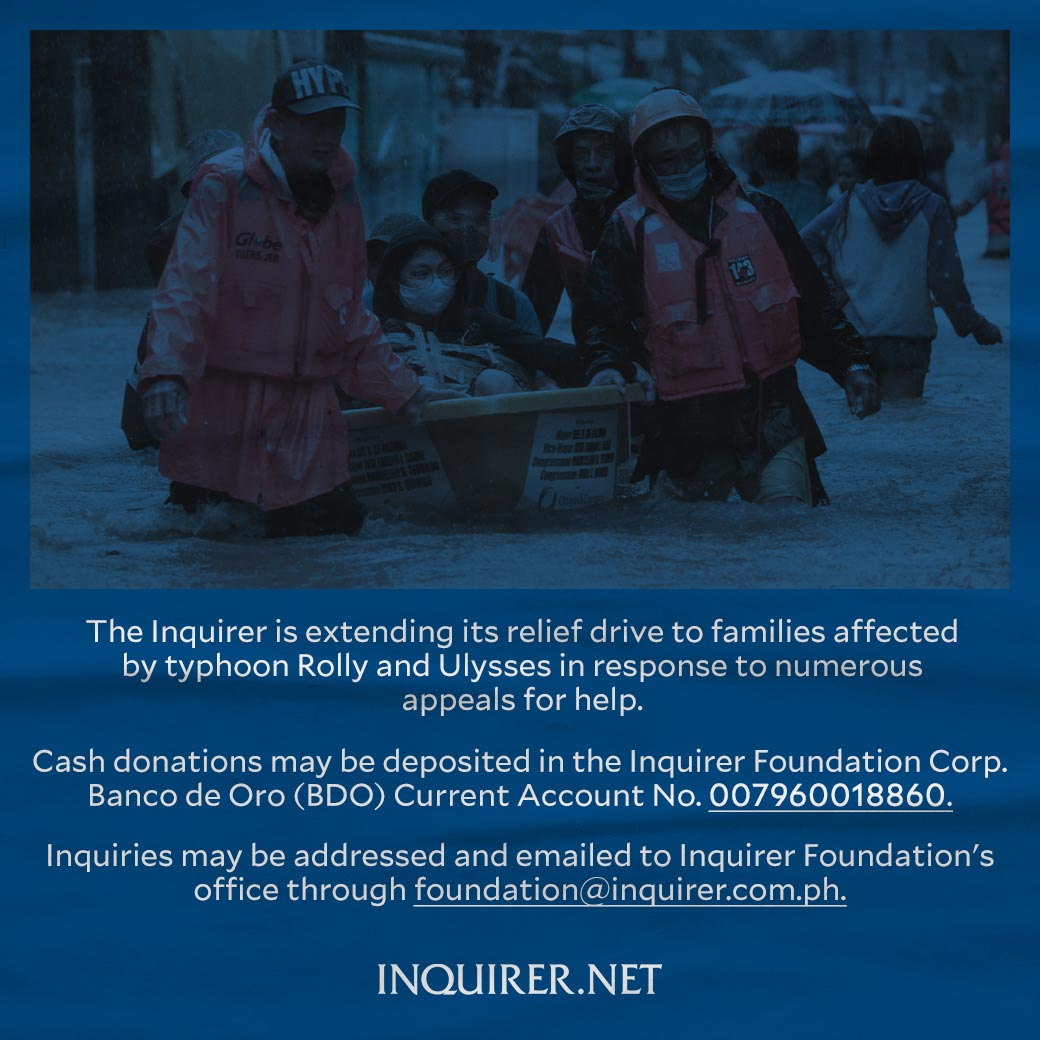 Subscribe to INQUIRER PLUS to get access to The Philippine Daily Inquirer & other 70+ titles, share up to 5 gadgets, listen to the news, download as early as 4am & share articles on social media. Call 896 6000.